One of the best things about what we do and why we do it, is hearing stories and testimonials from interns once they've finished their internship abroad program and reflected on their experiences.
We love to hear what skills they have added to their resume, what they have learned about their career field, their tips and tricks about navigating new cultures and making new friends and professional connections.
Here's what 11 summer interns had to say: interning abroad changed their lives.

1. London Marketing Intern Mariah R.
Mariah, student at Converse College, spent her summer living and working abroad in London. During her marketing internship with a company founded to help small businesses with online marketing, Mariah was challenged and loved every moment.
"This program is amazing. For anyone looking to do work abroad, Global Experiences is the place to do it. The staff makes you feel so comfortable and safe. I've loved every moment of this experience and would do it all over again in a heartbeat. My favorite memory would be the trip to Brighton beach that Global Experiences set up. They also paired me with a great company that I have learned so much from and has prepared me for future jobs. I have made some great memories and close friends. I have had the time of my life, and it wouldn't have been possible without Global Experiences."
2. Dublin Communications Intern Donterrius W.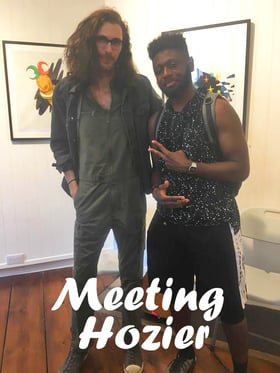 Donterrius traveled to Dublin to spend his summer interning in communications with an exciting company planning and hosting Irish Cultural Festivals. The Lehigh University student helped the foundation fulfill its mission of promoting civic engagement and sharing Irish cultures through the arts.
"I came here to improve my resume within music production; however, I ended up leaving this experience with a much more understanding of myself and more wisdom about life. This opportunity and my placement specifically have led me in the right direction to develop myself and improve upon the way I approach things in life. I am very grateful for this opportunity and will use the knowledge that I have gained to the betterment of myself and my loved ones around me."
3. Paris Fashion Business Intern Kristen M.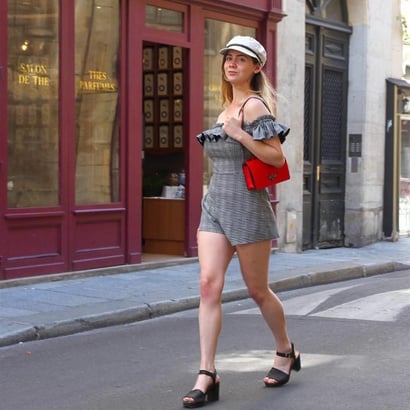 For her summer internship, Kristen traveled from the City of Brotherly Love to the City of Lights. The Temple University student completed a fashion business internship in Paris with an art gallery and gained incredible hands-on experience.
"I had the pleasure of working in Upper concept store, a boutique/art gallery/event space in the 4th district of Paris, France. The coordinator at Global Experiences did a really good job of setting me up with a job I wanted - while there, I helped creative business & marketing strategies for the concept store. I felt very involved in the workplace and rarely had any downtime while at work. When I had time to myself, I made lots of friends in the program and traveled all over France and to Rome & Amsterdam. This was by far the best summer of my life! I would definitely recommend this program to anyone who is looking to do a summer abroad!"
4. Barcelona Tourism Intern Ebony A.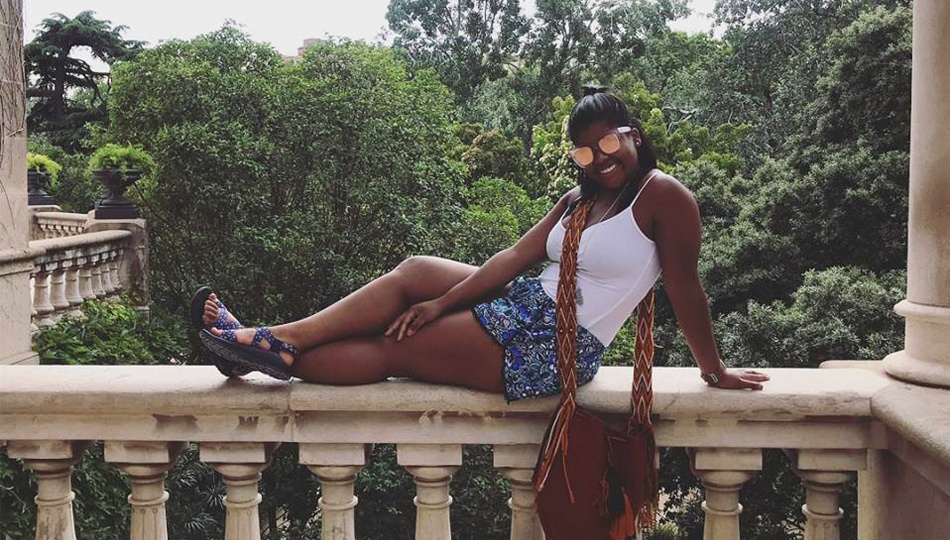 Ebony, current student at the University of South Carolina, got to achieve her dream of seeing more of the world with an internship in Spain. During her time abroad, Ebony interned at a boat tourism company and fell in love with everything Barcelona had to offer.
"Wow. What an amazing summer. When I signed up for this program, I had no idea it was going to be so life-changing. I have loved every minute since stepping out of the plane to this beautiful city. Inma, Saskia, and all the other interns made the time here worth every single penny. All the social events, the traveling, and just the overall memories have shaped me into a better global citizen, and I will be forever grateful for my time here. It's amazing how immersed we get into this whole different culture, and I can't help but fall more and more in love with Barcelona."
5. Florence Event Planning Intern Kelly S.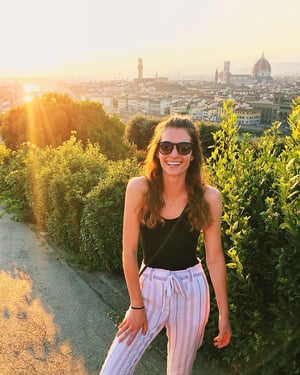 Iowa State University Student, Kelly, wanted a unique professional experience and a chance to see the world. With an international internship she was able to do both! Interning in Florence, Kelly got to further her education in event management and gain invaluable career experience.
"Interning abroad with Global Experiences has been a life-changing experience. The people I have met and memories made along the way will be something that I will always remember. I have gained so much independence from this experience, and GE provides just enough support and advice to help you when needed. To anyone debating whether they want to intern abroad, do it! It has been the best decision I have ever made!"
6. New York City Business Intern Ashley F.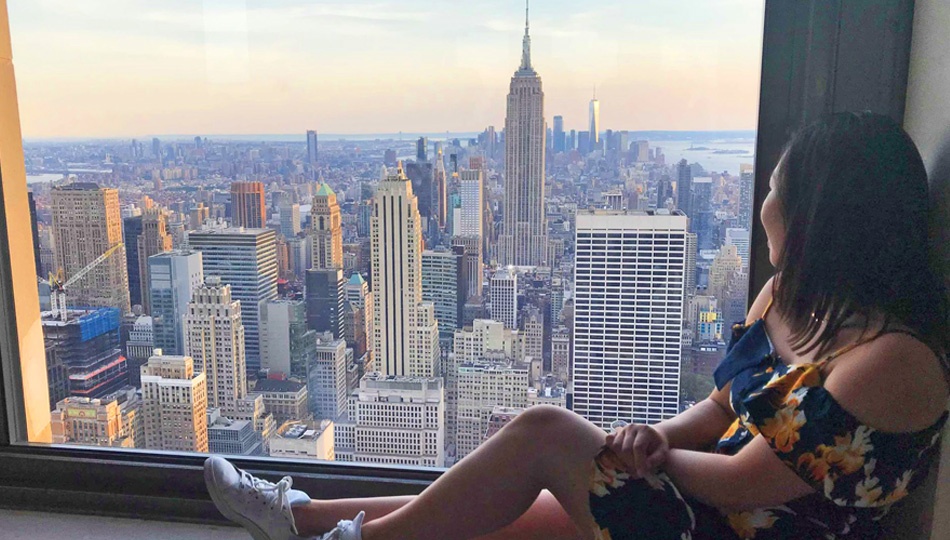 Ashley had always been fascinated with economics, but knew there was more to learn outside of the classroom. An internship in New York City with a real estate start-up, gave Ashley the chance to broaden her knowledge about economics around the world.
"This internship was one of the most rewarding experiences of my life. Not only was I exposed to a network of support from GE, but also made lifelong friends and professional connections during my time here. Highly recommend to college students who are just starting out on the intern scene, who want to learn more about a certain industry but also about themselves. Being submerged in the vibrant environment of New York City, I have developed life skills as well as professional skills, and will definitely return for more."
7. Milan Fashion Intern Kelsey B.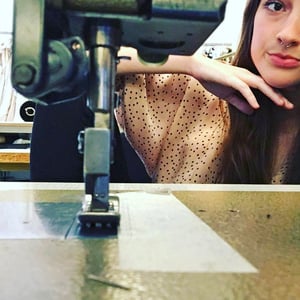 Kelsey decided she needed international experience to further her career in the fashion world, and off she went to Milan this summer! Her fashion design internship with a boutique taught her necessary skills and experience to be a great designer.
"The highlight of my internship was getting work experience in my chosen industry of fashion design, and gaining new skills everyday through the practice. The highlight of my experience abroad was getting to see new places and meet new people who made an impact on my life. The whole experience was very insightful."
8. Washington D.C. Government Intern Chiara G.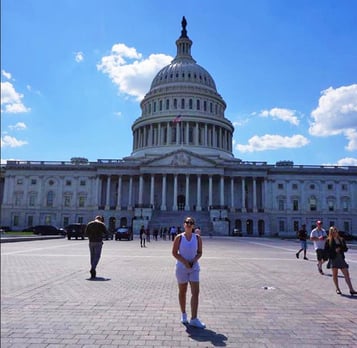 Chiara has always had a passion for charity work and wanting to gain more career experience brought her to Washington D.C. with a group of fellow King's College students. Her non-profit internship was with the largest physician-led organization in the US, working to protect the public from the threats of nuclear proliferation, climate change, and environmental toxins.
"I had a great experience in Washington DC this summer, interning at a Non-Governmental Organization for two months. GE helped me every step of the way: finding the internship and fixing my CV. They helped me with the visa, settling in, and discovering the city. Couldn't have done it without them! Would definitely recommend to anyone who wants to gain some work experience while discovering a new city."
9. Sydney Fashion Intern Abby B.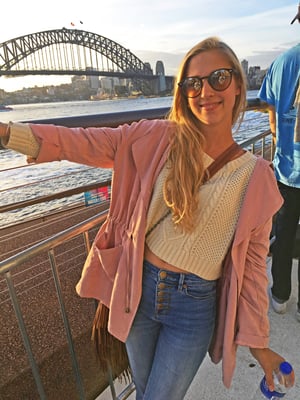 Abby was motivated to further her fashion career and education with an international internship. She got to live and work abroad in Sydney, Australia with a luxury fashion designer.
"I had the best Summer ever interning abroad in Sydney! I absolutely loved my internship, met so many amazing people and learned so much! The group I met abroad were an amazing and fun group of people. We had a blast at our excursions, and got to do some amazing traveling while in Australia! For being on the other side of the world, it really isn't so different from the US, so I never experienced any culture shock along the way. Overall I had a 10/10 unforgettable experience making life-long friends and connections while also feeling much more prepared for my career. What are you waiting for - apply now!"
10. London Marketing Intern Elsie K.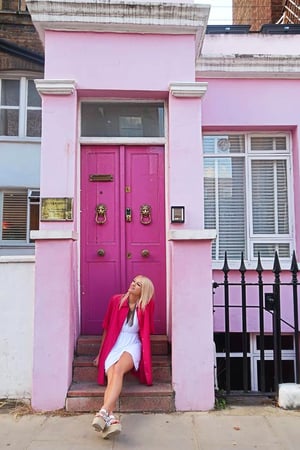 Elsie has been part of two different Global Experiences' programs and found both were life-changing! The University of Oklahoma student originally interned in Sydney, Australia, and then came back in 2018 to be our Residential Advisor in London.
"After attending the GE Program in Sydney, Australia last summer I decided to intern in the London GE Program this summer as the Residential Advisor. Not only did both internships exceed my expectations, but the other students who were selected for both programs shared such a similar mindset and it was a very powerful atmosphere to live and work in. The Global Experiences' team did an exceptional job at helping us improve our overall career skills (resume, cover letter, interview prep, etc.) and also did a great job matching us with the perfect company in our desired field to allow growth. There was a great balance of support and freedom throughout the entirety of the program. Thank you GE for giving me two of the most memorable summers and international experiences of my life!"
Since 2001, Global Experiences has been providing life-changing experiences to students and young professionals all across the world. Nearly two decades and over 8,000 interns later, we are still dedicated to delivering tailored internships that shape careers and change lives. Apply today and see where Global Experiences can take you.