Barcelona, Spain is one of the most vibrant, forward, exciting cities in Europe. It is also a fantastic place to intern at any time of the year. Check out our top reasons why!
1. It's an international hub of business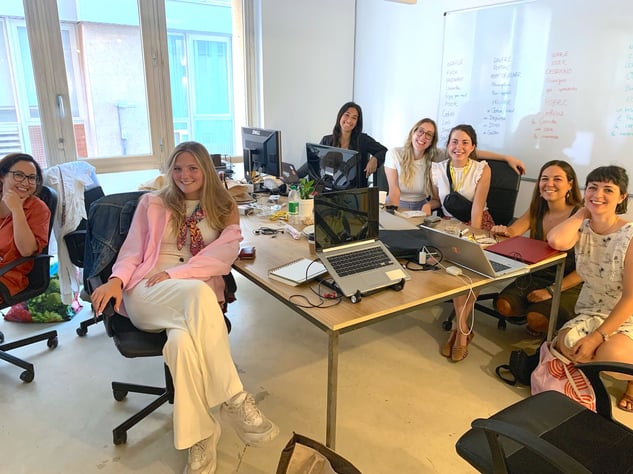 Voted as one of the top five European cities for business, Barcelona has an exceptional location for key markets such as Europe, Latin America and North Africa. The metropolitan area of Barcelona is one of the major epicentres of European economic activity. Major companies like Amazon, AirBNB and We Work have office spaces in Barcelona and there are over 200 cowork spaces in Barcelona and this number continues to grow!
Coworking gives amazing opportunities to meet other people, host events and engage with professionals from a variety of industries. Plus almost all cowork spaces have beautiful interior designs, which make for an enjoyable working environment. Nicknamed the Mobile World Capital, Barcelona hosts the largest gathering for the Mobile industry annually! One of our interns, Sarah S. from SUNY - Fredonia had the opportunity to attend the Mobile World Conference last Spring during her Public Relations internship. Check out her experience at the conference!
2. You can practice your Spanish - a huge plus in the business world.
There are over 400 million Spanish speakers world-wide and 33 million of them live in the United States! If you call the States home, having this language skill on your resume will definitely give you a competitive edge amidst other candidates. By learning Spanish, you'll be better able to communicate with other Spanish speakers. Which means you may potentially have responsibilities in your role because of your ability to engage with coworkers and clients.
Your ability to understand Spanish enables you to gain important insights which monolinguals cannot. Constantly being tasked to consider who speaks which language to whom, who understands which content, and the times and places in which different languages are spoken will naturally drive you to consider the perspectives of the people you are engaging with - an extremely valuable skill in any professional setting.
3. Incredibly welcoming and laid back culture.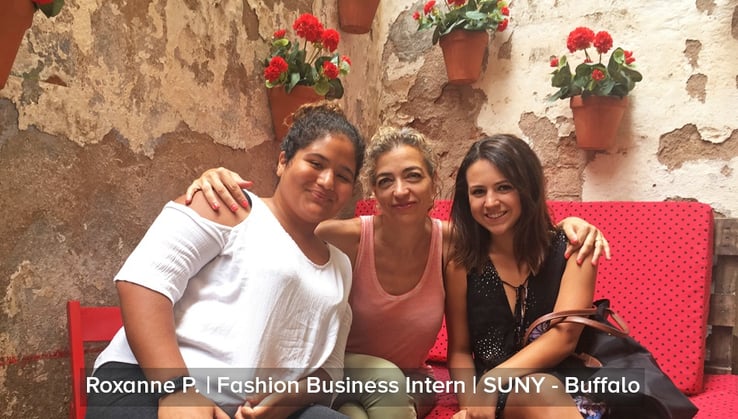 Barcelonians are known for being very friendly, non-aggressive, calm, helpful and generous, particularly with their time. To most, maintaining enduring relationships is more important than the desire for more and more material wealth. The positive vibe of the city is a direct result of the weather! Studies show that sun makes people happier, it increases positivity and motivation to do things, while everything is less stressful and more friendly.
This Goes for Wardrobe, too!
Speaking of the weather, that also has a direct impact on what to wear. Barcelona is the kind of place where dressing down is considered dressing up. While you will see people who are well dressed, Barcelonians are just too laid back to feel the need to constantly look their best. That doesn't mean you should show up in Nike sweats for siesta but a crisp tee can go a long way. The Spanish tradition of the siesta is one that you should happily get used to! Take a long lunch, walk to the beach to read a book by the water, take a moment to recharge before you head back into the office so you can power through the second half of the day!
4. Be apart of history
If you've been paying any attention to the news over the last few months you know that the political climate in Barcelona has been tense. Barcelona is located within the the Catalan region which recently declared itself independent from Spain. As a result there have been protests across the city which may sound contradictory to the laid back culture mentioned above. Fear not, as we have interns who have been on the ground as the events were unfolding and they are doing quite well despite the media's depiction of the unrest. Here's what they had to say about their experience:
"I'm sure you have all seen the news about Catalunya and their Declaration of Independence. This did not affect life in Barcelona that much, but it was an amazing opportunity to see/ understand first hand part of history. We were never in danger or scared. It is very calm over here. There are protests but they are very peaceful. If I had to give you a downside to living through this Catalan political issue I would say sometimes the protests block/ make it complicated to get to where you want to go."

- Geraldine Taranto | Marketing Intern | William Carey University

"I was honestly really surprised at how peaceful the protests have been! People even bring their whole families to these things. I feel like what it is really like and how it is portrayed on tv are completely different. Yes it makes it inconvenient sometimes when it comes to getting to work and the bus has to take a longer route but that's really the worst of it. My experience in Barcelona has been great. The referendum hasn't stopped me from enjoying the city to the fullest."

- Eboni Ellis | Marketing Intern | Rochester Institute of Technology
5. Employers value native English speakers.
English is the dominant business language and it has become almost a necessity for people to speak English if they are to enter a global workforce. Research from all over the world shows that cross-border business communication is most often conducted in English. Become a major asset to your office and serve as an intermediary! Most of the content produced on the internet (50%) is in English. So knowing English will allow you access to an incredible amount of information which may not be otherwise available! Think about all of the valuable research you can contribute to your team!
6. Some of Europe's best beaches are minutes away!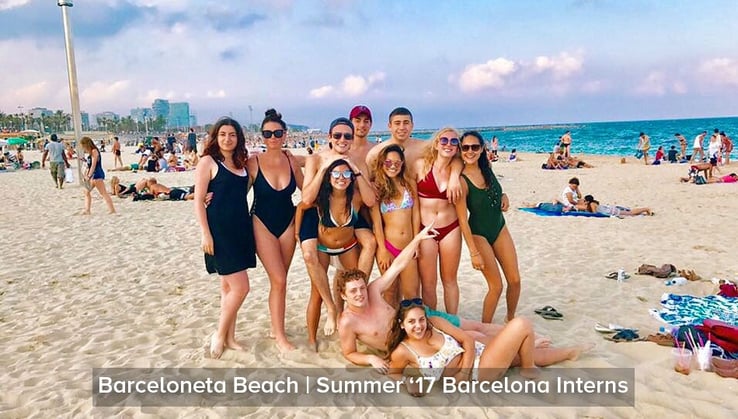 Barceloneta
Barceloneta Beach (see picture of our interns above) is easily accessible and full of entertainment, this beach is a major tourist attraction. The strip is lined with bars and restaurants so when the sand gets monotonous you can change the scenery but still be on the water!
Nova Icaria
If you're more of a peaceful beach go-er, Nova Icaria is a great choice. There are volleyball courts and ping-pong tables but plenty of lounge chairs too! Mostly frequented by families, this beach is also near by to many food options and is also close in proximity to Olympic Park.
Sant Sebastia
Sant Sebastia beach is just as lively as Barceloneta but with more Barcelona natives. Enjoy some extreme sports activities and make friends!
7. 2nd largest city in Spain and over 2,000 years old
History buffs, this one's for you! In Barcelona, with every step you take through the streets, you'll always stumble upon something historically significant. Take a walk through old town to see the remains of a defensive wall constructed by the Romans at the end of 1st Century BC. Visit the Eixample District to see the building works of famed Catalonian architect Antoni Gaudi. To get a quick glimpse of the city's history all in one place, check out the Museu d'Historia de Barcelona, where the historical city heritages have been preserved and put on display.
8. Beautiful weather all year round!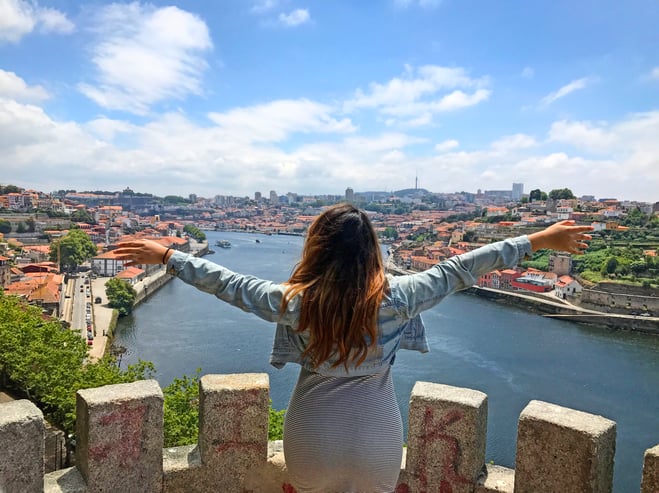 Lying in the Mediterranean region, the temperature of Barcelona is fairly moderate. Expect an average of about 59 degrees in winter and 85 degrees in the summer. The weather is fairly predictable and rainfall is also quite balanced. You can enjoy months of unbroken sunshine without ever having to feel the agony of a scorching heat of the Sun.
Is Barcelona calling your name?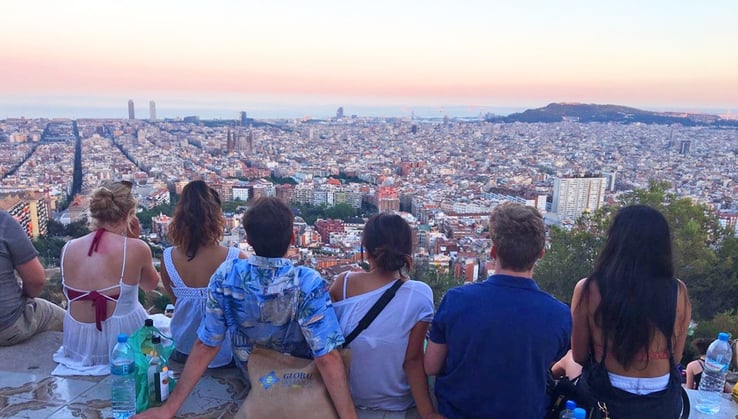 Whether your reasons for embarking on this journey are based in professional or wanderlust desires, Barcelona has something for everyone. Fill out an application and schedule a meeting with your Admissions Counselor to start planning your internship experience!