San José is one of the easiest cities to acclimate to in all of Latin America. It helps when Costa Ricans, affectionately known as "Ticos," are extremely warm and welcoming.
San José's extensive network of buses makes exploring and traveling around the country a piece of cake. Plus Costa Rican food is fresh, comforting, and not too spicy — easy for everyone to enjoy!
Once you land in San José, you'll find yourself navigating the city and living like a local in no time. Brooke studied abroad in Costa Rica, so continue reading for her tips to help you get there!
Costa Rican culture
To understand the culture in Costa Rica, you need to start with the country's motto: "Pura Vida." Translated as "pure life," it embodies many aspects of the Costa Rican lifestyle.
Ticos are kind, laid-back, and they work to live rather than live to work. They value spending time with loved ones, and you can often find them outside enjoying the nature of their beautiful country. The tourism industry in Costa Rica is booming, so you'll always be able to find someone who speaks English.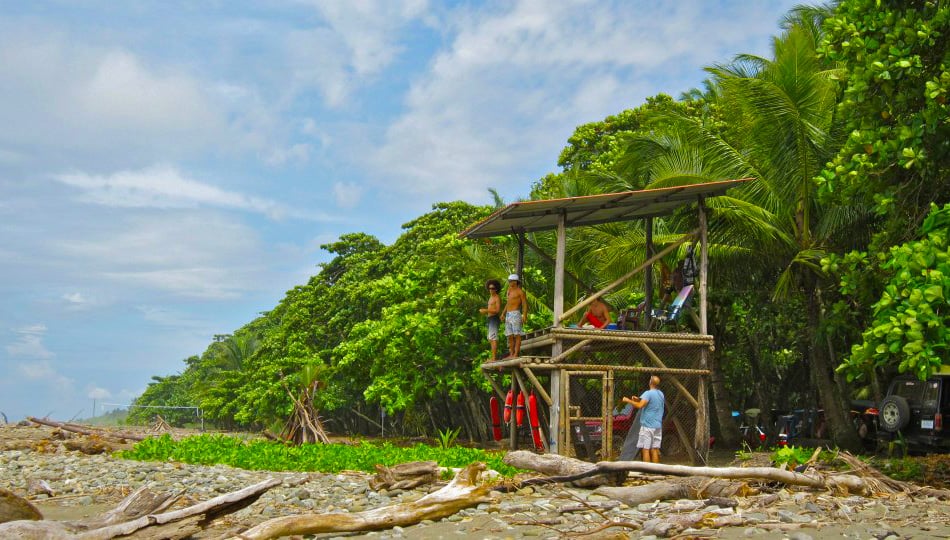 The country is an eco-friendly destination, and environmentalism is an important part of Costa Rican culture. Even though Costa Rica is a tiny country, it holds 5% of the entire world's biodiversity. It has incredible variety in landscapes and creatures; one day you're hearing howler monkeys near the beaches and jungles of Manuel Antonio, and the next you're spotting sloths in the cloud forests of Monteverde.
Costa Ricans value these national treasures and have protected about 25% of their land in forests and reserves.
Costa Rica is also celebrated as one of the most peaceful societies in the world. It disbanded its army in the 1940s, and the country has been de-militarized ever since. Costa Ricans are conflict-averse and try to avoid upsetting or offending others at all cost.
Living the "Pura Vida" lifestyle certainly does wonders for Ticos, since they consistently rank as some of the longest-living and happiest people on earth. If you're lucky enough to intern in Costa Rica, you'll undoubtedly soak up some of that longevity and happiness as well!
Eating like a true Tico
Costa Rican food is quite healthy and satisfying. It's not spicy like some of its other Latin American counterparts, so it's easy for everyone to enjoy.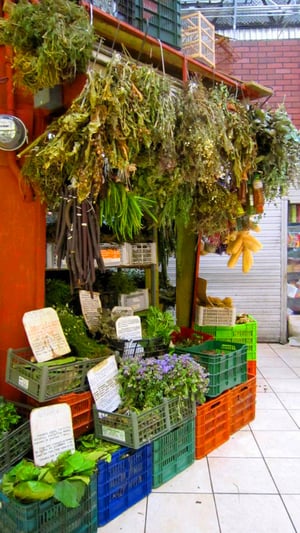 The most traditional dish is gallo pinto, which is a mix of rice, beans, and a tangy sauce called salsa lizano. Salsa lizano can be found on every table at every restaurant — Costa Ricans love it, and it's must-try while you're there.
Breakfast typically consists of eggs, gallo pinto, toast, fresh fruit, and coffee. It can seem like a feast for those of us who are used to just eating cereal!
The most common meal, and one typically served at lunch is a "casado." Casados are plates of gallo pinto, some kind of protein (chicken, beef, or fish), and vegetables or salad. They often come with a drink or fresh fruit juice and typically cost around $4. They're very economical and very filling.
Dinner tends to be the smallest meal of the day and could be anything from pizza, to sandwiches, to leftovers from lunch.
Costa Rica also has incredibly fresh produce and a fantastic selection of tropical fruits. Be sure to try some of the fruits that you may not be able to get back home: guava, rambutan, passion fruit, and guanabana.
These fruits are often turned into mouth-watering smoothies and juices, which you can get at restaurants and stands around the city.
Getting around the city
San José is very walkable, and you can easily get around on foot. The city is quite hilly and is surrounded by mountains, so you're often treated to glimpses of the verdant peaks in the distance.
The best part of walking around is that you'll discover new hole-in-the-wall restaurants, pass local street vendors, and figure out where the best markets are in the city. If you're lucky, you might even stumble upon a corner stall selling six enormous avocados for a dollar (true story)!
If you need to go farther than your feet can take you, San José has an excellent bus system. Most bus tickets within the city cost less than a dollar, and it's possible to travel across the country for under $10.
You'll be spoiled by the entire bus system in Costa Rica since it's so cheap and easy to use. Not only that, but the drives are often breathtaking. A four-hour ride will fly by as you stare out your window at lush valleys, jungles, and pastel sunsets.
Places to visit in Costa Rica
San José is a fantastic place to base yourself as you explore everything else Costa Rica has to offer. The city is in the dead center of the country and has an extensive network of buses that travel all over. You can get just about anywhere by bus in under 8 hours, which makes weekend trips very convenient.
One of the closest and most popular trips from San José is the beach town of Jaco. It attracts a lot of hippies and surfers and has a thriving hostel scene. Jaco's proximity to San José makes it a common weekend getaway. If you're willing to venture a bit farther, you'll be rewarded with some of the best places to visit in Costa Rica — destinations with stunning beauty and thrilling outdoor activities.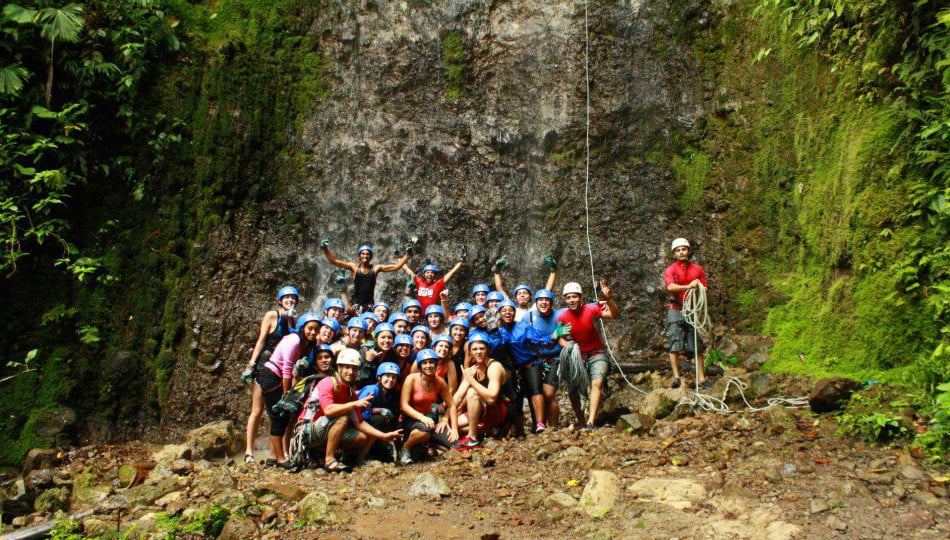 In Arenal, you can visit hot springs, an active volcano, and the thundering La Fortuna waterfall. A few hours away, you can zip-line through the cloud forest in Monteverde. On the eastern coast, you can walk on black sand beaches and soak up the fun Caribbean vibe in Puerto Viejo.
Although it can be trickier to get to (trips occasionally involve a ferry), some of the most beautiful beaches are on the northeast peninsula: Playa Santa Teresa, Montezuma, and Tamarindo (often called "Tamagringo" because it attracts a lot of tourists). These are the beaches featured on screensavers: white-sand, green mountains, and vibrant flowers.
There's no shortage of weekend trips from San José — your only struggle will be figuring out how to fit them all in throughout your internship!
Exploring the capital of Costa Rica
San José has plenty of attractions and activities to experience while you're living life as a Tico.
One of the first places to visit is the Mercado Nacional de Artesanias, which is a huge artisan's market in the center of town. It's full of handmade art, jewelry, wooden sculptures, clothing, and other knick-knacks. It's the perfect spot to practice haggling, grab a few souvenirs, and find unique presents for friends and family.
There are also a number of plazas, parks, museums, and shops in the same area. Two large parks called Parque de la Sabana and Parque de la Paz surround the city center. These parks are perfect spots to walk around, exercise, or simply hang out on a nice day.
For a more authentic experience, check out the Mercado Central, which is within walking distance of the artisans market. This is where many locals go shopping, and has vendors selling everything under the sun: food, spices, clothing, electronics, and more. It's full of color and commotion, and it's a great spot to take photos.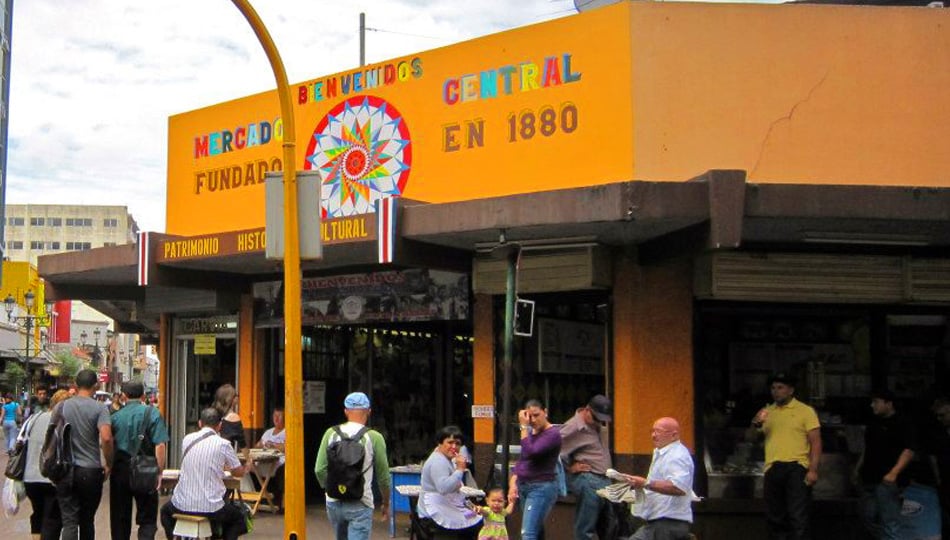 Like most Latin American countries, soccer is huge in Costa Rica. Head to the Ricardo Saprissa Stadium to watch a game and support San José's local team, Saprissa! Be sure to wear the team's colors of purple, white, and orange, and keep an eye out for the friendly dragon mascot.
Costa Ricans also love to dance, and they often go out for a night of flaunting their salsa, merengue, and cumbia moves. The most famous spot for salsa dancing is a club called Castro's. For the liveliest scene, be sure to visit it on a Thursday night! You can find plenty of places around the city offering lessons to help you brush up on your own moves.
Safety tips
Like any large city, you should exercise caution throughout your time living in San José. Although Costa Rica is one of the safest countries in Latin America, it's not totally immune to crime.
Pickpocketing is most common in the busier parts of the capital, so it's best to carry your belongings zipped up in pockets or in sturdy, cross-body purses. Be cognizant of your surroundings on crowded buses and trains, as these can be prime locations for pickpockets.
It's smart to carry a photocopy of your passport around with you, as you may occasionally be asked to present it. However, leave your actual passport safe at home.
Practice the same tips you do to stay safe in your home country: don't flaunt your valuables, don't walk alone at night, know your alcohol limit, and avoid certain neighborhoods that may have increased risk of crime.
¡Pura Vida, amigo!
Now that you know all the tips and tricks for living in Costa Rica, you're ready to venture to the land of Pura Vida and live like a real Tico!
Costa Rica captures the hearts of nearly everyone who visits, and it's bound to charm you too. If there's one thing you take away from the experience, let it be the Costa Rican appreciation for life and all the great things that money can't buy: family, friends, nature, and time spent doing what you love.
We're excited to help you plan for your new adventure in San José. Setup a call with one of our Admission Counselors today to discuss all of our international internship opportunities. See you soon in Costa Rica!