London is more than just a city, its a place where dreams come true and life is lived to the fullest. Allison W. is currently completing her internship in London and discovering why so many interns become enthralled with the capital of England.
During her internship, the Mercy College student has lived like a local, learned professional skills, blogged about her travels, and so much more. Read below all about Allison's experience as an international intern in London.
Discovering interning abroad
Even with a double major in marketing and finance, Allison is on the fast track to graduate in three years. With such a packed schedule, Allison didn't want to miss the chance to study abroad or have an internship experience. With Global Experiences, Allison found a way to pack both into her busy schedule.
"I spent hours researching to find a solution and came across Global Experiences. I knew I had found the exact way to make both of these experiences a reality all at the same time."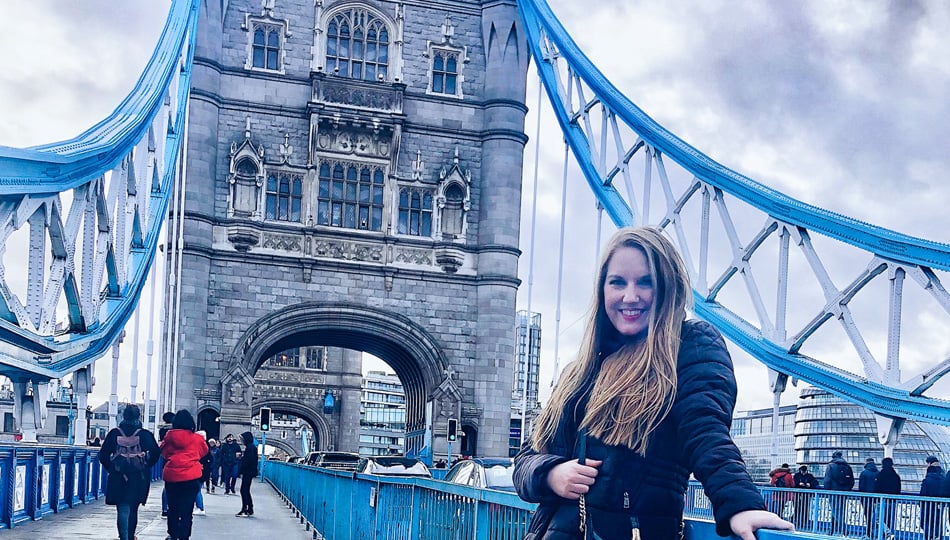 From the moment Allison discovered GE, she knew London was the city for her. "London was always my first choice to go to because it is another global financial hub like New York City, which would be a perfect location to gain hands-on finance internship experience."
Prior internship experiences
Before interning in London, Allison had worked four other internships around the New York City area. However, international internship presents unique opportunities and challenges that a domestic internship simply doesn't. From the very start of her internship, Allison noticed some of those vast differences.
"The reason is that all of my internships back in New York were in marketing; whereas, this internship in London is solely in finance. My marketing internships involved a lot of creative work, social media, and ideation, while this finance internship requires hard-skills in valuation, financial modeling, and excel."
London internship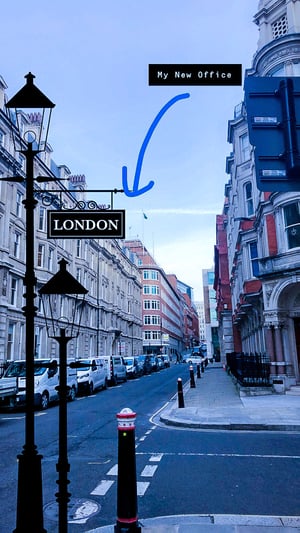 Allison was placed with the "leading global provider of communications infrastructure" the Zayo Group. Because of the company's "large networks throughout the US and Europe" Zayo Group has been the perfect placement for Allison to learn about finance on a global scale.
"Zayo provides fiber and bandwidth connectivity, colocation and cloud infrastructure to the world's leading businesses. Essentially, Zayo is in the telecommunications industry, which is constantly influenced by the world's fast-changing technology."
Internship tasks
As a "cooperate development and strategy intern," Allison has had the chance to work on a variety of tasks and grow into an essential part of the Zayo Group team. While focusing primarily on Zayo's European business, Allison has been part of "editing merger and acquisitions pitch decks, client/customer proposal decks, prospect research with relative financial analysis in excel, and financial modeling and projections."
Professional skills learned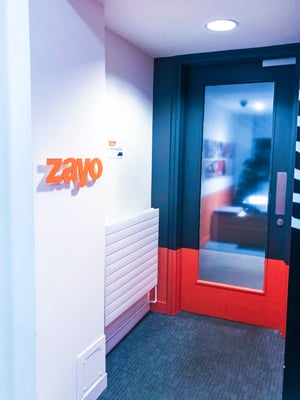 An internship is the best way to grow as a professional and learn the skills employers are looking for. Being placed in an office near Fleet Street, a well-known area for finance in London, put Allison in the perfect environment to learn and develop the skills any young finance professional needs.
With a few weeks left, Allison doesn't want to just learn finance skills employers are looking for; she is also aiming to develop the hard skills every young professional needs. Copywriting, design, and proficiently in a foreign language are just a few examples of hard skills employers look for, but Allison is set on learning one of the most essential hard skills of them all Microsoft excel.
"One of the greatest skills I have been working on improving over the last month has been the use of excel shortcuts - my aim is to eventually use only my keyboard, not my mouse, when using excel."
Gaining credit while abroad
Like many semester interns, Allison wanted to take a few online classes to earn even more credit while abroad. At first, her parents were hesitant about Allison balancing a full-time work schedule on top of the online classes. However, after Allison assured them she could balance everything "they got on board with the plan."
"So far, I have been able to balance my work-life, academic-life, and personal-life perfectly over here in London!"
Embracing challenges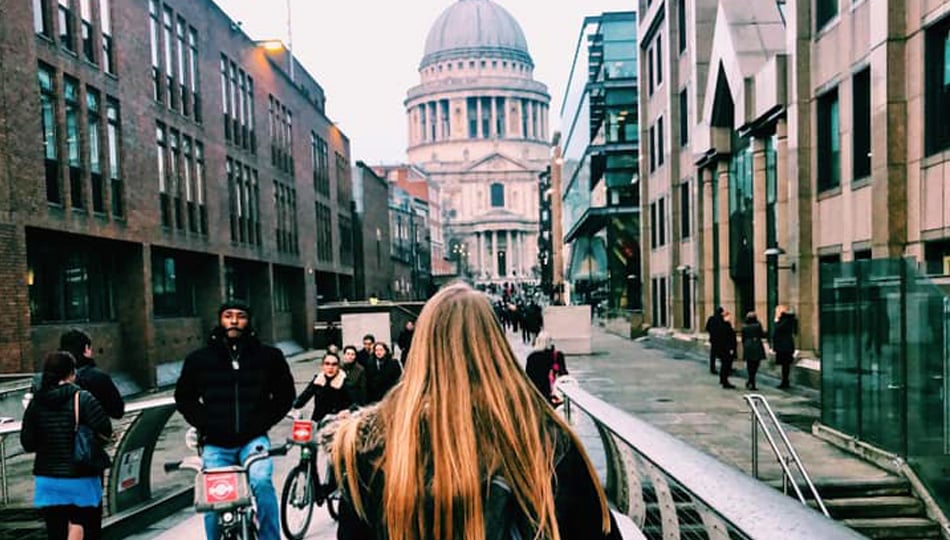 Nearly every day living and interning abroad presents new challenges. Even getting used to a new daily routine and tasks like grocery shopping can seem overwhelming at first. Alison has learned not to run or hide from a challenge, but instead embrace it.
"Interning abroad has taught me to embrace every challenge presented my way. Whether they be challenges, I face at work on projects I am assigned or challenges I face in terms of adjusting to the new ways of life in a different culture."
Traveling while interning abroad
London is a gateway to the rest of Europe. In just a short plane ride interns can spend a weekend in Paris, explore Stockholm, discover the beaches of Barcelona, and experience so many different cultures. In just her first few weeks, Allison has "explored as much as possible" inside and outside of the United Kingdom.
Inside the United Kingdom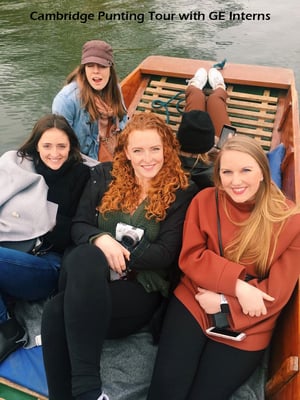 Allison has packed every minute of her free time exploring and experiencing as much as possible. In London, Allison has already visited some of the classic tourist spots: Tower Bridge, London's iconic photo booths, the stunning view from atop St. Paul's Cathedral, seeing Mamma Mia on stage, and caught a concert of one of her favorite glam rock bands.

It's not just the tourist spots Allison has enjoyed exploring; she has also grown "fond of British pubs, fish and chips, and adorable cafes here."

As part of the Global Experiences' program, interns have the chance to participate in social events and cultural excursions lead by the GE on-site staff. Allison and her fellow interns have taken full advantage so far by visiting "Cambridge with our GE leader Carmen and took a punting tour around the grounds!"

In her last few upcoming months in London, Allison is "excited to plan more trips around London and the rest of the UK."
Outside the United Kingdom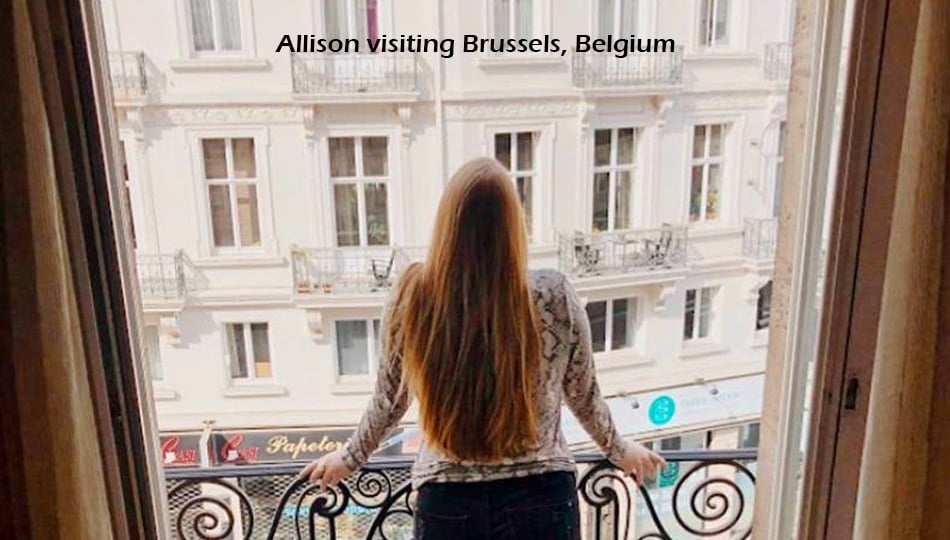 It's not uncommon for London interns to start planning trips almost immediately after arriving in England. With so much to do and see across Europe, Allison planned a few weekend trips of her own to Paris, Belgium, and Amsterdam. In the remaining time she has on her program, she may also tag along with a group of other interns on trips to either Spain or Germany.
"That's the great thing about Europe, everything is pretty close together compared to the United States."
Blogging her way through Europe
Every intern wants to capture their experience through photos that will last a lifetime or let the moments live forever by writing about them. Allison decided to do both by starting her own blog.
For the longest time, Allison had "pondered the idea of starting a blog," but never knew what she wanted the blog to be about. It was reading a collection of other travel blogs and her opportunity in London that inspired Allison to finally start blogging.
"With this opportunity in London arriving on my doorstep, it sparked the idea to make a travel blog myself! I thought it'd be an awesome idea to log my travels, my learnings at my internship, and overall update my family and friends back home on my adventures."
Check out Allison's blog by clicking here.
Clarifying career path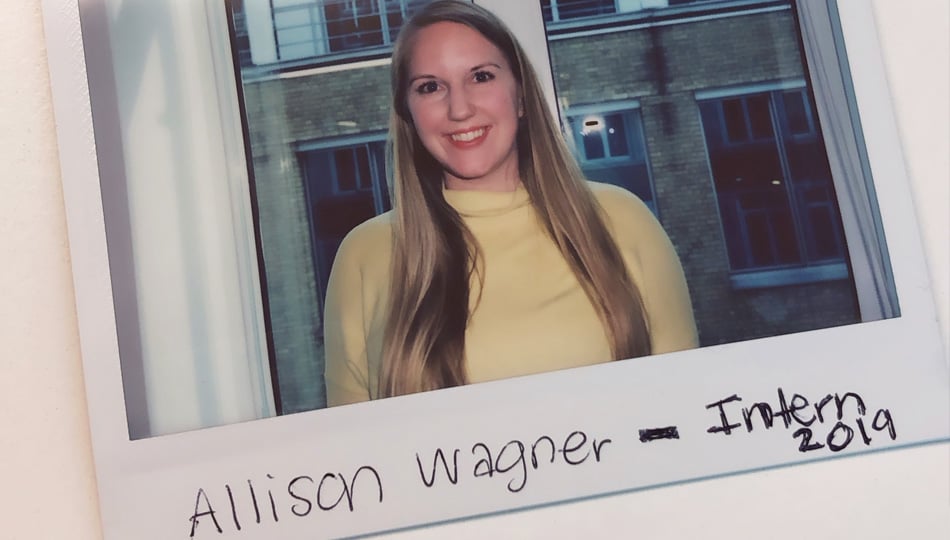 One of Allison's future goals is to become a business leader and "is to work at a large global company in a management role." Global Experiences and an international internship have given Allison the experience she needs to take the next step towards her goal.
"GE and this international internship have allowed me to take one step further towards reaching this end goal. It is unique to have international work experience on my resume, especially as an undergraduate student. I hope to leverage this experience and be able to make my career aspirations come true."
Post internship plans
An international internship is all about discovering what career path you want to take. Some interns start their program thinking they know exactly what they want to do but discover a totally new passion. While Allison has "loved working in [her] finance internship" and "learned vast knowledge" she has discovered that her "main passion lies with marketing."
After her "once in a lifetime experience" in London comes to an end, Allison plans on returning to New York City and finding another internship.
"Thank you to my GE family - extremely excited to spend the next few months here in London learning more about myself and what I want to do in the future."
Advice for future interns
For any student or young professional thinking about interning abroad, Allison has a message for you.
If you're a young professional or student filled with wanderlust and career aspirations, then an international internship is perfect for you. Apply today and one of our Admissions Counselors will get ahold of you as soon as possible to get you started on your way to London!