Josiah is a student at Anne Arundel Community College (just a hop and a skip from Global Experiences' headquarters in Annapolis!) studying visual performing arts. He's part Irish, so he was thrilled to land a theater internship in Dublin, the perfect culmination of all his years of vocal and acting training. Besides exploring his heritage with trips to the Cliffs of Moher and the Guinness Factory, Josiah also found time to jet over to Paris, Morocco and London. That's making the most of a first trip abroad!
Before Dublin Departure
What made Josiah decide to go abroad?
Josiah had never traveled internationally before, but he states that "This is the best way to start international travel!" He tells us, "I have always wanted to experience the world in ways I couldn't imagine. Not only am I getting experience for my career, I'm getting to experience a new country with some pretty awesome people!"
Ireland has always been on his list of places to visit. Since his family is part Irish, he thought that it would be "cool to be living here for the summer and experience it all."
While Josiah was preparing to head to Dublin, him along with his fellow Dublin interns worked with their Program Advisor Sara who walked him through the pre-departure process, and was a resource for all things related to getting him ready for his internship in Dublin.
To find out more information about our Pre-Departure process, check out Step 4 and 5 here. Once he arrived, Carolina our location coordinator, met him and the other students at their housing and took over as the 24/7 on site staff.
Friends and Family
While his parents were scared for him to hop on a plane and fly 3361 miles across the Atlantic Ocean, ultimately they were supportive just as his friends were! They trusted him and knew what a good choice interning abroad would be for his future.
While you may think going abroad might not be difficult with a significant other, Josiah says"My girlfriend was the first to give me all her support, even though she hated to see me go." What a great girlfriend!
8 weeks seems like such a long time but at the same time, no time at all! The time flies by as you live your day to day life and before you even know it, you've blinked, it's 8 weeks later, and it's time to hop on a plane back home.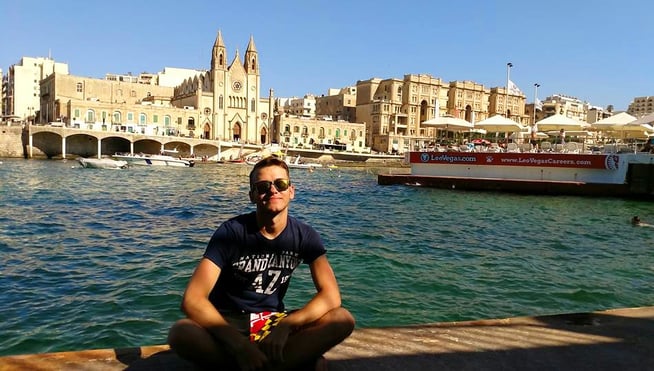 Is Culture Shock Real?
Before arriving in Dublin, Josiah tells us he was most concerned about adjusting to the culture. Being aware that culture shock is real and it exists is, in my book, the best way to begin overcoming it. Josiah was definitely on the right track preparing himself for culture shock and as a result found he was pleasantly surprised to find how easy it was to adapt to Irish culture.
He found that the most difficult thing culturally to adjust to was walking on the left side of the sidewalk! We're all aware the UK drives on the left side of the road, but many of do not realize it affects how you walk and bike.
"The States usually have a system where you always walk on the right side of the sidewalk, hallway, mall, etc. But here it's the opposite! I ran into many people on my walk to work everyday." It just goes to show how something so simple can play a role in culture shock. Fortunately Josiah recognized and was able to adapt quickly."
Josiah may have had an easy time adjusting and didn't experience an overall culture shock, but don't think it was all sunshine and roses. There are still cultural differences that even though small, can be mighty when you're trying to adjust to a brand new culture.
Not surprisingly, the friendly nature of the Irish contributed to the ease of adjusting to life in Dublin as Josiah recalls "everyone greets you and are never afraid to start a conversation." Combine the friendly people plus an amazing food scene and you'll begin to understand why people, including Josiah, love Dublin and the allure of the city. Read more about living in Dublin like a local here.
Josiah's Experience Abroad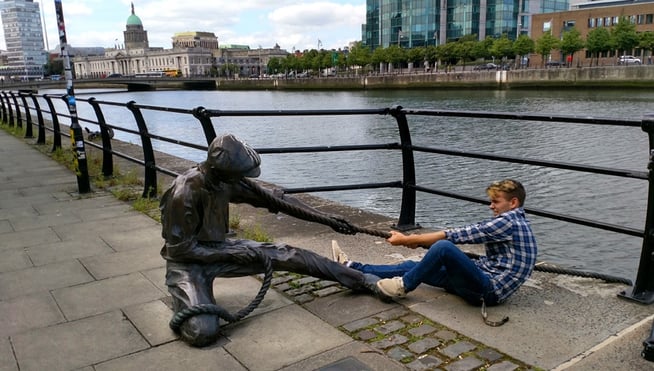 Learning Irish Lingo
Not only do you adapt to the side of the sidewalks and streets that you walk down, but also the language. The most commonly adopted words and phrases I've heard from fellow travelers tend to be "keen", "brilliant", "come to mine" (meant as come to my house), "toilet" (instead of restroom) and so on.
Dublin's primary spoken language is English, however, they stay true to their Gaelic roots. While Josiah got along brilliantly (see what I did there) with his new, and might I say friendly, colleagues who were very helpful and welcoming, he found he struggled sometimes with certain thing such as names. He tells us "For example, the name Shevaun in Ireland is spelt Siobhan because a 'bh' is pronounced 'v'."
Josiah's Internship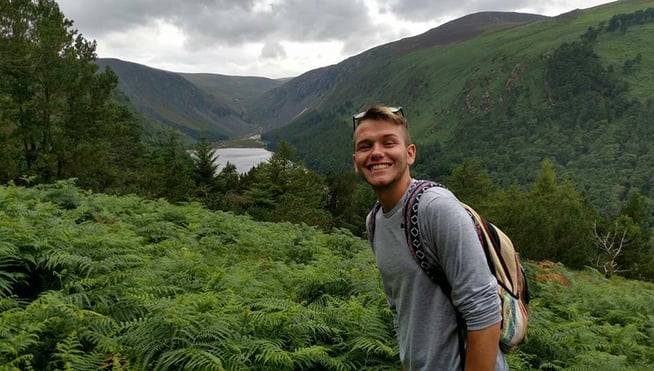 Having warm welcoming colleagues definitely makes for an easy-to-adapt-to internship. After spending the first two days getting him introduced to everything and showing him the basics, upon completion of his internship at an Academy of Dramatic Arts Josiah felt, "my internship really helped me develop my communication skills. Having to email, communicate, and advertise everyday strengthened my ability to talk to diverse groups of people."
Internship Projects
While involved in many different things during his time there, one of the main projects he was able to work on was a compilation of 4 shows directed and designed by students at the academy. He focused on advertising, design campaigns, social media events and posts (Facebook, Twitter, Instagram), and updating contacts and programming systems. His favorite part of it all? "I really enjoyed getting to see the shows come together!" he tells us.
Our goal for our interns is to expose them to a new culture and way of thinking, and be able to immerse themselves in their desired career field. It is equally important to learn what you want to do (and equally importantly not do) upon graduation.
An international internship provides all the right ingredients to grow both personally and professionally. Don't just take it from us; When asked if this experience helped to provide clarity to his career path and future professional goals, Josiah responded "Yes! It also helped me focus on my goals and strive for success!"
Gaining Experience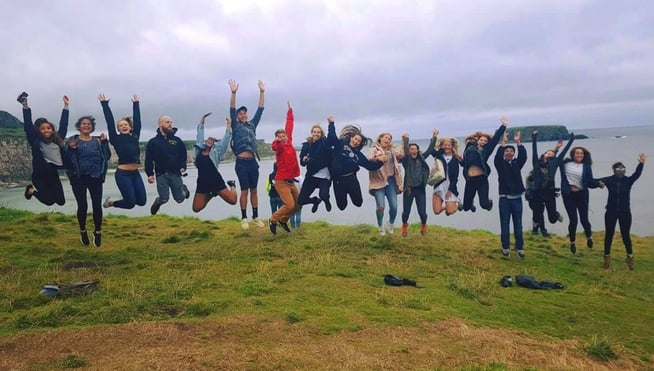 We mentioned in the last paragraph how much this experience helps you grow personally. How you might ask? Interning abroad is a great way to take a sample of real life. To see what it's like to 'be on your own' in a experiential environment. Being able to get out and experience the world and meet new people from new cultures opens a part of a GE interns' mind that was lying dormant before.
Our interns have taken a step beyond their peers to become aware of different cultures and countries; their awareness is magnified once they've immersed themselves in a culturally new environment . In Josiah's words, "This experience taught me that the world is massive, and that our jobs as humans isn't to make change everywhere in the world. We need to start with our own communities and spread love to the people around us!"
Interning abroad is a unique opportunity. It may seem scarier or more expensive than studying abroad (it's not) or than staying home (it is) however, for an employer looking at a resume of someone who's completed an internship abroad vs one who hasn't, the choice in simple.
Advice to Future Interns Abroad?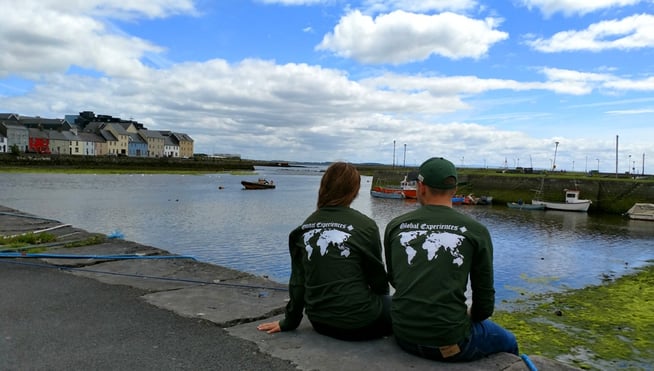 Josiah's advice to you? "Don't hesitate! Time goes by very quickly and chances are limited. Being abroad will be the greatest experience of your life, I promise!"

Sláinte!