Where do you go when you're an aspiring designer and want to break into the world of fashion? To the fashion capital of the world Paris, France, of course! Jenny L. spent her summer in city of lights experiencing first-hand the city's world-renowned fashion culture.
During Jenny's internship, the Fashion Institute of Technology (FIT) student got to live like a real Parisian and further her career in fashion. Read all about her experience as an international intern in Paris, France.
Why I decided to intern abroad
Before interning abroad, Jenny had already lived and studied around the world. She had completed short-term study abroad programs in Paris, Milan, Florence, and London. However, Jenny knew that interning abroad could help her learn more and launch her into her dream career in fashion. Jenny said about deciding to intern abroad:
"I wanted to challenge myself to leave my comfort zone."
Jenny had traveled around the world and knew there was no better place to intern in fashion than Paris. To Jenny, Paris was the obvious choice, "Paris is the capital of fashion. I believe that anyone studying fashion would want to experience working there."
Family and friends
Jenny was fortunate to grow up and live in a diverse range of places like Virginia, Ohio, New York, and even Taiwan. When it came to interning abroad, Jenny's family agreed that Global Experiences was a "great opportunity" for her to broaden her horizons. From the very beginning, Jenny's family was "really supportive."
Adjusting to Paris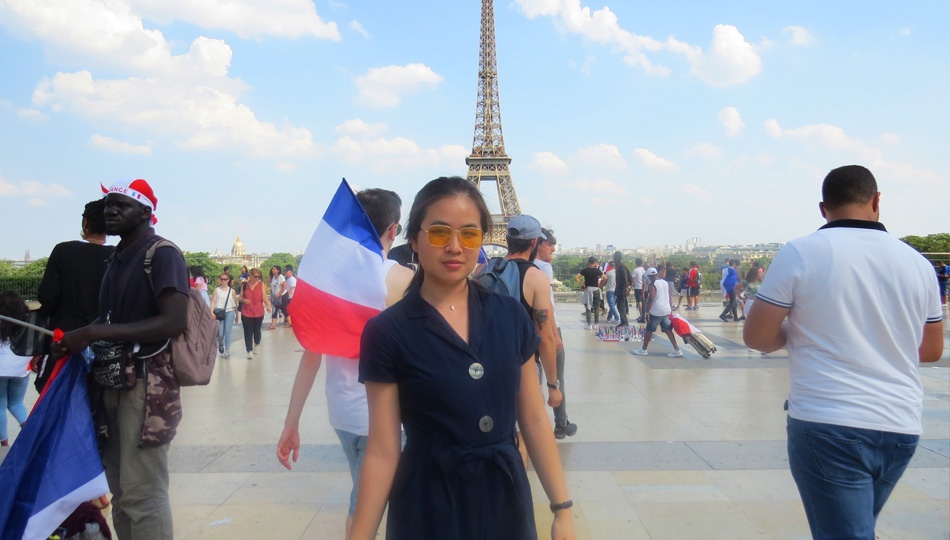 Like many interns, Jenny was nervous about overcoming the language barrier. "Not being able to speak French was my biggest challenge there." Traveling and working in a country where you can't speak the language can seem intimidating at first. However, Jenny quickly found that the key to overcoming the language barrier wasn't to be scared or intimidated,
"The key is to embrace the difficulty and not avoid it."
Living the Parisian lifestyle
Paris is truly a one of a kind city. Nowhere else on earth can you find the same fantastic culture, cuisine, and of course fashion. While in the City of Lights, Jenny truly got to live like a local and experience everything Paris had to offer.
From the fashion to the food, Jenny got to experience it all and have a truly unforgettable experience. Jenny said her favorite part about living in Paris was "I loved to see what they wear on the streets." When asked to describe the Parisian lifestyle Jenny said:
"Work hard, play hard. Ç'est la vie."
Fashion internship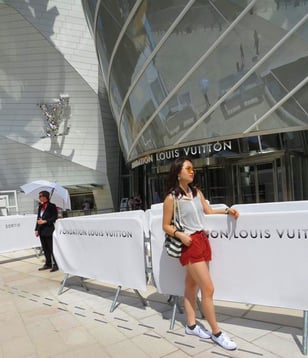 Jenny was placed with the luxury fashion and travel company Kilometre Paris. She stepped in at a time when another intern was leaving, and new exciting projects were beginning. In the first week, Jenny quickly became part of the team and part of many projects. She said about her first week at her internship:
"The assistant designer and that intern would explain how everything works and gave me tasks and projects to do."
Once things became a little less overwhelming and she started feeling more comfortable, Jenny fell into a routine. Every morning Jenny would leave her homestay a little after 9:00 AM and use Paris' art inspired metro for her daily commute. Depending on what project she was a part of Jenny's task would change week-to-week.
"I have different projects time to time, so what I do at work differs depending on what project I'm working on. For the design team in general, we work on pattern making, garment fitting, and finalizing embroidery designs and line sheets for overseas production. During the buying season, I did illustrations of our products and prepared the lookbooks."
Favorite projects
Jenny loved every minute of internship, and would often stay late to learn more from her coworkers and work on various projects. Many of the projects she worked on were for clients from around the world, but her favorite project was one that took place in the heart of Paris.
"Our company had a pop-up shop in July, and we provided custom embroidery service in the shop. I got to design and make a mini display to showcase the yarn colors we offer for the custom embroidery."
Coworkers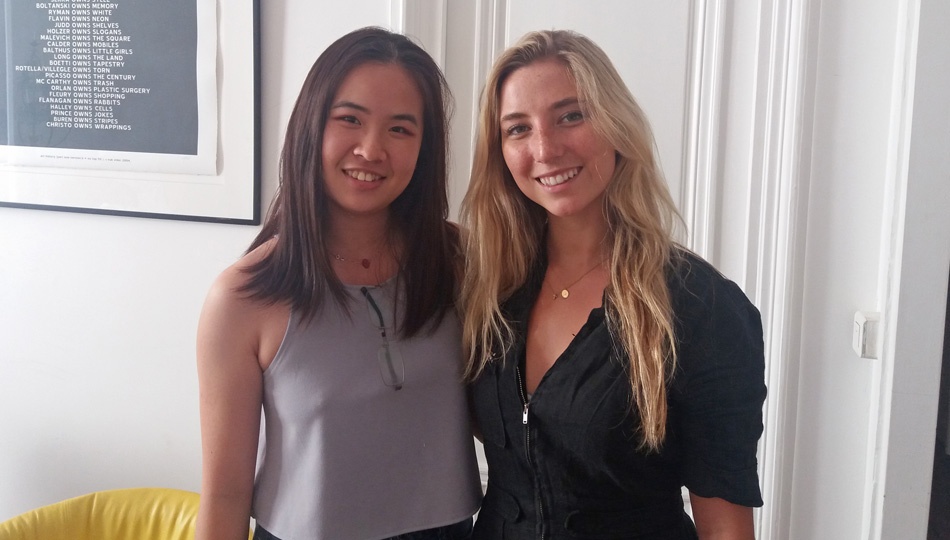 Kilometre Paris is an international company who has clients all over the world and also brings in interns from all around the world. Jenny became close with co-workers almost right away and as she describes it, "We worked together like one big family." She also found there was no need to be nervous about the communication barrier as the language of the office was English.
French work culture is relatively unique compared to the rest of the world. The official workweek in France is only 35 hours, and coworkers are encouraged to become friends outside of work. Jenny often spent her free time with her coworkers and "would go out for a drink together."
Skills learned
Living and interning in Paris will teach any aspiring fashion designer the skills they need to launch their career. For Jenny, she learned new skills and gained hands-on work experience which will be the foundation of a successful career in fashion.
She learned everything from the computer skills like Photoshop illustration to the hands-on fashion skills like "hand embroidery, pattern making, handbag design, and garment fitting." The main thing Jenny learned was:
"Responsibility is everything for any career."
Clarifying a career path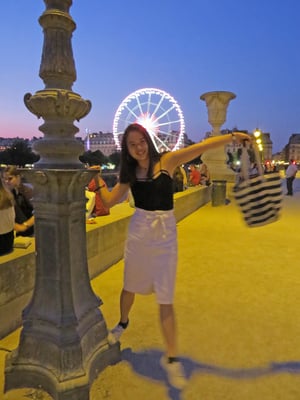 Interning abroad can be life-changing personally and professionally. Interns come back with a clearer understanding of what they want out of life and their career.
Some interns come back committed to the career path they already saw themselves in, while others come back with a new perspective and change in career paths. Jenny came back with a new-found passion and a clearer understanding of where she wants to go next:
"Working in Paris helped me find what I am passionate about and what I value in my career. At first, I thought I would definitely stay in New York for work, but now I feel that I could go wherever I like."
Lessons learned from interning abroad
Travel changes you as a person. By stepping out of your comfort zone and into a new culture, you learn lessons about yourself and the world around you. Jenny knew that interning abroad would fulfill her love of learning and her goals of getting outside of her comfort zone.
"I know that I need to push myself out of my comfort zone to improve. Growing up living in multiple cities in different countries, I love to learn and experience more different cultures."
Advice to future interns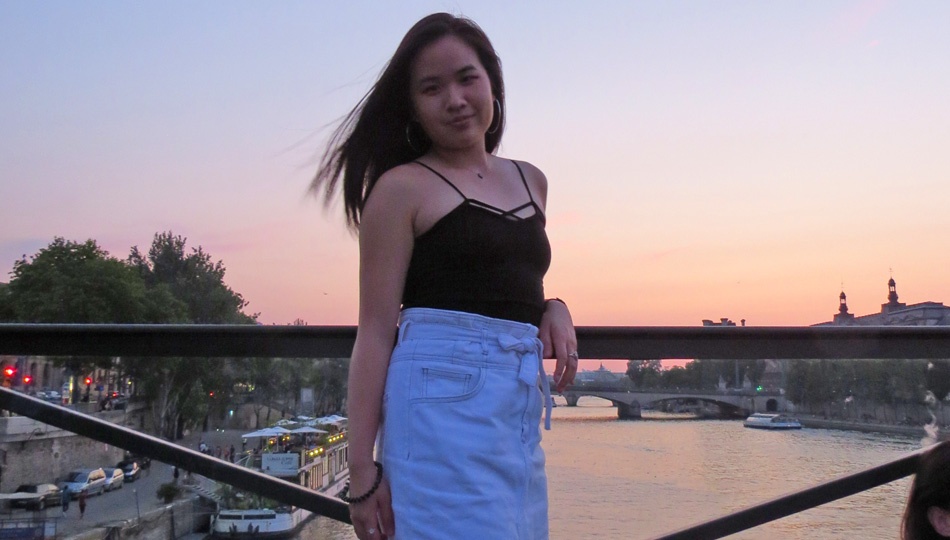 For anyone thinking about interning abroad in Paris, Jenny has some advice for you:
"Don't hesitate. Go ahead and embrace the unknown. You will learn more than you expect."
What are you waiting for? The city lights of Paris are calling your name. We get to know you, your background, and future career goals to find the perfect internship abroad for you. Apply today to take your first steps towards an international internship!
Fashion internships in Paris are available in the spring and summer to eligible students and young professionals.