I'm in Dublin. I feel like that sentence alone is enough to express the sheer amazing, incredible, outstanding time I am having. Dubliners all have the dispositions to match the beautiful sunny weather I arrived to on Saturday. Once I was out of the airport, I met a cheery bus ticket salesman, then a cheery bus driver, and then a cheery cab driver. By the time, I made it to my flat I was downright chipper. I was greeted by a cheery, though hard to understand with his accent, front desk attendant. By the time I arrived at my accommodations I knew I had made the right choice to intern in Dublin!
First adventures around Dublin
After unloading all my stuff in my flat, my roommate and I joined a few other girls to get cleaning supplies and groceries. We made our way up to Grafton Street, one of Dublin's shopping hubs. It's an adorable street filled with a variety of shops, street performers, and human statues. We had lunch at this cute little café on a side street where we found a friendly Brazilian waiter who filled us in on all the must-see sites of Dublin.
How do you top off such a great first day? With a fabulous first night out of course! I am lucky enough to be here with a great group of fellow interns who are all just as excited to experience Dublin and everything our experience has to offer. I look forward to as many Irish adventures as we can fit in while she's here and a weekend trip out to Scotland to visit her after she leaves.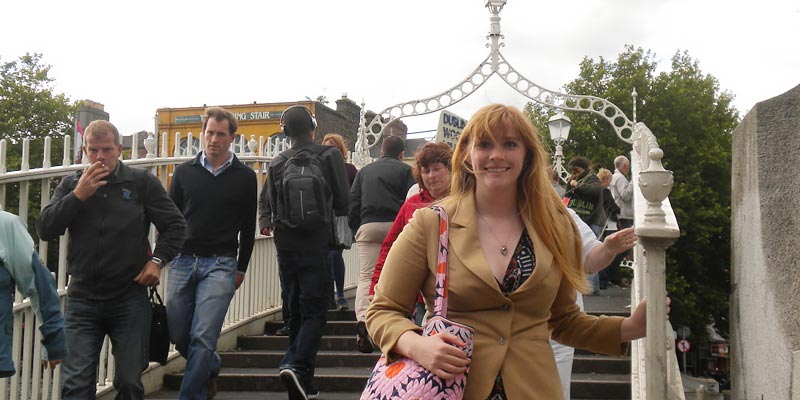 Day trips around Dublin
Even a 'showery and blustery' Sunday couldn't ruin my spirits. Why? Because I am in Dublin. My fellow interns and I met up for a little PowerPoint orientation, and then a ride on the Viking Splash Tour. It was a car shaped like a boat. We got to wear Viking hats and scream at unsuspecting victims on the sidewalk. Besides all of the silliness, it was really interesting because Dublin is full of beautiful, old and interesting buildings, but I had no idea what any of them were. The tour went all around Dublin, and we learned about anything and everything that the city has to offer.
In the end, we discovered this is not just a car shaped like a boat, it is an actual boat. They strapped giant floaties on the sides of the boat, and we set sail in this small lake formed by a lock in the River Liffey. It was on this lake that we saw the old boathouse were U2 has recorded all but two albums, as well as a new arena, many elegant apartments, and boats from WWII made from cement.
After the tour, we went to dinner and a show at the restaurant of a hotel. While enjoying a tasty 3-course Irish meal, I got to listen to an Irish band and then watch some Irish dancing. It is incredible how fast their feet were moving. It is safe to say that they were a little more advanced than I ever was in my Irish dancing days. To top off the night, I bonded with an Irish boy over our matching hair colors, and he introduced me to a new color description for it, "African Sunrise."
The first day of an international internship
My first day on the job went both how I expected and better than I expected. I have a short 15-minute walk past a canal, bustling shop and restaurant area of Baggot St., and shady residential area. The small collection of offices resides in an old-fashioned apartment building. I jumped into a team of two Portuguese interns that have been there since January and will stay until July.
My first day was mostly what I expected, but I also learned that they will have me editing during my internship which was a bit unexpected. I am excited to jump into my internship and learn everything I possibly can. My first day was spent reading up on Gaelic football, predominantly about the women's league, because I will be working on a documentary series that follows a women's Gaelic football team. After the summer, they will be making a spin-off documentary series that follows the star player as she comes to America on a soccer scholarship at Northwestern.
After chatting with the associate producer, I learned that she joined the company in April and before she had joined, she had worked with a company that was bringing gambling into Dublin. The gambling system was designed by Penn State grads, the same grads that created the LionMenus website all us Penn State students have come to know and love. Small world!
Feeling like a local already
Walking on the way back from work, I was loving life. I feel like I am already living like a local. I know three different ways to get to the St. Stephen's Green and Grafton St. area from my flat. Granted, I had to get lost three times for that to be the case, but now I know every way possible to get there and back. I was told I look Irish today at work; on my walk home, I felt Irish. Strutting along back to my accommodations I felt like I belonged here.
If it wasn't for my accent, I could pass as a Dubliner. I've even been asked multiple times for directions. The first was by tourists but the second time was today by an Irish woman. Just as I was getting back to my apartment building, a car pulls over, and a female Irish accent comes out the window asking how to get to such and such. For a brief instant, I thought about whipping out a fake accent to go along with some fake directions to give her, but I decided against it and replied in my Yankee accent, "Sorry, but I have no idea." It's okay, though. Why? Because I'm in Dublin.