You've nailed the interview, landed your dream internship, and soon you'll be setting off for a once in a lifetime adventure. There are the few essentials all world travelers need -- cash, ticket, passport, and of course, a phone. Though we don't want you staring down at your phone your whole time abroad, there are a few apps to make living in a new country a bit easier. Check out these 10 apps you should download for your internship abroad.
Before leaving: Packing Pro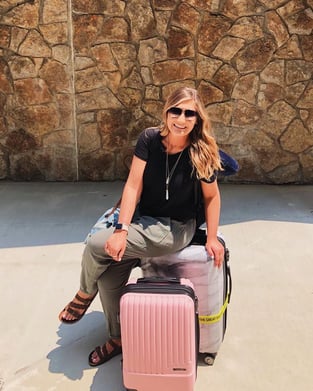 Packing Pro is one of the top travel apps in the United States. It's even been featured in major publications and landed on Apple's "10 essentials." All for a good reason too as this app is a must for anyone looking to travel. For $2.99 Packing Pro takes the headache and guesswork out of packing. Instead of worrying if your suitcase will make it on the plane or being afraid that you're under packing let Packing Pro make a list for you.
You'll simply enter the dates of your program and your host city, and the app creates a full list. Packing Pro tells you what you need with a list split into clothing, gadgets, essentials, and more. Pair this app with the things we ask you to pack, and you'll have everything you need to thrive during your international internship.
To save money: XE Currency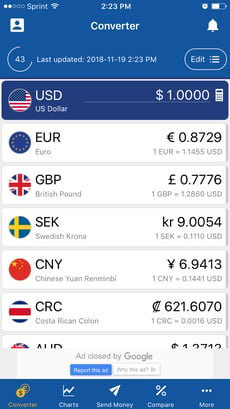 Trying to convert currencies in your head and on the spot can be a nightmare. If you're in a location where the conversion rate seems too good to be true, like Stockholm or Shanghai, then it probably is. Sure 10 Swedish kronor to 1 USD might make everything seem cheap, but if you're not careful your first credit card statement will shock you. Even if you're in a location where the conversion rate is only a few cents difference, like it is with the Euro and USD, those few cents can add up quickly.
Conversions can change day-to-day, and to make your internship a bit easier we suggest downloading the XE Currency app. XE gives you up to date exchange rates and is entirely free to download. It's also super easy to use - simply put in the currency you're used to using back home, and XE will quickly convert the value to up to ten other currencies at once.
Getting around: Google Maps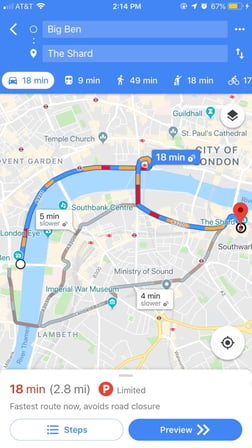 Let's be honest, anyone that grew up with a smartphone in their hand never learned how to use a paper map. We've relied on our trusty gadgets to get us from point A to point B with ease. Getting around your host city will be challenging and exciting. Sometimes getting lost in a foreign city can lead to amazing memories, other times it can lead to panic. Luckily there are different apps to make the adventure of navigating a new city a bit easier.
Our favorite navigation app is Google Maps. Google Maps is straightforward and gives you a map, street, satellite, and 3D views. You also get public transportation directions which can be a lifesaver during your time abroad; if you want to save some data, download your map while on Wifi, and it will still be available for up to a month offline. Save yourself from getting lost and wandering around like an oblivious tourist by taking a few seconds to download this crucial app.
For texting and calls: WhatsApp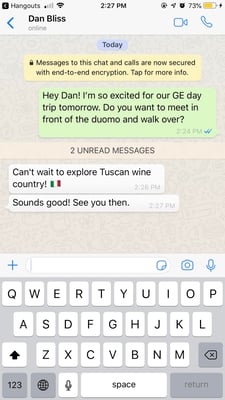 During your internship, your friends and family back home will want to know how much you're loving your time abroad. Instead of relying on social media or email to tell them, we suggest downloading WhatsApp. WhatsApp allows you to send text through Wifi or data instead of affecting your calling plan. You can also send photos through the app, allowing everyone back home to see how beautiful your host city is.
By just entering your phone number WhatsApp will search your contacts for others that have the app downloaded, making it easy to stay in touch with friends and family. It's also one of the easiest ways to set up groups with your fellow interns to message each other while abroad. Do your parents a favor and send them a quick voice message through WhatsApp when you arrive, they'll appreciate more than you know.
Finding out what to do: Triposo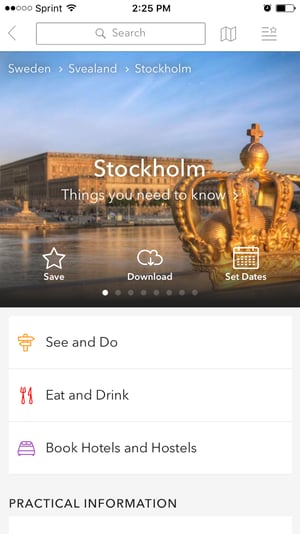 Going to a foreign city and a new country can be a little overwhelming at first. There is so much to do, see, and experience. Jumping online might seem like the quickest and easiest way to learn about restaurants, attractions, and things to do. But trust us when we say searching online will become frustrating. Flipping through web page after web page will make learning about a new country feel more like writing a paper for final then it will getting ready for the adventure of a lifetime.
Triposo makes exploring and living in a new city a bit easier. Instead of looking through hundreds of similar and sometimes useless web pages, Triposo crowd-sources information from large sites like Wikipedia, Wikitravel, and several other sites. At the tip of your fingers you'll have a free guidebook that tells you all about activities, restaurants, ways to get places, and so much more. The guides can even be used offline as long as you download them beforehand. Let Triposo be your guide around your host city, and you'll easily find the foods you must eat and the sites you must see.
Beating jet lag: Entrain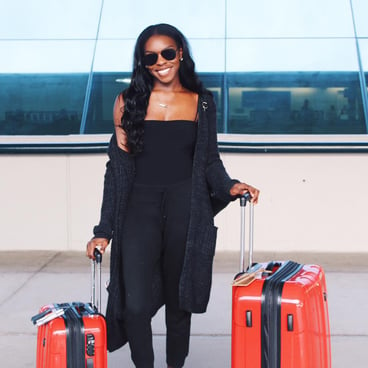 At Global Experiences, we're made up of world travelers who have tried everything to win the war against jet lag. But no matter how many hours we sleep on the plane or home remedies we've all tried we couldn't find a way to beat it. Falling asleep too early and waking up in the wee hours of the morning are what we all came to expect. Even sitting on the couch at 3 AM watching reruns on Netflix didn't help put us to sleep.
The app that does help ease the pain is Entrain. A team at the University of Michigan developed the app to help travelers all over the world. Entrain uses some basic information about your travels to build a schedule to help you adjust. The app will tell you when you should be sleeping or awake and even what type of light you should be. Save yourself from a few early mornings and get well rested for the first day of your internship by downloading Entrain.
Make photos look professional: Snapseed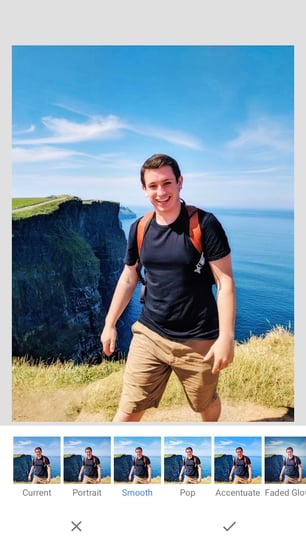 While abroad you're going to find experiences and events you want to capture forever. But there's nothing worse than coming back home with a phone full of low-quality photos. You'll never convince your friends to do their own international internship if your Instagram is full of badly exposed and crooked images. With so many apps out there calming they can improve your photos it can be hard to know which one you should trust.
We've found that Snapseed is the best app to make an average pic look professional. The app used to cost a few dollars, but Google bought it and made it free. Colors, contrast, straightening, and more all get improved by using Snapseed. Some users find the app difficult to use at first, but the learning curve is absolutely worth it when you see everything you can do.
Make sure to submit your photos to the Global Experiences' photo contest for a chance to win some great prizes. It doesn't matter if it's a selfie, shot of the skyline, or you with your fellow interns we want to see them all!
Live like a local: Spotted by Locals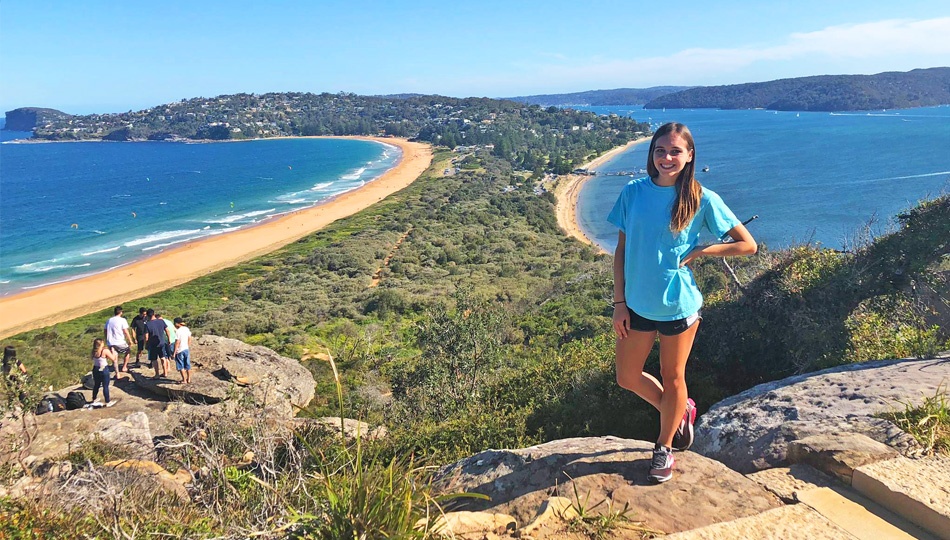 Living like a local means exploring more than just the touristy areas; its all about finding the places locals flock to. We encourage all of our interns to live this way and find it so important that we've written a whole blog series about it. However, if you're walking around your host city and don't happen to have one of our helpful blogs readily available, you can always use Spotted by Locals.
The app is available in over 70 cities and cost around $4.00 per city map, but it's worth it. Locals handpick the locations you're shown and advice you're given. Spotted by Locals is continually being updated with new locations, information, and maps. You can save your favorite places and even use it offline. Use this app, and you'll be live like a local in no time.
Catch a ride: Uber/Lyft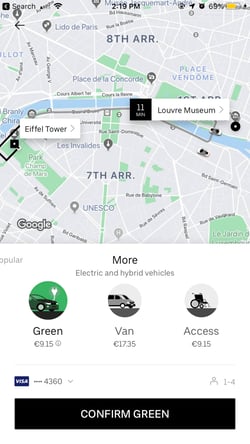 Catching a cab in some countries might be different then what you're used to. So instead of waiting for one, bring a ride right to you with an Uber or Lyft. Ridesharing services may have hit some roadblocks in a few countries over the last few years. But in over 80 countries around the world, Uber and Lyft are still going strong. While aboard, these apps become even more useful as you can track where you're going, know the price before jumping in, and don't have to use cash to pay.
Depending on your locations can affect the rules of Lyft and Uber. For example, in Costa Rica, Uber isn't legally allowed to pull up to the airport. In other cities, ridesharing apps are relatively new, and you might have to wait a bit longer than usual. Do some research before departing for rules about ridesharing services in your host city, and soon you'll comfortably be riding through some of the most beautiful streets in the world.
Communicate: Google Translate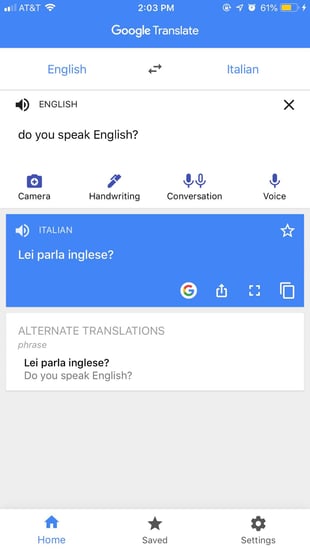 Between the time you enroll, to the time you departure you probably won't be able to master a new language. You'll be able to learn a few basic phrases which are always helpful and might be enrolled in language class depending on your location, but trying to be fluent would take years. But don't worry there are still ways and a few great apps to help you overcome the language barrier and thrive in your host city without knowing the language.
There are a lot of translating apps and software out there, but for your time abroad, Google Translate has everything you need. You can convert text straight from a conversation or type in words/sentences and have them translated. The coolest thing about this app might be the camera translate feature. All you have to do is take a pic or hover your camera over text, and the app will translate it for you.
Don't let your phone be your main focus when traveling. You don't want to miss the experiences that will change you as a person, or the opportunities to see things you'll never forget. But do download these apps to capture incredible moments, get around your host city, and make life just a little bit easier.
Apply today to talk to one of our Admissions Counselors about the places you can go. Our staff get to know you, your background, and future career goals in order to find the perfect internship for you. Then these apps will come in handy!