We're almost a month into our pioneer Stockholm summer internship program, and it's a hit! (We knew that it would be, of course).
We were approached by one of our university partners, the University of Michigan, for a customized program in a new location; we immediately recognized the opportunities to be had for all young professionals in Stockholm! Our co-founders, Emily Merson and Stephen Reilly met while attending graduate school in Sweden. At that moment, they developed a vision for a program in Sweden. They envisioned giving students a "life-changing opportunity much like the one that they had experienced, one that focuses on professional development and career readiness".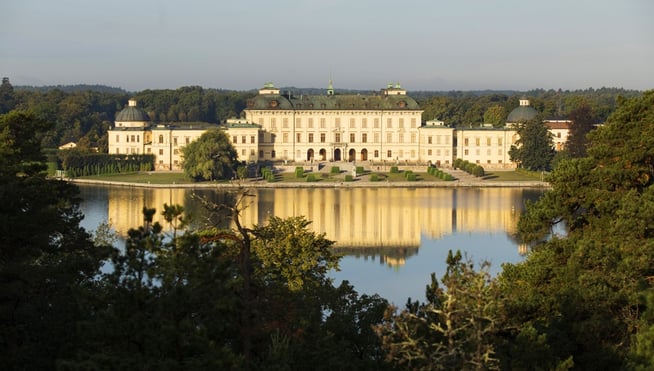 While Stockholm may not be the first location that comes to mind for an international internship, the altruistic culture of Sweden had captivated not only our interns, but innovators all over the world as it is the origin and host to the Nobel Prize Awards.
The city itself is spread across 14 main islands offering stunning ocean views at every hour of the day. And I do mean, every hour because during the summer months, Stockholmers experience 18-20 hours of sunlight. Let me repeat, 18-20 HOURS per day!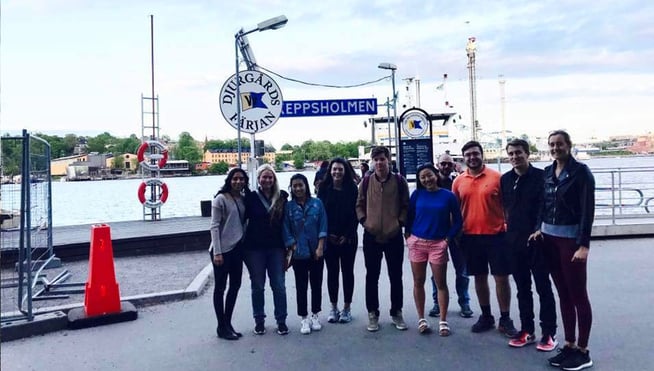 It would be easy to assume that a city spread across 14 islands can be difficult to traverse, however, all of the interns were impressed with the ease in getting around and had no trouble navigating the city. Aerielle, one of our interns from the University of Michigan describes in one of her blogs that "the view to my way to work is beautifully serene and an excellent way to start the day." That makes sense seeing as there are more than 50 bridges and ferries to aid in their commutes!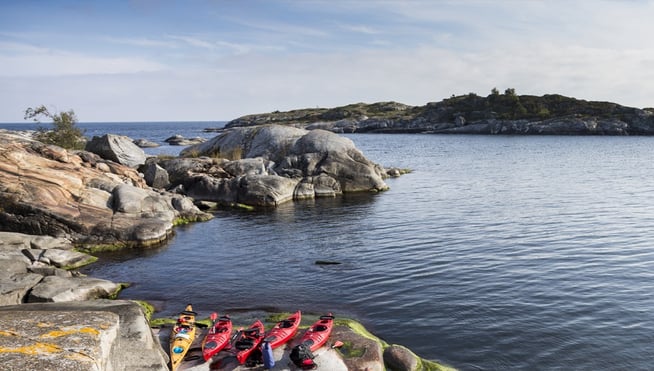 Back in Annapolis, known as the sailing capital of the world, the water enthusiasts at headquarters have been obsessing over the Stockholm Facebook page for more photos from our staff and interns alike to keep up with their newly adopted Swedish lives and how their various internships are progressing.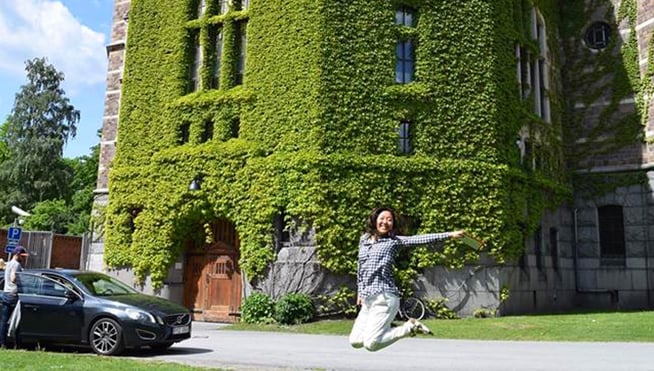 As a marketing intern, Aerielle from the University of Michigan quickly realized that Stockholm is rich with the culture of startups and young companies made up by younger people in their mid to late 20's. As a result, her company is mostly under the age of 25. She feels completely comfortable communicating throughout the company, adding "I also appreciate that there is no hierarchy, so I feel just as comfortable asking my CEO questions with certain marketing campaigns as I would with my supervisor."
That kind of company culture can be rare; but not for Stockholm. It's a city being built for the future. The city is always trying to improve quality of life for it's residents and has a 13-year development plan already lined up!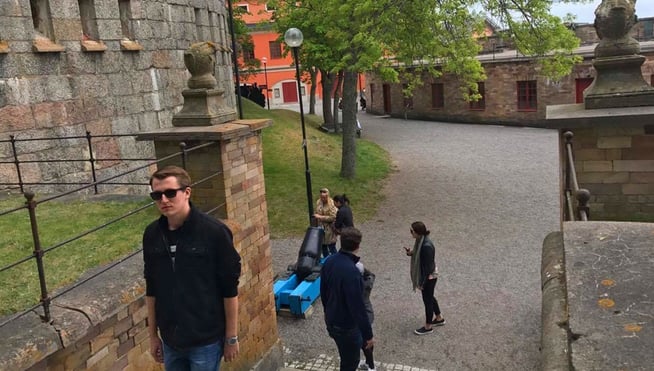 Daniel, one of our Journalism interns from Temple University, is working with a company building an innovative news app! He enjoys exploring the Swedish culture and tells us his favorite part of interning and living in Stockholm are the people! He thinks that, "everyone is really cool", and he loves the ease of getting around the city.
While being able to explore Stockholm and all that it offers is a wonderful and often once in a lifetime experience, the main purpose is to work in the real world. Not only to add to a resume, but to find out if you're headed in the right direction with your education and career goals. Samuel is being introduced to an entirely new way of pursuing his career in wealth management. As an Analytical Finance major at Lehigh University back in Pennsylvania, he is moving towards a career in investments and working as a financial analyst.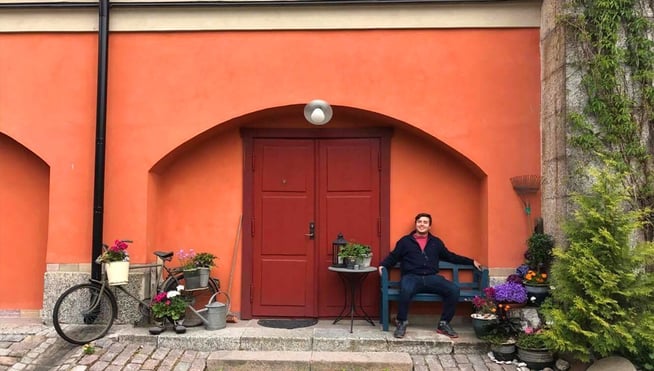 From his Finance Internship, he was introduced to how a career in finance and wealth management can expand across different industries. Needless to say, he was pleasantly surprised at his art heavy internship. He explains, "I didn't think that I would be working so much with art but I'm glad that I have this opportunity. I'm still doing stuff that I want to do but at the same time, I didn't know anything about the art market. It's really cool stuff and the work behind it pertains to what I want to do in life."
We grow, learn, and develop from different experiences and respond in our own way that helps us come together harmoniously. Our interns headed to Stockholm with the right attitude: to succeed.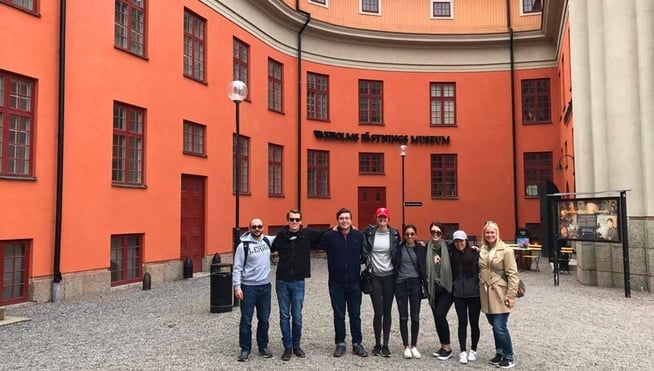 Each set out to pursue that goal in different ways. For Aerielle, she has learned "to make everything out of each and every opportunity that I earn." She is doing exactly that by choosing to learn and grow as much as she can. Meanwhile, Samuel has learned how to step out of his shell in order to fully engage himself in the environment and take in all the experiences possible.
"It's one thing to just go out there and be in your own head and watch everything pass by but is another thing to actually experience the culture and interact with everything around you. I think that's a key part of how we should live our lives." - Samuel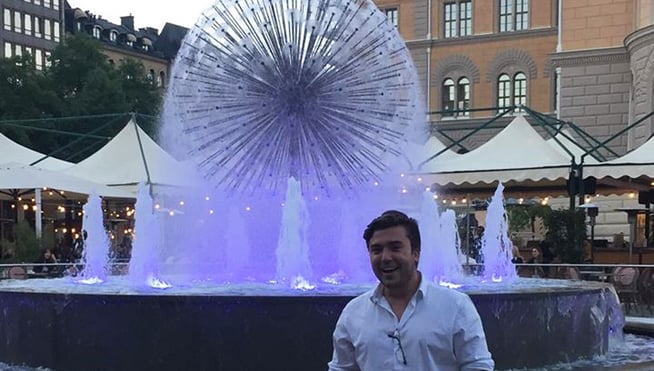 We place interns in environments where they can grow and thrive. We are in constant contact with either our interns or companies to ensure the most positive experience! Not to brag, but we did a decent job providing a comfortable home environment. All of our interns were in agreement about their sweet digs, including the heated floors!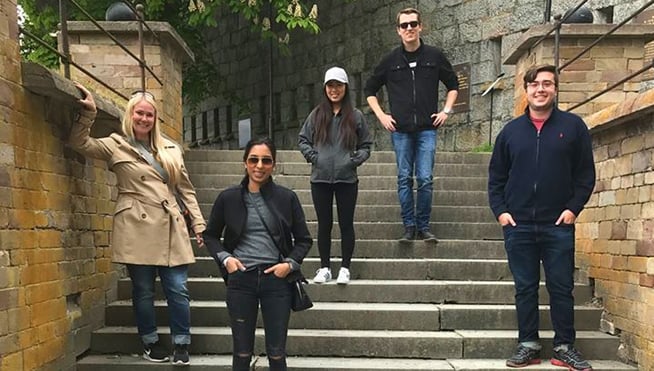 There is so much to be absorbed and experienced while living and working in Stockholm, the only way to fully appreciate it is to be there yourself. In the meantime, take advice from our interns that are currently living and working there. When asked what advice they would share with anyone considering a program in Stockholm, their responses were unanimously positive across the board:
"Swedes are also very friendly, so your assimilation into Swedish culture will be relatively smooth. Also, do not be intimidated about not speaking the Swedish language if you don't, because basically everyone here can speak English and while that is great, it's also polite to extend the effort to learn a little bit of Swedish while you're here!" - Aerielle

Go to Stockholm! It's the coolest city to be in. There's a bunch of exciting young companies. Not a lot of people can say they've been to Stockholm...plus you get this cool apartment and you get to hang out with Firoz (our on-site Location Coordinator) who is the coolest person in the entire world." - Daniel

"I would say 100% do it! Sweden is the most underrated country. I would tell them that they probably will go to London, Barcelona, or Australia sometime in their life anyway but the odds of just going to Stockholm are probably a little bit slimmer." - Samuel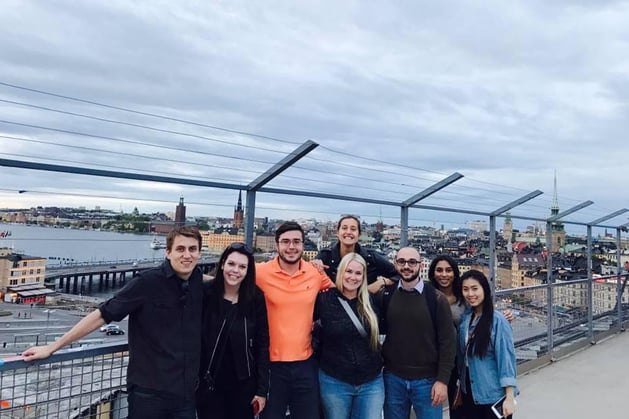 We're so excited to watch the continued professional growth of our Stockholm interns and see who next year brings!