Hello! I'm posting this entry a little late, from my first day in Florence which was, at this point, five days ago (It feels like longer than that five days....so much happens every day that the days are melding together into a mass of wonderful.). But regardless, here goes my thoughts from last Sunday night!
I'm keeping this blog to document my time here both for myself and for anyone considering participating in a Global Experiences program. I'm planning on documenting my successes and failures, and of course all of the things I do in Florence and the surrounding area. I don't know what form this blog will take yet - in a perfect world I'd love to post long detailed entries with photos every few days, but alas it's not a perfect world. Perhaps I'll shoot for once a week, with some little asides here and there…something to ponder.
I'm writing from my apartment on Via Maggio, less than a minute walk to the Pitti Palace; I'm not all the way moved in, but it'll happen tonight (I've got to clear the bed…), and I'm very much looking forward to going to sleep. After a missing passport scare (no, it was fine, it was in my purse the whole time), a delayed flight, and the logistics of getting myself from Rome to Florence by train, I'm just about tuckered out.
The apartment is very neat - not glamorous, but the floors are a red brick, the ceiling is exposed wood beams, and there are exposed bricks and stone in parts of the walls. My petite room is on the front of the building, and I'm enjoying listening to people as they walk by, trying to catch as much of the Italian as possible.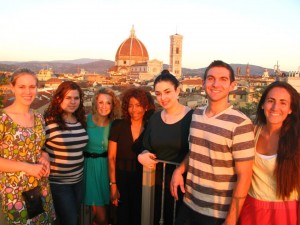 The room is one floor above ground level; high enough to give me the security of being above the street, but also low enough for me to be eye to eye with tourists on the top level of tour buses as the go by (It's a really narrow street - I'm surprised the buses can even maneuver down them…and yet again, traffic is just a whole other thing over here…never mind.).
As for now, there are a million and one things I could write about, but I'm too busy thinking about food. I went and got myself a gelato once I'd mostly unpacked (I'm telling myself that nothing else was open at 4 in the afternoon therefore justifying a midday dessert, and when that doesn't work I justified the decision instead with: I'm in Italy and it was tasty!) and now I don't have too much more time to kill before places open up for dinner.
I'm also going to try and prep a little more for my placement exam tomorrow morning for the language school; my Italian is woefully rusty.
Pictures to come soon!