Samantha is an international business major at Minnesota State University and is interning in for a start-up in Dublin, Ireland this summer. Below is a post from her own blog about her first week in Dublin.
"I have had the biggest whirlwind of a week and let me tell you, it's been nonstop! I have been on the go since my last Tuesday Tops post and even as I sit down to write this post I'm realizing how much has transpired in these past seven days! I felt like I was home for a heartbeat before heading over to Europe and now that I'm here, it seems unreal that it's already been four days! Bear with me as I try not to go overboard on this week's Tops...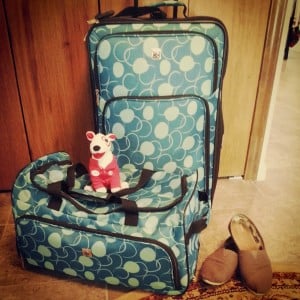 1. Realizing that I am an amazing packer
Somehow I managed to pack two months' worth of clothes and supplies, shoes, toiletries, reading material, and electronics into two bags in just one afternoon. My carry-on went through security and customs just fine, my bag was under the weight limit, and my purse had everything I needed for the flight. It was so helpful having wheels on my bags! When I went to France in high school, all my luggage was "handles-only": this trip definitely went much more smoothly!
2. Navigating the airport without my parents without getting lost!
The other intern and I who were flying over together managed to find our terminals and gates and seats and all that jazz in both our home airport and in Paris' airport without being late or losing luggage. This is especially exciting because I have never flown without my parents (I'm 21 – I understand this is pathetic) and we had to navigate the airport in Paris in less than 45 minutes and this included a (tram?) ride from point A to point B. This was definitely one of those experiences that make you stop and realize wow, I'm actually growing up!
3. My 9-hour flight from the United States to France was actually incredibly enjoyable
I was anticipating this would be one of those horribly uncomfortable, never-ending, no-sleep, sit-next-to-a-weirdo type of flights that just goes on and on. Au contraire! After boarding the plane, yes – it was quite hot and I felt like I was in a sauna for about half an hour before we took off – but in walked a gentleman with a French accent and he started chatting with me almost as soon as he sat down.
It turns out that he wasn't French (oops, I'd started talking to him in French until he informed me that he actually doesn't speak French and just has an English-Lebanese accent). We spent nearly the entire flight talking about new technology (he's in the software business and has done tons of work with Blackberry and Google!), including laser printing and marketing. I learned so much! When the stewardess came by mid-flight, he bought us each a mini bottle of Vieille Ferme French wine (simplement délicieux!) and we continued chatting.
He even shared with me that he had a very scary near-death experience in which he learned that the most important thing in life is to leave an impact on others. When we arrived in France and went our separate ways, he left me not only his email address but also the impact of making me much more knowledgeable about the world of business!
4. Shopping at Tesco
It's completely European and choc-full of European food, brands, specialties, and BIO products and I love it! We loaded up on groceries on Saturday afternoon after a small tour around Dublin and even bought some adorable reusable bags made out of burlap and ladybug appliqués.
5. Meeting 30+ other interns who are just as excited to be in Ireland as I am
The Sunday after we arrived, we all had a big group orientation and got to [try to] learn everyone's names, hometowns, and workplace for the summer. Today was actually the first day of our internships and our apartment building is just buzzing with all the excited 20-somethings chatting about how incredible it was. It really seems like everyone gets along pretty well and wants to make this an unforgettable summer! We've already started becoming friends and I'm sure we'll have tons of adventures together in the next couple of months!
6. Speaking of making friends, I have the best roommates ever!
As I've said, it's only day 4, but we've already gone on a few shopping trips, had a couple of "wine nights", and have walked our legs off trotting about the city. We even worked out to Insanity one night! I definitely got lucky with this batch of roommates!
What's more, some of us are already planning weekend trips together - we've already planned a few small weekend outings (a double-decker bus tour and a trip to Tralee) and have even booked a flight to Paris at the end of July to witness the finale of the Tour de France! While some of the other interns seem to "click" a bit better than others, my roommates and I mesh really well and I'm definitely looking forward to spending the coming 8 weeks with them!
7. KC Peaches
This restaurant is hands-down better than any American eatery I have ever visited. There's a huge pasta/salad/fruit/dessert bar, they have loads of fresh menu options and sandwiches that come served with popcorn, a delicious coffee bar, and fresh bread that actually gives Panera a run for its money! They don't have regular coffee...but man do they make a mean Americano!
I went after orientation on Sunday with a huge group of girls and we spent a while just getting to know each other, talk about what we were most looking forward to over the summer, and enjoying the delicious food. KC Peaches was actually quite affordable, too (between €4 and €9 depending on how much you wanted), so I will definitely be frequenting this quaint little café!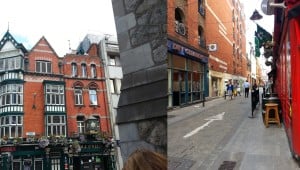 8. The beauty of the streets of Dublin
Honestly, I feel like I've been thrown back in time; everyone walks everywhere, people dash about in business attire, the cobblestones are bumpy and uneven, buildings tower over the streets on both sides, shops are extremely diverse and some are even brightly colored, crowded pubs overflow with people on the weekends, and my personal favorite, dark and creaky alleyways remind me of Diagon Alley!
As the street signs are difficult to see and the streets aren't quite the checkerboard layout that they are in my hometown, it seemed very easy to get lost. However, I'm starting to get the feel of things and I've got my fingers crossed that I'll know my way around soon!
9. The convenience of…well…everything
Want to run something to the post office? Two minutes away. Have the munchies and need a snack from Tesco? Just a jaunt across the street. Drink too much and need a ride home? Nonsense – you're just a stumble away from the front door.
Our apartment building is situated right off of one of the main streets, and everything from the grocery store to the post office to a huge shopping center and even the majority of our internships (only a few people have to take busses to get to work) are within walking distance. I'm so glad that I brought my walking shoes!

10. My internship
Honestly, I don't think I could have possibly been placed in a position more perfectly suited to my interests. I'm working in an office with an amazingly creative and innovative boss, coworkers from Italy and Brazil, and even other interns from France, the Netherlands, and other parts of Europe…we're such a diverse group, it makes working there such an interesting and insightful experience!
I spent a lot of time today speaking French and Spanish and have even decided to learn Portuguese (ah!). The company I work for is doing some pretty incredible work with online advertising and I'm so fortunate to be part of their team. They've already been asking me for my opinion on things and for input and I know it's going to be a great learning experience in a very open atmosphere.
Over lunch we bought Kinder toy-filled chocolate eggs (banned in the United States) and compared them to the French Kinder eggs that the French intern had brought along. It was great to laugh and bond with so many new people over something as insignificant as Kinder Eggs! And what's more...by the end of the day, they had even talked me into signing up for a 5K Color Run to take place in Dublin later this summer. I'm going to love this internship!
As you can see, it has been quite a week. When I signed up for this internship program back in August, I don't think I could have imagined a better scenario than what I've witnessed so far in coming to Ireland. Global Experiences without a doubt does an amazing job at making sure that interns are linked up with very suitable companies and that they truly enjoy their working experience while abroad!"