Rachel Y. is a graduating senior at Salisbury University majoring in human communications. This spring, she made the journey to Dublin, Ireland, to intern in her field at the same time as completing her thesis in intercultural communications.
She felt that being in the midst of an intercultural experience would be the perfect way to experience, live, and breathe her thesis topic herself. Read more about how Rachel's experience turned out, and check out her Snapchat Takeover to see it in action!
Why I decided to intern abroad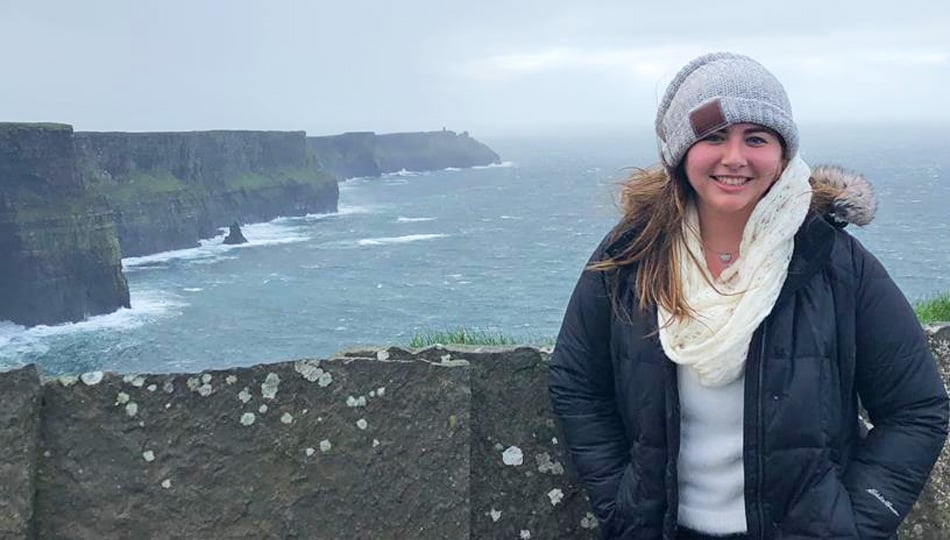 As a second semester senior just starting to apply for jobs, Rachel knew that the more work experience she got in human resources, the better her chances would be of getting a full-time job within the next year.
She had also done a winter study abroad program in Scotland earlier this year and subsequently caught the travel bug. The best remedy to combine her pressing need for work experience and her urge to travel ended up being an international internship.
"Because I am second-semester senior starting to apply for jobs, I really wanted more work experience, and I wanted to explore the field of human resources. Also, I realized that after I graduate and get into a steady routine with my career, I will not have as much time and freedom to travel as I do as a student."
Another added benefit was the experience it would give her while completing her intercultural communications thesis, as she knew that "one of the best ways to understand a topic is to immerse yourself in a situation around it." Interning while abroad, she could easily collect data and write about a country that has a different culture from her own.
While she loved Scotland, Rachael ended up hopping over to one of its nearby neighbors where she could still experience regular offers of tea and a similar climate, but explore a whole new country and intern in its capital city.
A "beautiful country" full of "rich history" and a countryside full of "magnificent views" that beg for weekend trips, she chose to intern in Dublin, Ireland; she came to find the best craic was to be had.
Rachel's human resources internship
Rachel's internship took place at the Conrad Hotel Dublin, one of the two luxury brands of Hilton. Working on several projects at once, she found that the experience exceeded her expectations of what an international internship would be like.
A day in the life
To get to work, Rachel had about a forty-five-minute commute. With Dublin's reliable transportation system, she waited for a bus, and if for any reason became distracted by the beauty of her neighborhood, it came every 2-3 minutes for her to grab the next one.
She loved that her commute also included walking through Saint Stephen's Green, Ireland's largest Georgian garden square park. There, Dubliners pass by statues of Irish revolutionary and historical figures including Robert Emmet, Sir Arthur Guinness, Bt, James Joyce, and Wolfe Tone, as well as the ducks and geese who make regular appearances amongst the greenery.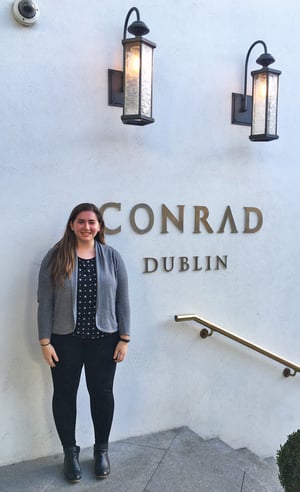 At work, Rachel had her own office between the offices of her supervisor, the Human Resources Training Officer, and the director of human resources. Her tasks included taking notes for the Human Resources 2019 strategy meeting for the heads of departments and the director of human resources to share at the area luxury director level.
She also shadowed an interview where the director interviewed a group of students in their last year of hospitality management school who were looking to do a year-long placement at the hotel. A long-term project she worked on was the Training Matrix, which involved populating an Excel sheet with the dates of when employees had completed specific trainings across different departments so that each head of department could keep track of the training for their team members.
Another established project she had happened every Friday with her training officer focusing on social media and using Hootsuite to manage the posts on the team member Instagram.
"Managing a Team Member Instagram is very important because it attracts potential talent to work at our hotel and it is a great platform to publicly recognize things that our current members have been achieving."
Skills learned
Between her multiple projects, meetings, and tasks at her internship, Rachel built on her professional skills and, being in Ireland; she was also able to do all of this while experiencing a new culture and making new friends.
"I feel like I have gotten so much work experience, between shadowing seniors at my company, being on my own projects, learning about the operations of a hotel, etc., all while being immersed in another culture and exploring a beautiful country."
Being grateful was another gain from her internship experience, from feeling lucky to have met other interns who have become her "travel buddies for life" to truly appreciating the beauty of Dublin and learning to live in the moment.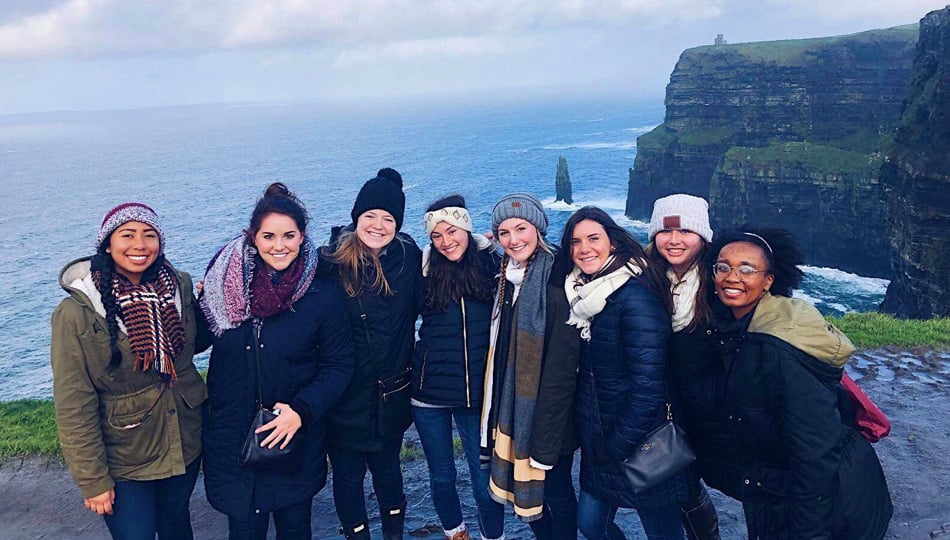 "It made me realize how fast every day is flying by and how much I will have to savor every day and every experience for the rest of the time I am here for."
Snapchat takeover
In Rachel's takeover, she shows her commute from hailing her bus to strolling through Saint Stephen's Green, to going through her tasks at work, including working alongside her training officer.
She highlights several of her projects and what her day to day tasks are.
After her internship, she stops by the Cobblestone Pub for dinner with friends and a quick drink, with musicians playing traditional Irish music in the background.
"I am proud of the work that I have been doing, and I wanted to show people thinking about this program that I am getting so much experience and truly enjoying my time spent at my internship."
Friends and family
The reaction of her friends and family became clearer after she had jumped into her internship experience for a few weeks and could share it with them through her Snapchat Takeover. When sharing, they all expressed how happy they were for her.
"I shared with multiple friends and family, and they were all so happy for me. Some told me they were even a little jealous. But they could tell how happy I was and how much I have been learning. My mom told me it looked like I was 'living my best life' and I told her that she was absolutely correct!"
Culture
Culture shock is certainly a natural rite of passage when arriving to a new country. Rachel learned that in tackling the initial shock, it was "so essential to be open-minded about everything."
"I have had a much easier time adjusting to everything that I was not used to by remaining positive about things that were a little daunting to me at first. Being open-minded opens so many more opportunities for learning than if you were to shut down at the prospect of something just because it is unfamiliar."
Rachel continued to immerse herself in unfamiliar surroundings and take on new challenges by going on weekend trips to other parts of Ireland, as well as taking advantage of how easy it was to travel throughout nearby countries in Europe.
During the week outside of her internship, she enjoyed living like a local by going to the pub for dinner and a quick drink, such as at the Cobblestones pub in Smithfield which has regular performances of traditional Irish music.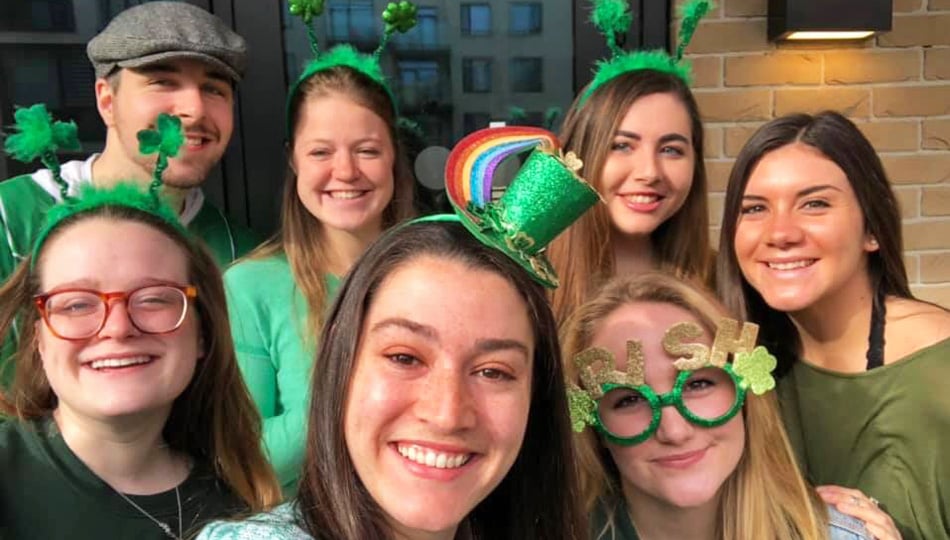 Rachel's favorite part of the culture didn't end up being one specific custom or food, but the "charismatic and humorous" people who make up the country.
"They are genuinely interested in getting to know you and so open to meeting new people. The city itself is interesting because of its rich history, so the fact that the locals are so willing to talk to you about it and give you recommendations is so nice."
Realizing her goals
Reflecting on her internship, Rachel was proud to have gained so much experience within her career field. She was also able to gain the intercultural experience she was looking for to go hand in hand with her intercultural communications thesis:
"The Irish workplace culture and the American workplace culture are very different, it has been so fascinating seeing those differences and learning to adjust to them."
Advice to future interns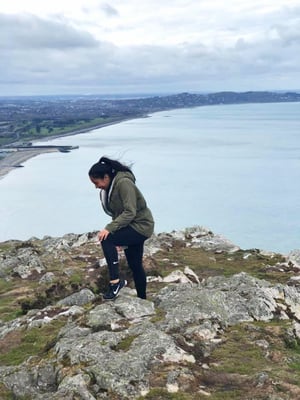 To anyone thinking about interning abroad, Rachel's message for you is loud and clear:
"I 110% recommend doing it if their academic schedule allows! It is great to switch up your environment and your routine for a little while to get out of your comfort zone. It was the best decision I have made in my academic career."
Rachel's experience is a stellar example of how an internship abroad can provide professional experience while complementing your academic schedule and goals. If you are inspired to do the same and experience a global city like Dublin yourself, apply now and talk over your goals with one of our Admissions Counselors!