Melissa, a graduate from British Columbia Institute of Technology, interned in London, England in the spring of 2014 as a graphic design intern in fashion business. Below is a guest blog post about her experience working during one of the world's most famous fashion weeks.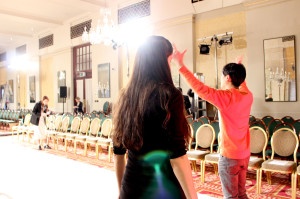 Fashion Week is one of the most prestigious events in the fashion industry allowing designers to display their newest collections and share the latest trends hosted by the four prominent cities of New York, Milan, London, and Paris. Buyers, celebrities, media press, and fashion lovers gather at runway shows and various exhibitions during this exciting one-week event.
Through Global Experiences, I had the privilege of working for London-based fashion designer, Jasper whose talent, determination, and personality shine through his captivating creations. His latest brand, is a youthful and contemporary take on clothing that explores an individual's unique sense of style. Walking into studio for the first time, I was greeted by Jasper who showed me his current works of dresses, jackets, and sweaters (or as the UK refer them as "jumpers") as part of his Spanish-inspired Autumn/Winter 2014-15 collection. Even though I had no prior fashion knowledge, the clothing had me so impressed by the use of bold colours such as a sensual red and Mediterranean blue, as well as the stunning details in the patterns, textures, and beading.
Although it was a tight squeeze in the studio space, it was filled with a fun team consisting of 8-10 talented people specializing in fashion design, graphic design, marketing, and PR. I was put to work immediately having entered right in the middle of the busy season with the ad campaign photo shoot happening in just a few days and the brand's fashion show in one month.
My initial objective was to work as a graphic design assistant but just a day into my internship I was assigned to be a PR assistant as well. Because I had no education with this particular department, I was intimidated at first but it turned out to be a valuable learning experience to see how much work goes into communicating with other companies. I became most excited when I got to apply my graphic design skills in the real world setting and created promo ads for social media, signs, photo retouching, lookbooks, and gave input to the press release and invitations.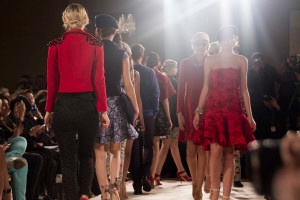 February quickly arrived and London Fashion Week had begun. The show was held at the luxurious Bloomsbury Hotel where the hallways and rooms were filled with the hair and make-up team, models, set-up crew, members of our PR agency, and the team scattered around doing the last preparations. My role included a variety of tasks such as setting up the model order board, helping with goodie bags, taking photos, rehearsing the timing of the models, and escorting guests. I was even able to invite the other interns and reps of Global Experiences who were ecstatic to watch a fashion show in London.
With a room of about 300 guests, the lights went dim, and a red spotlight shone on a flamenco dancer accompanied by traditional Spanish music from a live guitarist. Settled into my position at the entrance doors, the room lit up and the catwalk show began. After a month of working behind the scenes, watching how the clothes were created, and finally see the completed outfits on professional models making their way down the catwalk was such a thrill. It had me feeling so proud of Jasper and the team; all the hard work and endless hours in the studio had paid off. Huge success came out of the fashion show receiving much press in the media such as in Vogue, Glamour, and Mess Magazine.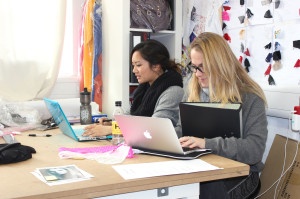 Fashion Week was a definite highlight of my time in London. To be immersed in an industry that is so renown in the city was such a joy to witness and be a part of. If you are into fashion or any artistic field, I highly recommend London as a city of choice for an internship. It is a timeless place that is filled with breath-taking architecture at every corner, rich history, creative culture, and sociable people who make it a trip worthwhile.