Juliet, who has been interning at newspaper in Florence, Italy
for the past 8 weeks, shares her experience about attending the Eurochoclate festival. For more updates about Juliet and her adventures in Italy keeping checking here or read her personal blog.
On Saturday, we made our way to the Eurochocolate festival. I'm sure you guessed that this is a festival dedicated to chocolate.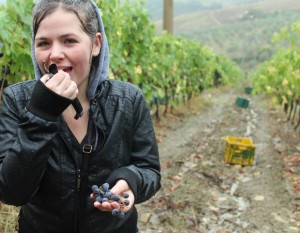 It seemed like an easy enough trip at first. We just had to buy our train ticket, and travel for about two and half hours to Perugia. Sadly enough, this was not the case. The train system in Italy is a little bit more difficult than it seems. We couldn't figure out which train was ours or how the ticket system worked, so we ended up missing the first one.
So we decided to go grab a panino while we waited for the next one. We were so ready to eat chocolate that we couldn't wait two hours, so we decided to grab a milkshake as well.
From there, we went to go catch our train. In Italy you can buy a train ticket, and it's valid for several months afterwards. So you have to be sure to stamp it. If you don't stamp it then you'll get kicked off the train, fined, and yelled at in a foreign language.
So we stamped our ticket, and loaded on a train. We hadn't done our research, so we weren't really sure whether we'd have to transfer or if we'd just stumble upon the stop. Luckily enough, we heard several other people talking about the chocolate festival, so we decided to follow them.
We rode the train for the next two and half hours, and ended up at Perugia stop! We loaded off the train and took a bus to the top of the mountain. From there we followed the herd of people. We went up maybe a half a dozen escalators to get to the town center, and ended up in this sort of cavern. We walked around into a little. We were very perplexed. This was not the chocolate festival we had anticipated. We were looking at each other going "Well, is there any chocolate we can eat?"
Eventually we discovered yet another escalator that led us outside to the chocolate festival we had imagined. The festival was spread across town, and there was more chocolate then one could imagine.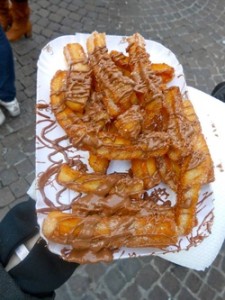 Each stand represented a different chocolate store, with different treats. There were also food carts with panini, mozzarella balls, french fries, etc. We spent about three or fours at the festival. We managed to eat a chocolate pizza with strawberries, nutella covered churros, and chocolate covered oranges.
The festival also featured several sculptures of chocolate, and chocolate themed music (the ultimate subliminal advertising).
After the three hours, we headed down the mountain to catch our train. We had to make sure not to miss it, because the next one wasn't coming until two hours later. Besides, we figured if we ate anymore we wouldn't be able to fit into our jeans!
Getting hungry for your own internship abroad? Inquire today!