Terry has completed two Global Experiences internships. He did an internship in film production in NYC in the summer of 2012 and then he participated in a marketing internship in Paris over the summer of 2013. Terry is currently living in Madrid, Spain getting his masters degree. Below is an email he sent to Global Experiences detailing his internship experience in Paris. You can get started on your own experience here.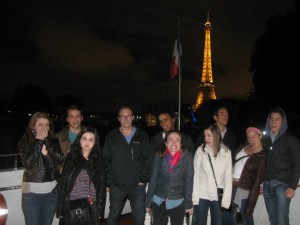 "My experience in Paris began pleasantly with my home stay mother taking me on a trip to the country for the weekend with her extended family. The following week started taking a bit of a toll on me, not because of homesickness/culture shock, but because I wasn't fitting in well in my home stay nor the French lessons. I decided to see if I could start my internship early instead of going to the lessons and it ended up being perfect timing.
The first day at my internship I was welcomed like a real employee, taken out to lunch, and spent the day in a meeting with the CEO, brainstorming about rebranding the company. He even gave me an iPad to take home to read from his Kindle library. After speaking with Catherine, she found me a new home-stay in the 8th arrondissement. At this point, I felt amazing.
I was thriving in the office, and was working hard not only because it was interesting, but because I was given real responsibility. I helped grow their twitter account tremendously, created and managed their Pinterest account, and helped their Facebook. I made a keynote presentation on all their competitors, another on our social media strategy, and created an instruction manual for their iPad platform for Nissan and their trainers.
At this point, I began work in a team to redesign their new website. Eventually, the CEO gave me responsibility for the entire project. I worked on the development and logo with a friend of mine from Chicago and another in Toronto. Additionally, I wrote 8000 words of highly search engine optimized content to be employed in the new site. My French improved rapidly, and facilitated me in every aspect of this work environment.
They began sending me on business trips. The first of which was a three day technology trade show in London. I almost got our first London client but he ended up only wanting the iPads without software, and another client who ended up being unable to convince his superiors because we were too pricy! The second event was in Belgium, where I drove up with a French girl from the office and we setup the framework around the property and handled an event for automotive salesmen, introducing new lines of cars.
The third was to Bratislava, where I was sent mostly for training; learning in the most detail everything about our services first hand. This was a massive event with thousands of attendees. Every day we curated two new groups from different countries. There was a fourth event which actually took place after my internship in Toronto when I went home. The agency sent a team to downtown Toronto for a pharmaceutical event. Being from Toronto, and having many French Canadians present enabled me to contribute significantly.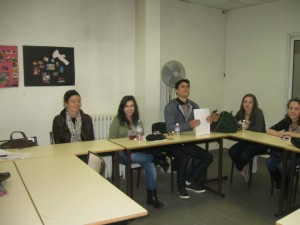 About halfway through my internship, I was offered a CDD. He wanted me initially on international business and community management. After some thought I happily agreed, and we began work on my French Visa. What ended up happening, however, was not planned. While I was in Toronto waiting to hear back from the French government, my sister told me of a program at IE, a business school in Spain. Reluctant at first, I looked into it a bit more.
My sister heard of it from a graduate program fair she attended in Toronto. My interest in this program grew quickly, but the program start-date was soon. Still waiting on news from the government, I applied anyway, and was interviewed by the school. The next day I was accepted and received my Spanish Student Visa. I was in the middle of writing an email to the CEO about how much I valued my internship with the company, and if he wouldn't mind if I took another year of school.
Before I could send it I received an email from him telling me he's sorry but the French government denied their request to offer me a Young Professional's Visa because the company was already employing someone with that same Visa type because she's from the USA. And he would want to speak with me again in Feb about it. That settled it, I flew to Madrid that Saturday to start my Masters.
One of the most amazing phenomenons from my internship in Paris was how I met so many new friends, from Paris!"