Juliet is in Florence, Italy interning for a English-speaking newspaper this fall. Below is a post about her day trip with the other interns from Global Experiences to Cinque Terre. Keep checking in for more posts from Juliet, or follow her blog here.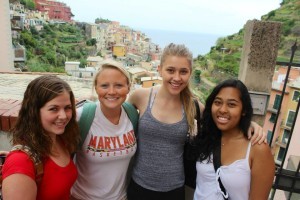 On Sunday, we decided to leave the Tuscan Sun and head to Cinque Terre. It translates to the "Five Earths". It's five islands situated near each other, each one is small then the next. We started our day by meeting at 7:15 AM at the train station. We loaded onto a bus with some fellow international students, and headed up the coast. On our way we encountered some storm clouds that looked like it would ruin our day. However, once we arrived things started to clear up.
Our first destination was Manarola. We had about an hour or so there to explore the island. Unfortunately some of the hiking trails were closed off due to landslides. So, instead we decided to head down to the ocean. We climbed on the rocks, and sat with our feet in the water. It had been probably about three or four months since I had even been close to water, so I was ecstatic!
From there we headed to the next island, which was Corniglia. By the time we got there we were starving!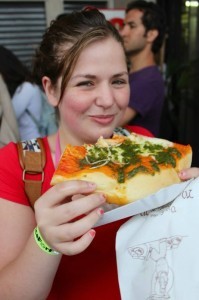 The catch was that we had to climb up the mountain (by stairs) to get to the food. We made it up to the top, and booked it to our adviser's favorite restaurant. From there we learned that the island is famous for their pesto, so naturally we all ordered food with pesto. I ordered the pesto ravioli, which was possibly the best food I've ever eaten! We left the restaurant, and followed our adviser to a frozen yogurt shop. Yes, I know that Italy is famous for their gelato, but after a while you start to miss the toppings that you can put on ice cream. I decided to mix the best of both worlds, and put gelato and frozen yogurt toppings together. Oh, I don't think I've ever eaten that much before!
After that we met up with the rest of the group, and split into non-hiking and hiking. We all chose non-hiking, so we could head straight to the beach. The rest of the group was going to hike over the mountain to the next town, and catch a train to the beach.In the end though, they mentioned the idea of taking a ferry to the beach. We all thought that was the coolest idea, so we hopped on the ferry. It was so wobbly that we felt like we were on a roller coaster!
Once we arrived at the beach, we were able to spend several hours swimming and laying out. It was so relaxing. It was a great change of pace from all the exploring. Not to mention we got to see the beauty of Cinque Terre first hand.We were about to hop on the bus home when our adviser mentioned that we should grab dinner sooner rather than later. We went to this pizzeria where the pizza was fresh out of the oven, and topped with more pesto! The slices were huge (pictured here). We had absolutely no trouble devouring them, though!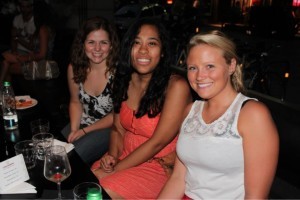 After a long day, we all loaded back on the bus and headed home. It was one of the best parts of my semester in Italy...so far! More Florence internship adventures to come!
Want to experience your own adventure in Italy?
Get started here!