Let's be honest, creating a resume is a daunting task. It seems that everyone you speak to has a different opinion about formatting and what should be included in your resumé. Your resumé is a reflection of you, so it's okay if it doesn't exactly fit into every mold, but your document still needs to look clean and professional. Below are six easy rules to follow when crafting your professional resume:
1. Use a clean font
According to LinkedIn, recruiters spend about 6 seconds reading a resumé. If you're only getting 6 seconds to shine, it better be easy to read. Use a clean, standard font like Arial or Times New Roman. You should also only be using one font throughout the entire document. The only people who could possibly make an exception to this rule are those in creative industries like graphic design.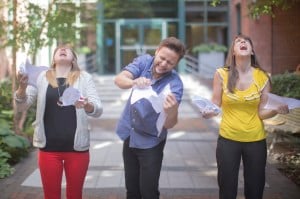 2. Use action words
What did you actually do at your previous job or volunteer positions? Instead of repeating the same basic phrases over and over like 'worked' or 'helped' try using some action verbs to make your skills stand out. Some great action words for a resume include: advised, collaborated, analyzed, and demonstrated.
3. Keep it to one page
Recent college graduates and entry-level professionals should always have a one-page resumé. A good rule of thumb is 1 page for every 10 years, but if you truly have enough relevant professional experience and skills to fill up an entire second page, go for it.
4. Quantify your skills
Employers want to see the results of your previous positions. How much did you sell? How much did you contribute to the company? Not all positions will be able to use numbers, but when you can try to make your resumé as objective as possible.
5. List a professional email address
This one seems really simple, right? Yet, it's amazing how many resumés come across our desks with "CTgurl92" or "BaseballStud" as the email address or Skype name at the top. Make a professional email account using your name. No excuses, do it.
6. Cater your resume to the job
Read over the job description and determine what skills the employer wants for the position and ensure that your resumé reflects those skills and traits. If you're applying for a position working with children, your background in babysitting may be relevant, but if you're applying for a position in marketing firm it might not be relevant. Revise your experiences to fit the job you want.
Of course, the best thing to do to improve your resume is by gaining practical work experience in your field. If your resumé could use a competitive edge, learn more about international internships with Global Experiences!