In my line of work in Australia the big deal is going "on country". We are a law firm that works with Aboriginal groups to gain native title over their land. Native title doesn't give the group ownership rights, but it does give them the right to negotiate with mining companies and the State. The groups can negotiate issues of cultural heritage and royalties from mining operations, to name a few.
In my internship, I'm researching land rights and cultural heritage issues, which is great- I love what I'm doing. I really wanted to go 'on country', but I kept thinking "why would they pay for me to go out in the field when I don't actually work for them?". To my great surprise, I got a call last Monday night from my supervisor who told me to pack a bag because I would be leaving on Tuesday night. I was excited for two main reasons: I would be able to meet with actual clients for the first time and I would be able to travel to the bush on the company's dime.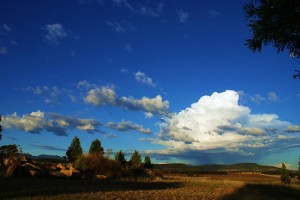 So off I went to the airport after work on Tuesday. The flight only lasted an hour, then we were in the bustling metropolis of Dubbo, Australia. We got in around 8:30pm and had trouble finding a restaurant that was open at that hour. We did find a nice Italian place so I was a happy camper! The next day we hopped in the car for a 3+ hour drive to our next destination, Narrabri. After about 45 minutes, I was handed the keys. Driving on the opposite-of-normal side of the car on the opposite-of-normal side of the road is a bit intimidating! It's the little things like that that I will remember when I go home. I loved that I was brave enough to try it (and old enough to be covered by the insurance!).
The first meeting went really well. I was surprised at how welcoming everyone was toward me. The Aboriginal people have been treated poorly for so long that I guess I expected them to instantly dislike outsiders. I'm not sure why because the people we met with were very kind and included me in the discussions.
After the meeting we drove another hour+ to meet with a family that was part of the native title group. They were also very nice. They welcomed me into their home and treated me as if they had known me for awhile. One of their family members is a well known local Aboriginal artist so I was shown several pieces of art that he had painted, ranging from canvas paintings to didgeridoos to emu eggs. They were very beautiful. I've completely fallen in love with traditional Aboriginal art since I've been here, I've even purchased some. In any case, I asked to hold an emu egg since I'd never seen one before and they kindly obliged. They're very interesting eggs- perfectly oval, green speckled and very beautiful. As we were sitting in the car mapping our route, a family member ran to the car with an emu egg for me. They wanted me to keep it and take it home to the States. It was the best souvenir I've ever gotten in my life! Every time I look at it I will absolutely remember my time on country with our Aboriginal clients and smile. It is truly one of the most unique objects I have ever owned. Provided that I can get it back to the States in one piece!! Additionally, the countryside was beautiful AND I got to see wild kangaroos with little joey's in their pouches. It was very cool.
Overall, this whole experience has been one of the best in my life, made all the better because my coworkers are awesome! They were really pulling for me to go on country and were excited for me when I got to go. Although I only got to go for about a day and a half, it is a day and a half that I will remember fondly for the rest of my life. Not many people get to have the experience that I had and I am very lucky to have had it.