Allie is a rising senior at Ashland University in Ohio. Allie is interning in Barcelona this summer with an organization that helps other NGOs market and promote their cause while gaining funding to implement change. A month into her program, she had the following to share with us.
Hello Chrissie,
Everything here is absolutely wonderful! I'm in love with my apartment, roommate, my internship, and obviously Barcelona! It has been such a perfect experience so far. I am learning so much more than I ever expected through my internship. We applied for a grant for a project my company has been working on. It was awesome to be able to write it myself and then go through it with Aleksandra, my boss, and be able to get feedback. I'm so thankful for my time here in Barcelona, it has been everything I ever wanted and more.
I hope everything is going well for you!
Have a great day!
Allie
---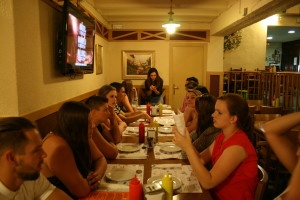 Janet is a rising senior at Whittier College in California. She is completing a business internship in Barcelona this summer with an international company that specializes in designing and producing exhibition stands for trade fairs, conferences and other large events. Jan has taken full advantage of her time in Europe by already visiting Venice, Italy and making plans for a trip to Portugal as well!
All is very well! My supervisor at my internship is wonderful, he consistently checks up on me, asks for my opinion, and does his absolute best to help me get the most out of what I'm doing. I really like him!
Barcelona is amazing, I have made friends with so many people from all over Europe and even local Spaniards, it has so far been such an awesome experience. I've also taken a trip to Venice, Italy and plan to make it on over to Portugal at some point, but getting to know Barcelona is great in itself. Thanks for checking up, I am thoroughly enjoying my time here!
Sincerely,
Jan