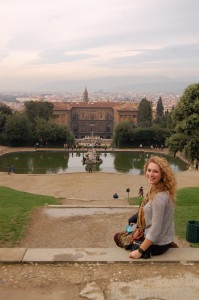 Katie participated in our internship program in Florence, Italy in the fall of 2012. Here's why she chose Global Experiences:
The idea of studying abroad always appealed to me. Stories of meeting friends from around the globe, seeing wonders of the world, learning a new language, and becoming a local in a foreign city seemed so exciting. However, I didn't know where, how, or when I would study abroad.
I came across Global Experiences during the fall of my sophomore year of college. I was wandering through campus killing time between classes and happened to meander into our school's study abroad fair. I went to GE's booth first where I was greeted by two representatives. They explained to me that their program provided internships abroad. So even though this was different than studying abroad, I was interested because I knew I would need an internship at some point.
I wrote down my contact information and took some brochures out of politeness. I thought it wouldn't be financially feasible for me. As it turned out a semester in Florence, Italy was cost neutral to a semester at my college! All of my financial aid would transfer and I could get 12 credits. How could I pass up an opportunity like that!?
One full year later I was counting down the days until my flight left Baltimore, Maryland. I was a first time traveler and was excited and nervous at the same time to leave my home country for 8 weeks. How would I make phone calls? How would I charge my electronics with strange outlets? And how the heck would I get anything done without knowing a lick of Italian?
Global Experiences was great at preparing me for my adventure. From budgeting and flights, to packing and local hot spots. Not to mention the language school and incredible internship they matched me with. Once I arrived in Italy, the location coordinator was able to suggest good places to eat, affordable day trips, and even a good doctor when I was sick. I became best friends with the other GE interns thanks to our housing and social events.
In my opinion, there really is no better bang for your buck than Global Experience's internship programs. My time in Florence was everything I hoped and more. I can't wait until the day I return.
It's never too early to start planning. Begin your adventure today.