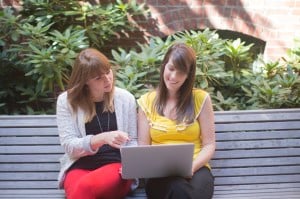 My father always says, "Don't put anything online that you wouldn't want on the front page of the newspaper". Even though my father doesn't understand most things relating to the Internet or social media, he does give some pretty solid advice. We are living in a digital world and one way or another you are creating an online presence. Even if you don't really care about social media, you should be aware of how you look online because employers and admissions officers will look you up. According to a 2012 Jobvite survey, 92% of employers currently use or plan on using social media for recruiting. Here are five simple steps to start creating your own digital brand to supplement your internship abroad:
1. Clean It Up
If you post something online someone will be able to find it. Go through your privacy settings and make sure you keep any pictures or posts that you don't want to be seen by the public hidden from view. Be cautious about what you are writing, tweeting, and liking. For example, don't say the 'F' word in every other sentence and don't like the group: 'Smoking Weed Err'day'.
2. Create a Network
We can't say it enough: create a LinkedIn account. LinkedIn is the most used social media site for professional connections and recruitment by employers. Creating a network can take a lot of energy, so make it a little easier on yourself by joining LinkedIn to establish connections with family members, professors, and friends. Having a lot of relevant connections will look good to employers and can you can utilize those connections when looking for a job after graduation.
3. Show Your Talents
Depending on your career field you can really showcase a lot about yourself on the Internet. If you are in a creative industry like graphic design or fashion it is beneficial to have your portfolio available online. Even if you are not in a creative industry, you can still create an online resumé and website through hubs like WordPress and Prezi. Check out this Mashable article for examples of people who are doing online resumés right.
4. Support Your Industry
Your cover letter probably states that you LOVE everything about your industry, but your online brand should convey this as well. Follow industry experts and join professional groups and like, follow, and pin information about your career field so that employers can see that you are interested and informed about current market trends.
5. Increase Your Rankings
Creating a digital brand is more than just hiding the embarrassing photos from your 21st birthday; it's also about presenting yourself in the best possible light. Use social media as a way to increase your SEO (Search Engine Optimization) strength like creating a Google+ account. You can also blog, tweet, and post-original content to become an industry leader.
For more tips about creating an online brand as well as advice about internships, career planning, and resume tips be sure to follow Global Experiences on Pinterest and Twitter.