Paris intern Juliann Brown from the Illinois Institute of Art Schaumberg shares her first few days living in the City of Lights!
Wednesday, January 16, 2013
Bonsoir mes amies!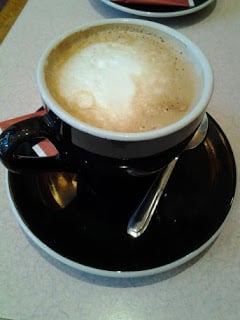 I have been living in
Paris
now for exactly 3 days and let me tell you! It's a huge adjustment! Nothing like a 7hr flight overnight on an uncomfortable seat. I did manage to get 1.5 hours of sleep only to arrive at would normally be 1am Chicago time it was 8am Paris time. Running on lack of sleep I managed to get myself and my 200lbs of luggage into a taxi where I waited in traffic for an hour later to arrive at school. L'Etoile, where I was not expected to be until 3pm that day for orientation meeting. So I walked my sleep deprived, jet-lagged, sorry self back outside to hail yet another cab because I was unaware of how to get to my house from school and too tired to remember any landmarks or streets. As a cab helped me in I gave him the directions and expected to be in traffic for yet another hour. 2.5 mins later I was outside of my new home for 3 months. After punching in the code to the door I found the strength to pull my heavy suit cases into the foyer and shoved them into the tiny box of an elevator and hit 1 (the first floor was labeled 0). When I got outside my "home" I rang the doorbell and Valerie, the nanny, let me in since the parents were at work. After a short introduction I was given my house key as she was on her way out with the little one year old, Philippa, to go pick up the two older boys, Adrian (5) and Vadim (8).
Exhausted from lack of sleep I laid down to rest my eyes expecting to wake up before my meeting at 3...3:10 and I'm late. No time to
fix my hair or makeup or anything. Grab bag. Grab keys. Grab coat, scarf, gloves. Out the door. I don't even know how I remembered where my school was given it was a 2 minute drive but I walked to the end of the street, crossed, went right and kept going til I was miraculously outside of L'Etoile. I met the other people who were in Paris with me for internships. After a brief introduction and some basic information wall left and went to the Champs-Élysées where we walked around and looked at stores.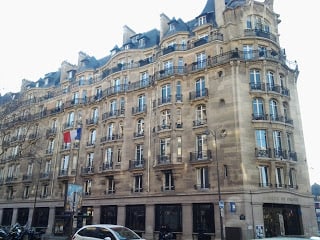 I even saw the Arc de Triumph! Gorgeous! I couldn't believe I was standing in front of something that had been my screen savor for months! It really made me feel like I was in Paris. Besides the freezing weather conditions!After our extravaganza and lack of wi-fi (pronounced weefee in French) we headed to our new homes for the next 3 months. I found my way home by the metro and crawled into my new bed and realized, there's no place like home. I missed my home. My real home. My family. My amazing boyfriend. Paris was a dream come true but home is where the heart is.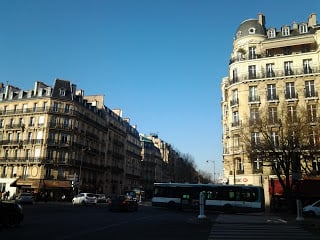 After sleeping until 2pm the next day I forced myself to get up and get ready for class. French class was no walk in the park but it was helpful. I'll benefit from being thrown in! After my 2hr class from 3-5 I met up with Christina, one of the girls from the group, and went to dinner at Cafe de Respaine where we ate cheeseburgers and fries like the true Americans that we are! We then walked down the Champs-Élysées again just to make sure we didn't miss anything the first night! I went home that night and was determined to feel more at home. I unpacked my suit case and put my things into the drawers under the bed. Put my toiletries in the bathroom on the shelves and organized my things to make my room feel a little more like me, only in Paris. After a long day, I finally closed my eyes, at 2am. (jet lag).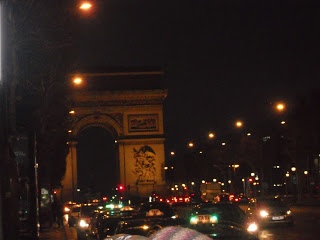 This morning, well now it's actually day 4's morning but jet lag has me feeling like its only 5pm, I set my alarm to 10am showered, got ready, met Christina for breakfast at a cafe and had a crepe with nutella and cafe creme (coffee with milk and sugar). Afterwards we went next door to the Le Bon Marche (Paris version of Saks) and explored all les soldes (SALES). Now when I say sales I'm talking Alexander McQueen, Celine, Chloe, Valentino, Vivien Westwood, just to name a few... I did end up buying this tres chic bleu chapeau (very chic blue hat) for sale and with the brutal winds every night I think my ears needed a little comfort! I spent a whole hour just gazing and drooling at the glamorous clothing I could never afford but just thankful to be in their presence. After that wonderful experience I made my way back to my house when I realized there was a cute little shop across the street called Miss Coquines where I stumbled upon a pair of black wedges that I've been hunting for the past few months! After the Cinderella shoe fit like a glove I purchased them in my best french accent and was on my way home.
That day after class I met up with Christina and Skye this time to go to Les Halles in Châtelet. At Les Halles it felt like Black Friday on speed. 1. Major tourist attraction. 2. Les Soldes (the sales) nuff said. It was hard enough getting around to figure out where to eat (Mexican restaurant had the tacos) but worrying about getting mugged was at the top of my mind. The only place there was peace and some quiet was the bookstore where I found copies of Beauty and the Beast (La Belle et la Bete) and Harry Potter which made me smile like a little kid. By the time we made it out of the bookstore everything began to close so we hopped the train and went our different ways back home, our new homes.
Now I'm here. In Paris. At almost 1 in the morning because I still feel like it's only 6pm getting ready for the next day in my life in Paris!
I'll keep you posted :)
Bon nuit!
Juliann