Nikkie S. is a recent grad from San Francisco State University whose educational background is in Studio Art. During the fall of 2017, she landed an internship in her dream city of Florence, Italy. She felt that it was the perfect location for her to gain professional experience in both art and education.
Read more about Nikkie's unforgettable experience, and watch her Snapchat takeover to see the day in the life of a Global Experiences' intern.

Why I decided to intern abroad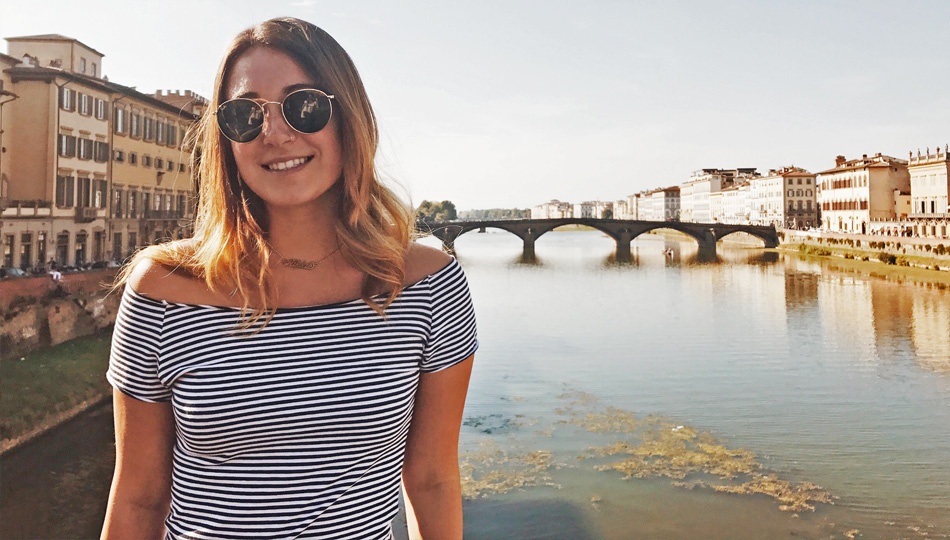 Throughout her studies, Nikkie had one goal: to work within the art community in Florence. She had always been fascinated with the Italian Renaissance, and a college course called "Women of Art History during the Renaissance" sealed the deal for her. Coincidentally, the course professor had studied abroad in Florence, and strongly encouraged Nikkie to experience the city for herself.
During that time, Nikkie also decided to focus her career on art education, and "encourage creativity and imagination to every single one of [her] future students." Italians are known for the high value they place on art education, so Nikkie hoped to work within the Italian school system and learn as much as she could from them.
Nikkie was teaching English in Spain when she applied to intern abroad with Global Experiences, so she was no stranger to living and working in a foreign country. Still, she was "of course a bit nervous" about the idea because she had never been to Italy, and didn't know a single person in the country. She chose not to let nerves get the best of her and focused instead on how excited she was to make friends and immerse herself in new experiences.
Friends and family
Making a big life decision like moving abroad is so much easier when your friends and family are on board with your decision. Luckily, Nikkie's loved ones were "extremely excited" for her, and could not have been more supportive.
Her decision to move to Florence also gave them the opportunity to visit her there and experience la vita Italiana. Nikkie loved acting as tour guide, and would happily show friends and family around to storied places like the Duomo, historic statues, and art galleries around the city.
Nikkie's art education internship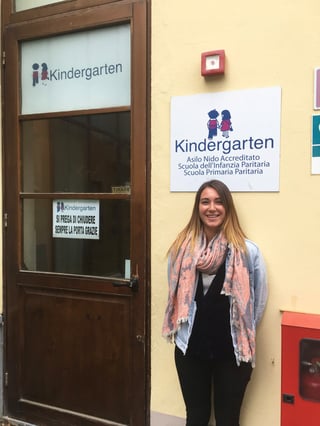 In Nikkie's words, she "could not have chosen a more appropriate location" to focus on art education than in Florence. She loved her internship placement in the art department of a bilingual school, namely for the great work environment and the opportunity to expand her set of skills in the field.
She felt that the program allowed her to grow as an individual while also gaining real-world experience, all in the beautiful setting of Florence.
"It took me only about a day or two to adjust [to the internship]. The first day I spent mostly observing, the second day I started to interact with the students a bit more, and by the third day, it was like I've been there all along. My supervisor quickly trusted me to fulfill my duties as an intern but was thorough with instructions."
A day in the life
Nikkie appreciated that no two days were alike throughout her internship. When living in a new city, why not challenge yourself with new tasks and projects on a daily basis? For Nikkie, the novel aspects of her life and her work environment were directly responsible for the immense personal growth she experienced in Florence.
Since she worked in the art department at her placement school, Nikkie often helped create interactive art projects and educate students on the significance behind them. Her favorite project was a celebration of Dia de los Muertos, where her students made sugar skulls and learned about the history behind the holiday. Since Nikkie has Mexican heritage, getting to imbue her own experiences into the lesson on Dia de los Muertos was especially meaningful.
"It was an amazing experience to be able to share my culture with another. The kids had a fantastic time making sugar skulls and learning about the holiday and what it represents."
Coworkers
For the most part, Nikkie's coworkers were Italian, which allowed her to get a more immersive experience in Italian culture. She also worked with a fellow Californian who had left the U.S. and begun life anew in Italy. Nikkie formed a close bond with her during their time working together and learned a lot from her throughout the process.
"My coworkers are wonderful. I mainly work with my supervisor Sara, who is an incredible role-model, but when I do interact with other school faculty, everyone is so helpful and always kind."
Snapchat takeover
During her Snapchat takeover, Nikkie gave us a glimpse into her internship at the bilingual school — showing us some of the students' art projects and the inside of her classroom. One of her favorite parts of each day in Florence was walking past the Duomo on her "commute" to and from her internship.
Nikkie said that doing a Snapchat takeover was an "easy yes" for her since she's an avid user of the app and wanted to share her once-in-a-lifetime experience in Florence.
Professional takeaways
Nikkie's dream of immersing herself in Florence's art scene came true, and she uncovered more about art education in Italy than she ever could have from a textbook. It was an incredible experience to see the pages of her art history books come to life in Italy, and to complement her knowledge with real-world experience.
The biggest accomplishment that Nikkie took away from her time in Florence was a renewed sense of independence and self-reliance. She considered herself to be an independent person before, but in Italy, she developed a new confidence in her ability to establish herself and thrive anywhere.
She also values the communication skills and work ethic that she honed abroad, as well as the network that she built — which could lead to more international jobs in the future.
"Because of this internship, I am confident I can live just about anywhere and be happy. Not only did it make me a hard-working employee, but it has opened doors to jobs abroad."
Culture
It's not hard to fall in love with Italian culture, and for Nikkie, it happened almost instantly! She was in awe of her new city but mentioned that "the food, the people, and the elaborate buildings" were among her favorite parts of it.
Florence is the perfect location for those looking to get a "traditional" Italian experience; all of the best stereotypes about Italy (that the locals are warm, the weather is lovely, the cities are charming, and the gelato is to die for) are true in Florence.
Adapting to Florence
Since Nikkie had already spent time living and working in Spain by the time she relocated to Italy, it wasn't much of a culture shock for her. Like most of our past interns, Nikkie didn't have any trouble acclimating to life in Europe.
"I found it easy to adapt [to Italian culture], seeing that I had lived abroad before it wasn't much different for me, personally, but every culture varies. I had to adjust to the culture here, the way people speak, their mannerisms and the society as a whole."
Fellow GE interns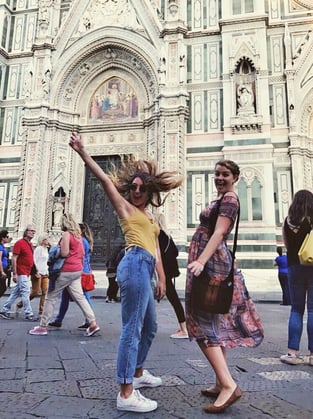 While the majority of our interns form fast friendships with each other, Nikkie and her group of fellow interns developed an especially strong bond. They helped each other navigate their new city, shared meals, traveled together, and connected over their love of Italy.
At the end of their program, Nikkie considered them to be some of her closest friends. After bonding over the experience of building a life in a foreign country and exploring it together, it's easy to see why their relationship is so close.
"The friends that I have made here are once in a lifetime. I am so grateful to have had this amazing group of fellow Global Experiences interns. We have had a blast together traveling around Italy on the weekends."
Takeaways
Nikkie not only moved abroad to gain international work experience but she also truly took advantage of her time in Italy. She was open to new experiences like tackling various projects at work, trying new foods, exploring her surroundings, and putting herself out there to build friendships with others in the program.
She grabbed life by the horns, and her time in Florence was so much better for it. Going abroad is always a learning experience; the more you're open to experiencing, the more you can learn.
"This experience has taught me to ALWAYS be open-minded; every culture is vastly different. It is incredible to see the way new cultures live their life, and what is normal for them may not exactly be normal for us."
Clarified career path
Nikkie's passion for art education and the Renaissance are what drew her to Florence, and her time in Italy only reinforced her dedication to the field. Her internship gave her a renewed sense of confidence in the professional world and made her excited for future opportunities in the U.S. and abroad.
"Coming into this internship, I mostly wanted to take this opportunity to see if this is what I want to do with my future. And after this internship, I could not be more sure that this is my career path."
Advice to future interns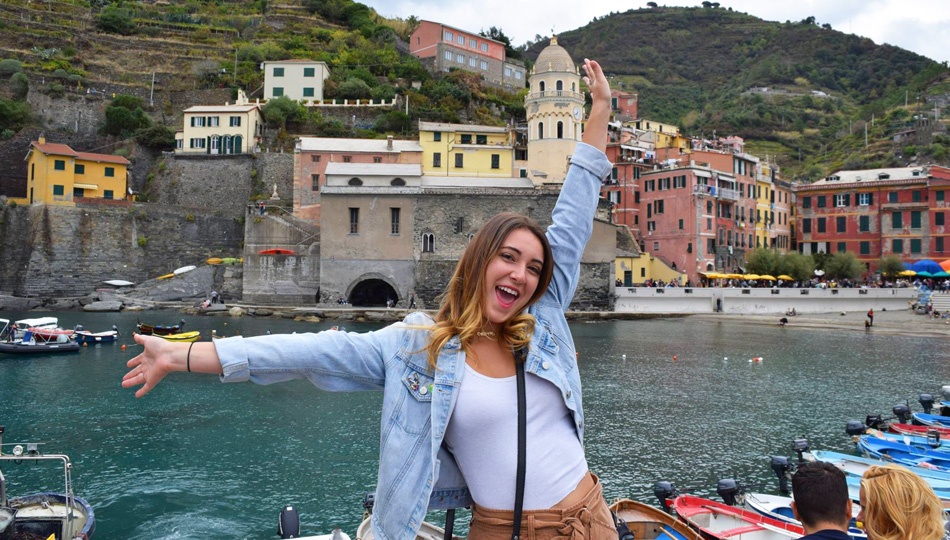 It's hard to think of better advice for future interns:
"DO IT. If you have the opportunity to live while learning abroad, it is an experience you may never be given again. It is worth all of the time and effort; the memories you make, the things you learn, and the people you meet are all worth it. Living abroad changes you as a person, it expands your mind and allows you to indulge in a completely new experience."
If you're inspired to follow Nikkie's footsteps with an internship in Florence or the field of Education, submit an application today, and one of our Admissions Counselors will get in touch to learn more about what you're looking to do and help you go abroad!