An internship abroad is a large investment into your time, your money, and your future. We've already told you about all the great benefits of doing an international internship, but we haven't we discussed the great perks of planning ahead to travel abroad.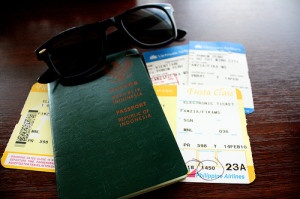 1. Cheaper Flights
One the biggest expenses of traveling abroad is the flight. There are a few websites we recommend to look for affordable flights like Student Universe, but the best way to ensure you'll get the best deal possible is to book your flight in advance. Once you've enrolled in the program you know (it is guaranteed after all) the dates and you can book your flight months in advance.
2. Save Money
Not only will you save money on your flight by committing to the program early, but you can use those extra months to start saving for your experience abroad. Think of all the other cities and countries you want to visit, the festivals you want to attend, and all the museums, galleries, and historic buildings you want to explore. All of those amazing trips are going to add up, so be sure to start saving money and create a budget for all of the amazing things you want do while interning abroad.
Enrolling early also means you're able to take advantage of the payment plan that allows you to take the total price of the program and pay it off monthly. You can learn more about installment plan here.
3. More Support and Information
Going abroad can be a scary and overwhelming process, which is why our Program Advisors offer you plenty of personalized support before you leave for your internship. The earlier you enroll the more time you have to get know your Program Advisor and take advantage of the informational biweekly webinars. If you need a visa for your destination having more time before your trip can help safeguard you from extra expenses if there are any delays or hiccups in the visa process.
Yasmine, who is going to New York City this summer, said this about her enrollment process with Global Experiences:
"I am extremely glad I enrolled early because it has benefited me in every way possible! I got my placement earlier than my friends who also enrolled and I was also able to do the Strengths Finder test early as well, which helped me immensely for my placement interview. One way in which it benefited me most was with payments; as I enrolled early, I chose to pay in installments and due to enrolling a year in advance, my installments were not so expensive so I didn't struggle with paying it off. I got an immense amount of help from Becca and Chrissie with everything along the way; I was able to constantly improve my CV and cover letter as I had a lot of time until my placement interview took place. The webinars were also extremely useful! Enrolling early allowed me to take part in most webinars which started very soon after I had enrolled. Overall, a great experience already and I haven't even done my placement yet! Definitely recommend it that people enroll early in order to benefit the most in the long term as you have plenty of time to sort everything out and any problems that may arise."





4. Earlier Internship Placement
One of the best reasons to plan ahead and officially enroll in the Global Experiences internship program is to get your internship placement as soon as possible. We work on a rolling basis, meaning as soon as your professional documents are in order our placement team will begin matching you the best internship possible. Early enrollees will have a higher chance of being placed in an internship earlier than those who join the program later as certain fields fill up faster than others. For example, during the spring our internship placements begin to fill up for the summer and by April and May we often have to decline acceptance into the program due to lack of availability of opportunities.
5. Network
Last but not least, once you enroll in the program you can begin networking with other participants that will be with you on the program. We have Facebook pages, and groups, for you to make introductions, plan trips, and make friends.
Are you ready to start planning your own internship abroad? Contact a Program Consultant today and one of them would be happy to answer any questions you have and help you get ready for a professional and exciting international internship experience!