Zach, a student at the University of Southern California, completed a business internship in London and discovered so much professionally and personally.
We asked Zach some questions about his intern abroad experience and here are his 10 takeaways. Plus watch the video below to see what one of his days in London looked like!
1. What made you want to intern abroad and why London?
I wanted to intern abroad because of my constant desire to get out of my comfort zone. Being from NY and going to college in LA, I knew that I would most likely spend summers interning in either of those two cities.
This thought made me want to do something that I might not get to do once I enter the professional world.
You can study abroad but that doesn't replicate the same experience as integrating into a workplace -- where you really get to interact with people from your host country instead or not be surrounded by other Americans.
I chose London because I had never been there before. While I did want to get out of my comfort zone, foreign language had never been my strong suit in school, so going somewhere in Europe where they speak English was enticing.
Also, I wanted to go to London because it was not a location available to me for study abroad through my university -- so a word of advice is to pick somewhere that you wouldn't be able to go through your school.
I was ready for the fast-paced energy of London -- where everyone always has somewhere to be because there is always something to do! London has the perfect mix of metropolitan modernization and European history.
2. What company did you intern with and what was your favorite part?
TOAD.ai is a revolutionary advertisement technology start-up. They have developed technology that uses geospatial data sets to help companies reach their exact target audience.
My favorite part of my internship was how closely I got to work with my bosses and see how the company is run. Interning with a start-up made it very easy to integrate with everyone in the organization, as we would sit around a table and work together all day.
This personal work environment is exactly what I wanted out of this summer and my future career. I always felt comfortable to ask questions, share feedback, and add advice in any conversation. A lot of the time at school I stress about going to class the next morning, but every day when I get up for work here, I am excited and ready for a new challenge.
Having an intimate look into how a small start-up company is built and run has been extremely valuable. I watch Directors make cold calls to the biggest companies in the UK, warm calls to potential clients, and attend meetings with companies and media owners. Also, I've learned about internal company functions, shown how to make financial models, and how to pitch to investors.
Many of my friends back home are stuck in a corner cubicle working on something that will never be used in any relevant context. The sales research and outreach I did have tangible benefits for TOAD.ai and the feeling of productivity is something I have been able to take pride in.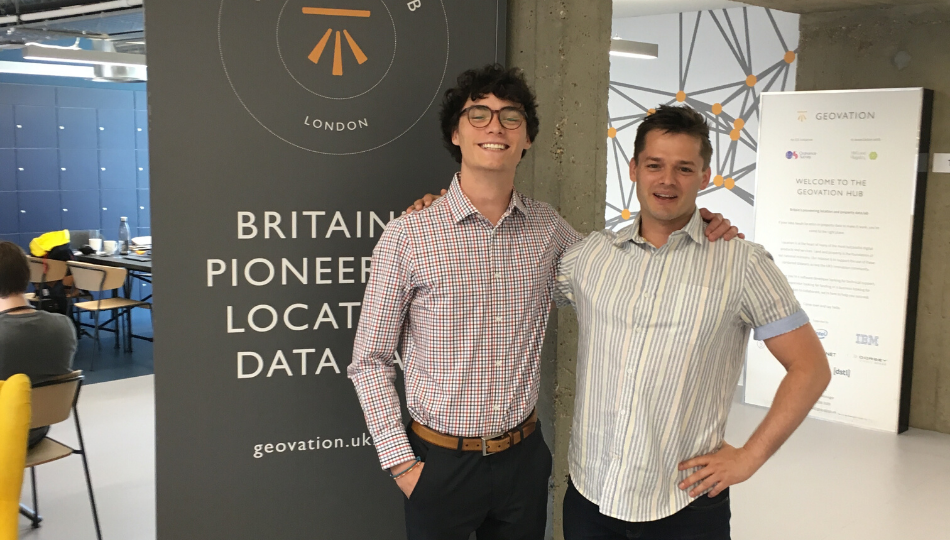 3. What professional skills have you developed from your internship?
I have learned a ton of sales skills. I worked on developing leads through database research, such as finding companies that have been around long enough to have a marketable product or service, have a minimum amount of capital allowing them to spend money on advertising, and having enough employees to get a campaign done but not be so large that it is impossible to talk to a decision-maker.
From there I learned how to find contact information for the Heads of Marketing through calling or online research. Would write my own call script or send a cold call email asking to set up a phone call. Then I would pass off the bigger leads to my boss and they would let me try to close deals for low spending clients.
I also learned SO much about how a business is run. Watching the CEO pitch to VC firms and private investors was invaluable as I am interested in entrepreneurship. There is so much that you have to do that it is daunting to take it on alone. George, the CEO, has to draft contracts, legal documents, financial models, pitch decks for clients, write finished proposals, and manage each of these communication channels. I have been eternally impressed by his energy and skill.
4. How did your Snapchat takeover help you reflect on your experience interning abroad?
I did a Global Experiences Snapchat takeover because I wanted to help future interns decide to work abroad! When I went to USC from New York, I didn't know anyone and it took a lot of effort to find the advice that I needed. If I am able to provide that encouragement for someone who is considering working abroad for the summer, I would be happy to have the opportunity.
I think when working abroad (especially when traveling on the weekends) everything moves so fast. It was nice to sit down and reflect on my experience to really think about what I have learned (professionally and personally) throughout this summer. It also made me appreciate how much there is to do in London and how lucky I got with my internship placement. I really have had a summer like no other.
5. How has interning abroad prepared you for the world after graduation?
It has taught me a lot about independence, professionally and personally. When you're in another country, your individual responsibility increases tremendously, as it is mostly up to you to make the most of the experience.
Whether this means overcoming challenging projects at work, getting over a difficult roommate situation, or traveling to a new city by yourself, spending the summer abroad teaches you skills that you can't get in the classroom.
Being able to adapt is something that I highlighted in my Snapchat takeover and is something I will emphasize again. You can learn hard skills in the classroom, but being able to overcome tough situations is something that you have to do through experience.
It has also shown me that I can live outside of the US. While two months isn't a huge amount of time it is definitely enough to gain the confidence to work internationally, which opens up a world of opportunities professionally.
6. Has your internship helped you clarify your career path and future professional goals?
My internship has taught me a lot about entrepreneurship. I think I want to start my own business eventually, so being able to see a company built from the ground up has been an invaluable experience. And even if I don't start my own company (for the foreseeable future), the skills that you learn are vital to other aspects of a business.
When you run your own company you have to be able to do a little bit of everything, so I feel like my choice to take entrepreneurship classes at USC has been validated because of this summer. It also has solidified that I want a social work environment where I am close with my bosses and coworkers. Obviously, work needs to get done, but a collaborative and friendly environment is important to me for my professional career.
7. What have you done in your free time?
With seven free weekends this summer, I stayed to explore the UK and traveled to other countries. I took weekend trips to Paris, Amsterdam, Venice, and Berlin! On the weekends I stayed in the UK, the first I went to the Royal Ascot horse race, the second I attended Wimbledon, and the third I did the GE trip to the White Cliffs of Dover!
I love to always be moving, so I made sure to make the most out of my weekends. Traveling on the weekends meant most of the time I spent exploring London was on the weekdays, where I attended lots of concerts! I tried to go to one concert a week using Bandsintown and Songkick.
8. Have you traveled internationally before? What has been helping you transition into the city?
Yes, I've been lucky enough to travel internationally before this program. I traveled a lot growing up (South America, Australia, Europe), but never alone. During college, I traveled with USC to Tokyo, Dubai and Abu Dhabi, and now London. These trips helped me vital to my success this summer.
When traveling in Asia and the Middle East we were always insanely jet-lagged and had fully booked days, but we always had to power through in full business formal clothes, be engaged, be energetic, and participate in every company visit. Getting through these programs helped build character to thrive this summer, whether it was overcoming a cultural difference or just general fatigue.
9. How did your friends and family react to your decision to intern abroad?
I am extremely lucky in that my parents have always supported me when I want to take the road less traveled. I think my family and friends are used to me being far away considering I go to school 3000 miles from home and usually only come home 2-3 times a year.
London is actually a similar distance from NY as LA is so it wasn't too hard of an adjustment. The time change between London and LA was difficult to keep up with friends which was honestly one of the biggest challenges I faced this summer.
10. What advice would you give to someone thinking about interning abroad?
My main advice would be to do things that make you uncomfortable! Interning abroad is already a huge step out of the normal summer internship experience in the United States, so you should be proud that you're getting to do something that not many people get to do!
While abroad it's so important to embrace the uncomfortable and just keep on going! When at work, try to take on new projects and always ask for more work. Completing things that you have never done before might be daunting, but when you figure it out the reward is huge.
When spending time with other GE interns, go out and do new things that you normally wouldn't. If you aren't a social butterfly, make sure you take time for yourself but try to challenge yourself to get out and make memories with new people! You're only going to be with this group for 2 months, so make the most of it.
And finally, travel as much as possible! I have tried to do as many international programs as possible at USC because I believe it makes you a more well-rounded and innovative person.
When you have to get over a language barrier, navigate a new city, figure out public transportation, or make your own accommodations, all of these things are understandably difficult and sometimes frustrating. But, without these challenges, traveling would not feel as rewarding as it does!
These experiences make you more independent and adaptable in your personal and professional life, and there is no other way to gain this experience without diving in headfirst. So if you're thinking about interning abroad my advice is to understand and accept your own reservations, but ultimately lay them aside and commit to this incredible experience. You will become a braver and more confident person because of it.
Did Zach instill some wanderlust in you? Apply today and one of our Admissions Counselors will get you started on your way to an international internship.