Living abroad is one of the most important things I have done to date, as you consider an Internship in Paris there are a few things you should know. Living in Paris taught me an incredible amount about myself, it helped open up the world to me. Spending any amount of time immersed completely into another culture can never be a bad thing. There are a few things I wish I had known before moving to Paris.
All of your shoes will get ruined
This happens without fail. At least it did to me and everyone I knew. The amount of walking you do each day is incredible and since it rains most of the year, shoes don't last very long. My advice would be to bring a pair of waterproof shoes and leave behind your absolute favorite shoes. I saw so many tourists falling over the cobblestones in their stiletto heels so leave those behind unless you're planning on taking a taxi everywhere. Have you noticed how those French fashionistas are all wearing cool flat booties!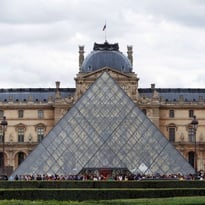 Check out museums when they are free
There are museums, galleries, and chateaus all over and around Paris, and a ton of them are free! Even the bigger ones, such as the Louvre and Musée d'Orsay, are free once a month. Save that 13€ and buy yourself lunch after walking the miles through the museum. My favorite museum by far was Musée de l'Orangerie - an entire floor is dedicated to Monet's water lilies - and it is much smaller than many of the other museums. This is a helpful list of museums that are free the first Sunday of the month.

Eat like the locals
It can be so easy to get excited about all of the amazing and expensive food in Paris. My advice is to eat like the locals.The food is equally delicious, and much less expensive. Standard street food, including kabobs and crêpe, usually don't cost any more than 5€. The stereotype of the French eating tons of cheese and bread isn't far off, families will pick up fresh baguettes every evening after work and it is standard to have at least 3 types of cheese at all times.
A baguette won't cost more than a euro, maybe a little more depending on where you are in the city, and can serve as an easy addition to any meal. Hit up the markets on Wednesday and Saturday where it is easy to get tons of food for very little – bonus: you also get to see some cool stuff.



Don't over-pack
The French in general own much less clothing than Americans do on average, but the quality of what they own is much higher. They don't have much room to hang or store clothes in typical houses, since they don't need it. Don't feel uncomfortable about wearing one of 2 or 3 dress pants to your internship every day.
Accessories will become your new best friend- think the iconic french women who know how to tie a scarf a million ways. Also, leave behind the hair dryer and buy one when you get there. American hair dryers almost always catch fire one of the first few times you try to use them abroad.
The best way to see the city
The easiest way to get a feeling for the city and the distance between things is the bus or the rental bike system (Vélib). It can be incredibly easy to just pop up in different parts of the city with no idea of where you are in relation to everything else! The busses tend to travel the most popular routes and can give you a good (and cheap!) tour of the city. If it is nice out, I highly recommend renting a Vélib for the day and getting around that way.
In the warmer months, the quais along the Seine are closed down to motor traffic on Sundays so you will see tons of people biking and walking. Go ahead, grab a baguette and a bottle of wine, and bike out to one of the points on one of the two islands (Île de la Cité, Île Saint-Louis) and have a picnic with the locals!
There is no wrong way to approach Paris- Interning abroad in Paris will change your life forever.