5 Reasons to Travel to Florence, Italy, Chrissie Dailey.
1. Location - Florence is nestled in the heart of Tuscany, surrounded by beautiful wine country. You can easily do a day trip or spend a nice weekend in Rome (1.5 hours), Venice (2.5 hours), Verona (1.5 hours), Cinque Terre (3 hours), Bologna (40 minutes), or Pisa (1 hour) - just to name a few! And I haven't even touched upon the many small, medieval towns tucked away in the rolling hills.
2. Food, of course! You cannot go to Italy if you don't like Italian food. It would be just plain wrong. Italians take pride in their creations and the food speaks for itself. Yes, the pizza is fantastic and comes with toppings you've never imagined. My favorite is potato pizza - delicious pizza topped with thinly sliced potatoes. Oh carbs, how I love you. But not to worry, you'll be walking it all off as Florence is extremely manageable and easy to navigate by foot.
3. The Beauty - It truly is a beautiful city, rich in history, art and culture. When I think of Florence, I think of sun shining on the cobblestone streets, sparkling off the Orno River, showcasing the colorful buildings, churches and storefronts, illuminating the hundreds of statues, and lighting up a little piece of heaven on earth.
4. Wine - It is everywhere and that is a wonderful thing. There is nothing like drinking wine in the exact place it was created. You feel connected to the earth you're standing on and life tastes sweeter. I am horrible at noting different flavors or characteristics in a wine and 'wine tasting' in general. I just know it tastes better in Italy. And it's usually more affordable to boot!
5. The People - It could be that I'm already on cloud nine as soon as I step onto Italian soil so no one can do wrong by me, but I think very fondly of the people. I feel at ease in their country, in their city, and so long as I attempt to speak their language, smile and try my best to respect their culture, I am forgiven for my lack of Italian language skills or accepted and welcomed as a silly tourist, loving every minute of my adventure. One more! Everything is so cute and warms your heart. For instance, have you ever seen a more adorable place to store toilet paper in a bathroom!?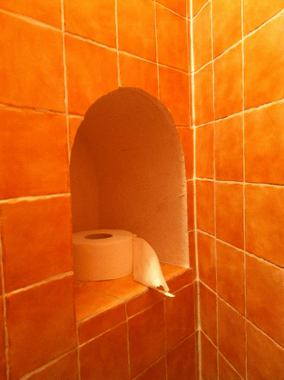 To learn more about the Global Experiences Florence Program, you can review details on our website: