Amanda Dales is Global Experiences' London Location Coordinator. Here are some of her insider tips of some of the off-the-beaten path things to do in London!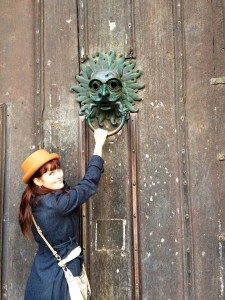 There are some things that are just synonymous with London: Big Ben, Buckingham Palace, Westminster Abbey, eating fish and chips, having afternoon tea and riding Double Decker buses just to name a few. All are famous for very, very good reasons. I'd definitely recommend getting to experience all of the above at least once in your life, but here are a few additional things that I think everyone should experience in London:
Visit an English Heritage Property. Two great ones to start with in London are Fulham Palace and Eltham Palace.
Instead of taking the Tube or bus, walk a bit. The walk along the South Bank from The South Bank Centre at Waterloo to Tower Bridge is particularly incredible.
Take a tour of Highgate Cemetery. Many of the classic celebrities of yore are buried there, and it's one of the best examples of Gothic architecture in London. Keep your eyes peeled for Karl Marx and Douglas Adams (writer of "The Hitchhiker's Guide to the Galaxy").
See an unexpected show on the West End. "The Lion King" and "Wicked" are great, but use the opportunity to see something you might not get a chance to see elsewhere!
Take a dip in one of the ponds in Hampstead Heath. There are female, male and co-ed ponds. No matter the season, the ponds are open and even in the summer the water is chilly so in the winter swims in the pond are for brave interns.
Go shopping in one of London's classic outdoor markets. Borough Market is especially great for foodies, Portobello Road for vintage lovers, Camden Market for a crazy assortment of things, and my personal favorite, Columbia Road Flower Market for more flowers than you can even imagine!
Set aside an entire day for picnicking and exploring Kew Gardens.
If you are a massive Harry Potter nerd like me, don't forget a trip to the Harry Potter Studios Tour as well as seeing Platform 9 3/4 at Kings Cross Station.
Have a curry in London's Brick Lane.
Spend a day in Greenwich; visit the markets, say "Hello" to the famous Cutty Sark and then take the Greenwich Foot Tunnel and walk under the Thames.
Discover and explore more what London has to offer on londonhut.com
No matter where you go in London, I can guarantee you'll find a multitude of things to enjoy and experience!