Commonly referred to as "The City", New York City is a true concrete jungle. The largest city in the western hemisphere, New York is teeming with opportunities for those trying to seek advancements in their careers. For Maggie C., a senior at SUNY - Potsdam, New York City was a perfect place for her to explore her major in communications.
With so many companies based in a city that never sleeps, making customers for life is key in the big apple; therefore one of the most important aspects of working in New York City is customer relations. Maggie, when asked why she picked New York City for her internship states, "I wanted to do an internship so I could apply my education more hands on & I chose NYC because it's close to home, and has so much to offer."
Maggie's Snapchat Takeover
We reached out to Maggie over the Summer about hosting a Snapchat Takeover with us, and to our excitement she said yes right away! Maggie showed both fellow and potential interns a day in the life of a marketing intern in New York City. See her story below:
Maggie's Marketing Internship
Marketing is currently metamorphosing, with the attention turning away from the traditional advertising domains such as TV and print and more of an emphasis is being put on employers to engage consumers on their mobile devices, tablets and laptops. As we can see from Maggie's snapchat takeover, a lot of her day to day involves both posting on social media and reaching out to the consumer directly.
Open loop, a sightseeing tour bus company, was dependent on Maggie to facilitate good customer relations in order to promote their service above other tour bus companies in The City. Maggie's advice on what she took away from her experience is that, "Internships will teach you things that you cannot learn in school, it is a good practice for "real world" jobs once you graduate. My biggest takeaway is how much you learn about yourself when doing daring things like moving to a new city by yourself."
A Day in the New Yorker Life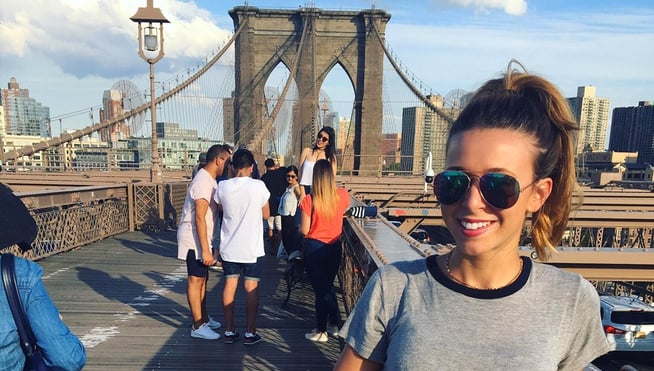 During her stay in NYC (from June through August), is considered peak months, and saw the highest level of tourism of the year in the big apple; making her job one of the most important in the office. Along with customer outreach, Maggie was able to attend events in and around the city. Summer is the most active season for activities which gave Maggie the unique chance of exploring the city in depth. With so much to do and see, Maggie's job was to be an expert on what do for the average tourist.
Commuting
In New York City the next most important thing to the what you are doing is the how are you getting there. For Maggie commuting was part of her daily life. Living in her own housing accommodation, Maggie had to use the Metropolitan Transit Authority to get from Astoria, Queens to Midtown, Manhattan. The MTA is the largest mass transit system in the United States, hosting 2.7 billion riders a year with an average weekday seeing 8.9 million riders! Navigating and having alternate routes for the subway are must in New York City even though the sidewalks can be just as congested as the NYC subway. Especially during Maggie's walk through Time Square every day.
For all Foodies
What New York lacks in sidewalk space it makes up in spades in food. With over 170 languages spoken in the city, there is huge cultural diversity when it comes to cuisine. Maggie would often walk to Chelsea Market for lunch best known for its innovative architecture and wood burning stove, Chelsea market is a stunning food court offering different local vendor style cuisine. With so much diversity to choose from New York will push one's palate above and beyond.
Are you Ready for the Big Apple?
With great food, and great employment opportunities in the best city in the world, the only question one needs to ask themselves is, are you up for the challenge? Remember if you can make it here, you can make it anywhere.