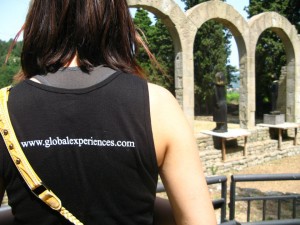 As a student, you probably have grand plans to take a couple of months off at the end of the year, to travel across the globe experiencing the world, maybe do a spot of work and generally have a great time. You wouldn't be the first to have these plans, nor will you be the last.
What many people fail to realize, is that you could be traveling the world and seeing the sights at the same time as you potentially further your career; putting you ahead of your fellow students when it comes to graduating. Fortunately, it is not necessarily a matter of abandoning your dreams of traveling throughout Europe or of sacrificing a vacation for work. If you plan ahead you can travel on either side of your placement, allowing you to enjoy both the freedom and excitement of a vacation whilst gaining the experience and executable skill that comes from an internship. At the end of your time, you will have the chance to travel to a foreign city, to live the life of a local and at the same time earn international experience which will add depth to your resume.
Choose your Destination
In the same way that technology has revolutionized the way we all communicate, it has brought the world closer together. Traveling overseas is now easier than ever and as such the opportunities it affords individuals are closer at hand too. Where once you were more confined to do your internship in your capital city, today, internships can be undertaken in Europe, Asia , Australia, Canada or USA without too much hassle.
Of course, you could do an internship more locally, but why not get out and see the world? From the ability to work in large multinationals, to working with market leading big business or even to more niche opportunities such as being a
fashion intern, building a network overseas and gaining international experience is something even well-seasoned professionals crave. Whether you choose London, New York, Paris, or one of many other exciting destinations, you are but a stones throw away from living life the way you imagined.
Becoming an Intern
Aside from the opportunity to travel the world and to learn from the best, internships offer aspiring graduates the chance to test drive their chosen profession. This is as important as anything else, as it can help you establish the merits of going into your career or why you should perhaps consider a different one.
If you would like to become an intern, there are a few things to remember and get in order first:
You will need to select a time that does not interfere with your studies. Internships can range between 8 weeks and 6 months
You will need a valid passport
You need an outgoing attitude and willingness to learn
Internships should be selected in areas related to your studies; consider your career choice
So what are you waiting for? Why not take a positive step for your career, without sacrificing the life you love at university and look into becoming an intern. The world awaits you.