When my colleagues asked me to write about why to intern in Galway, it was hard for me to narrow down the reasons to only 8!
I studied abroad in Galway, so I might be biased, but it's one of my favorite places in the world. I have traveled to over 25 countries, and Galway, Ireland continues to be at the top of my list.
Ireland overall is an amazing place. From the striking Cliffs of Moher to the historic Kilmainham Goal prison, and the rolling hills of the Dingle Peninsula, the Emerald Isle has something of interest for everyone. Also, can you beat a perfectly poured pint of Guinness?
Intern abroad in Galway to gain work experience while exploring the local sights and amazing culture of Ireland!
Here are 8 reasons why you should consider Galway for your internship abroad:
1. It's the World's Friendliest City!
Galway was voted by top travel magazine, Travel + Leisure, as one of the world's friendliest cities. I can definitely agree with the folks over at Travel + Leisure. Galway was also listed a "Best in Travel" city by Lonely Planet for 2020. Everyone from the cab drivers to the bartenders, and beyond are extremely friendly in Galway. Locals are always willing to lend a helping hand if you need anything.
2. Incredible Scenery
Galway is a great base to visit some of Ireland's most beautiful natural landscapes. The iconic Cliffs of Moher are only about an hour or so away from the city. Connemara National Park which is loaded with bogs and shining lakes is also nearby. Don't forget to visit the rocky landscape of the Burren as well during your internship. From Galway, you are a quick boat ride away to the craggy Aran Islands.
3. Capital of Culture
Galway has always been known as a cultural center in Ireland. In 2020, Galway was deemed a European Capital of Culture by the European Commission. There are many festivals that you can take part in in Galway such as the Loughrea Medieval Festival, Galway Jazz Festival, and the legendary Galway Races. The Galway Races are basically the Irish version of the Kentucky Derby. They are quite fun and it's a great chance to dress up!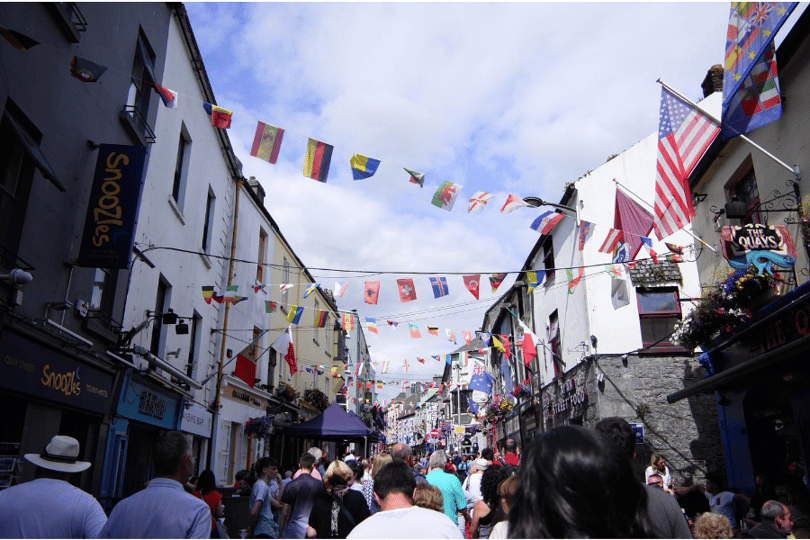 4. Music
Ed Sheeran wrote Galway Girl for a reason! Whenever I think of Galway, traditional Irish music pops into my head. There are talented buskers throughout the streets and Eyre Square. You can catch trad sessions in the city bars and pubs as well. Take a visit to Tig Cóilí for traditional live music or the Kings Head for a more modern twist. When I studied abroad, I got the change to see Mumford and Sons perform in Dublin as well. It's a memory I'll never forget. Take advantage of the concert opportunities all over the country!
5. Getting Around
Galway is an extremely walkable city. When I lived there, I walked pretty much everywhere except for the occasional taxi splurge. You can get to most sites and stores on foot with no problem. When you want to venture outside of the downtown area, Galway has a user-friendly bus system. You can also travel to other cities in Ireland via bus at affordable rates.
6. Work Culture
All Global Experiences internships will give you the opportunity for professional growth and networking. Interns in Galway will be introduced to the more informal Irish work culture, but don't forget you will have the right amount of responsibility as well. Galway workplaces will offer a welcoming environment like most smaller cities. Galwegian people are extremely friendly.
7. Home to the Claddagh Ring
Have you ever seen the famous ring with two hands holding a heart with a crown on top? You might not have known it, but you were looking at a claddagh ring! The story of the ring is that it originates from the Irish word "claddagh" which means shore. This style of ring became extremely popular when Queen Victoria started sporting it. While most people use this for a wedding ring, the ring has been known to showcase one's Irish heritage as well. The original supplier of the claddagh ring since 1750, Dillon of Galway, still has a shop open today that you can visit!
8. English Speaking
If you have never traveled abroad before, Ireland can be a great place to start. If you are from an English speaking country, you won't have to worry about learning a new language while getting around. That being said, I'd recommend learning a few phrases in the Irish language as Galway is one of the remaining cities where Irish is taught as a first language!
Ready to experience Galway?
I could continue to list reasons to go to Galway but I will leave it here. If you want to intern in a place with amazing sights, friendly people, and beautiful landscapes, then Galway is the choice for you. Sláinte!
Fill out an application to start planning your internship for the summer or semester.