Kaylee is a student at Towson University majoring in Graphic Design. This summer she travelled for the first time outside of the US and flew across the pond for an internship in London.
During her time abroad she watched Harry Potter and The Cursed Child live in the theatre (and met the cast!), went to Wimbledon (and met the winners of the men's wheelchair doubles), and visited Stonehenge, Bath, and Scotland, all while gaining valuable graphic design experience!
Read on to learn more about her amazing summer in London.
Why I decided to intern abroad
England is a mecca of beautiful architecture, delicious international food, and everything Harry Potter, so it's no surprise that so many of our interns find it such an alluring destination. For Kaylee it was that and much more.
Growing up, she never travelled internationally because she thought of her wheelchair as a barrier, "I never dreamed that I'd be able to do the things my able-bodied friends could do." Little did she know that London's cobbled streets and busy roads wouldn't stop her from realizing her dreams.
As an individual who uses a wheelchair she chose to intern in London not only because of its rich history and ancient architecture, but because it's also a very modern city and has improved accessibility features. Kaylee says,
"While I found London isn't as accessible as the States, Global Experiences was willing to help me whenever I needed it. Sarah, my Location Coordinator, was always on call if I had a problem with the bus system or needed to figure out a better way to get to my destination."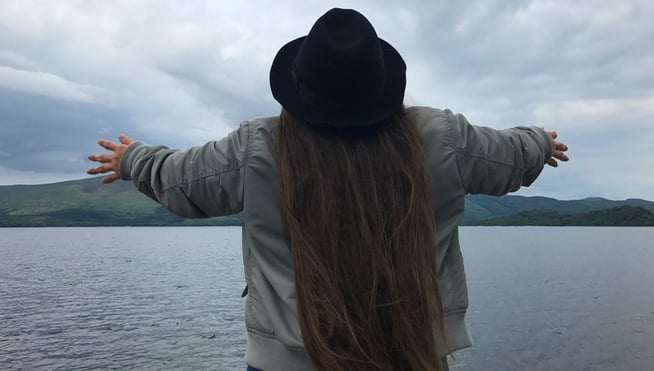 Stepping away from everything you know at home and experiencing a new culture can be scary and incredibly exhilarating. Part of the reason why Kaylee wanted to intern abroad was to "take a step closer to independence and break free from the comfort of routine." She wanted to show herself and the world just how strong she can be.
Friends and family support
Kaylee's friends and family were 'incredibly proud' of her decision to intern abroad. Going abroad is a brave decision but dealing with extra barriers along the way made her family realize just how important the trip would be for her.
On campus, she is very involved as a photographer for the ice hockey team (her favorite sport!), a graphic designer for the university's campus recreation department, and an ambassador for her honor society.
She decided to go abroad to get even more professional development because she recognized that 'having international experience in her field would make her list of experiences look that much better'. Which is true, just 1% of recent graduates have international work experience so combined with her on campus work she is sure to stand out from other candidates when she begins job hunting!
Kaylee's graphic design internship
What it was like?
Kaylee was placed in a political public affairs agency located just minutes away from the River Thames, the MI6 headquarters, and Parliament! With big dreams of being a graphic designer and photographer for an ice hockey team her internship helped her to develop crucial marketing and branding experience.
She was eased into her internship with a short induction where she got to attend company events and learn a bit more about the market the company operates in. "I'm glad I was eased into it so that I could better adapt to my new environment." she tells us.
Her experience in London helped her to learn so much more about the branding process, including conceptualizing designs using the Adobe Suite, presenting them to stakeholders and gaining approval to eventually see her designs come to life.
On a day-to-day basis she might be designing, working alongside the Managing Director, attending client meetings and working with external organizations to produce and cost marketing collateral. Her favorite project during her time at the agency was working with Wordpress.
"It seems like an odd thing to be my favorite, but I learned so much through the process. Knowing that I helped fix my company's website made me proud of all the work I had done to get to that point."
She was able to receive great hands on training and take part in many meaningful projects for the company. Her opinion for the internship as a whole sums up what we're all striving for. "After getting myself settled I can honestly tell you I woke up excited to go to work every day."
Co-workers
British people are often portrayed as being reserved and unemotional but they are actually quite the opposite! Kaylee found that her co-workers were "immediately welcoming" and "never made her feel like an outsider". "My office was a very relaxed environment so it made my time here a lot less stressful."
Professional skills learned
Internships are fantastic for not only giving your desired career field a test drive but also developing skills that you can pitch to an employer once you graduate. Kaylee says the main takeaway skills she learned were "adaptability, initiative, and creativity."
She adapted quickly to the way her office worked, and took initiative by asking for more work if she had any down time. If there was ever a time that she didn't have a project to work on she "made it a point to do some personal professional development, whether it was looking up tutorials or finding a new way to solve a problem".
She continuously developed her creativity by finding different ways to portray messages in her graphic design work.
London Culture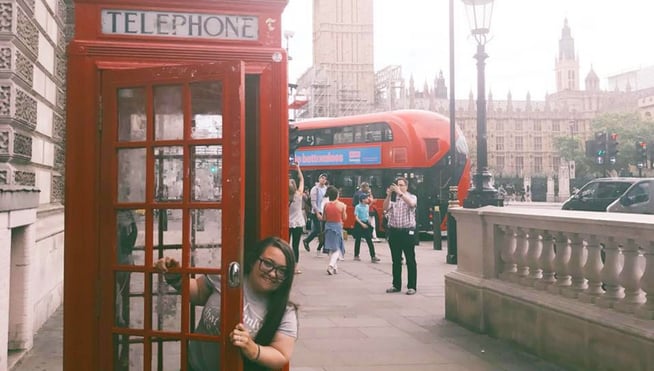 Adapting to city life
Things are different in England; everything is smaller, people talk about the weather (a lot!) and at times it seems like they're speaking a different language entirely. For example, 'popping to the loo' means 'going to the restroom', 'chips' are 'fries', and 'crisps' are 'chips'!
But Kaylee was most concerned about getting used to maneuvering the city in her wheelchair. While London is modern, it's also an old city, over 2,000 years old in fact, so it's understandable that accessibility was on her mind.
While the sidewalks were smaller, she says: there was always "a stranger nearby that was incredibly willing to take time out of their day to flag down the bus driver when I needed to be let off, push my chair when I get stuck in cracks, or walk me across the street when cars weren't letting me by."
As with everyone who decides to pack up and leave everything they know to leap into the unknown and experience a new culture, Kaylee developed a greater sense of independence.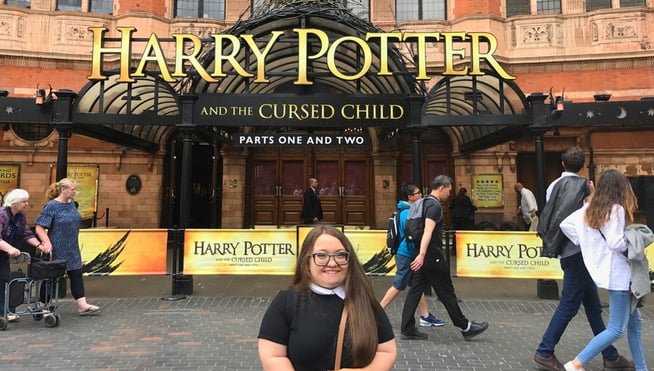 "My favorite part about London is how independent I can be here. If I want some delicious chocolate gelato in the shape of a rose or am in dire need of some vintage leather bound books, I know all I have to do is roll onto a classic red London bus and be on my merry way."
She also enjoyed the historic beauty of the city. "As a photographer, I love seeing the intricate old buildings every corner I turn and there is always something going on - from White Walkers crossing Tower Bridge to Bastille playing in a concert on Trafalgar Square".
Program takeaways
Clarified career path
Internships open your eyes to what you'd like to do in your future and while Kaylee has dreams of being a graphic designer and sports photographer for an ice hockey team her internship helped her realize something crucial.
"My internship made me realize that my job doesn't have to be sports related in order for it to make me happy. Never in a million years did I think I would love working at a political company, but thanks to the creative freedom that I've been given with all of my projects, plus the fantastic people I work with I've truly enjoyed what I did. Besides, nothing beats working so close to Big Ben!"
Lessons learned
Going abroad can teach you so much, not just about other cultures but also about yourself and your own home. Kaylee says: "London made me realize I truly am a strong individual and that my wheelchair does not define me - I can do any and every thing that an able-bodied person can do."
Her biggest takeaway from the experience that she should live life adventurously. "Nothing gets accomplished in the comfort of your own home and you can't truly experience life until you burst out of your safety net and get out there."
Though she says it's a cliché you hear from anyone who's spent time abroad, her experience truly did help her find herself.
Advice to future interns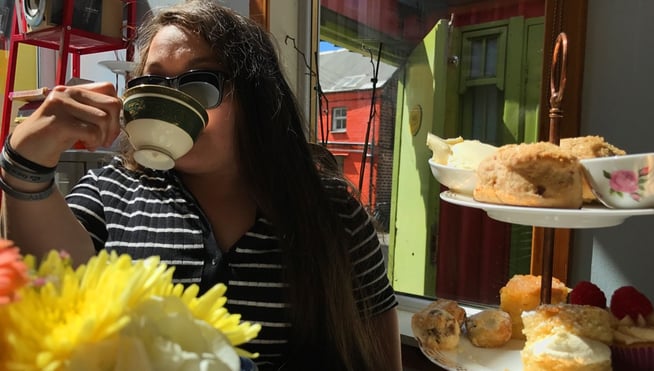 So what advice would Kaylee give those who are thinking about interning abroad?
"Do it! It is an incredibly scary thing to go so far away from home by yourself, but when you come back you will thank yourself for it. Not only will you develop professionally through your internship, but you'll also learn so much about yourself and what you can accomplish."
"Going abroad is an eye opening experience and is something that you will remember for the rest of your life. There is no experience like it."
So if the streets of London are calling your name, or if a Graphic Design Internship is what you're looking for then apply today and one of our Admissions Counselors will get in touch to learn more about what you're looking to do and make your dreams a reality!