James Szuba, originally from Syracuse, New York, is an international economics intern in Sydney, Australia. He did everything he could to get himself over to the land down under and is now about halfway through his 8 week stay in Sydney.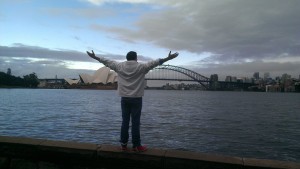 "The pressure of finding a summer internship was a huge weight on my shoulders. I wanted to intern abroad and I wanted something that would stand out on a resume. After multiple emails, phone consultations and parental persuasions, I decided that this was something I was going to chase after.I eventually went on to sell every share I had invested in since I was 19. I wasn't afraid to make the bigger investment in myself.

I spent a lot of nights thinking about this summer. Sydney has been tremendous. To be honest, in just five weeks time it has already lived up to and surpassed my expectations.

Professionally:As an intern abroad, I thought I would be an getting coffee and given documents to file. I'm not allowed to disclose information on the projects I'm working on, but the work I'm doing is actually important. I feel as though I'm growing exponentially. Not just upwards, but outwards as well. I can feel my horizons stretching far and wide again. I need that. Socially: I feel as though I've met some good people. It will be interesting to see how everything plays out once this summer is over. Personally: I yearned for a great challenge. I set a few sizable goals and I've risen to the occasion.

It's funny to see the barriers we each set up in own mind, however, because we create those barriers we can also destroy them. I feel as though I'm running through walls and jumping over hurdles. Just a few short months ago I felt like I couldn't get ahead. So for me, I'm ten feet off the ground."
Check out James' blog for more of his insight, photos and videos. http://bitly/12rWUnx