Tess Tanuis is a Hospitality Management: Event Management major from Kansas State University who interned with Global Experiences in Spring 2016 in Sydney, Australia.
Read on to learn more about her experience!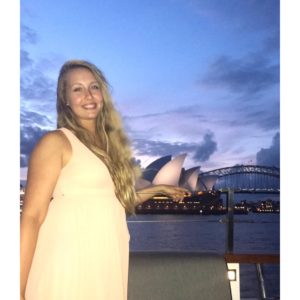 When deciding where to study abroad, what led you to choose your destination? Has your destination met your expectations so far?
I've always been so curious about Australia, which is one of the reasons why I wanted to experience my internship here. I wanted to travel somewhere tropical, since I am used to the very simple life in Kansas. Australia has honestly been everything I thought it would be and more. The culture here has such a laid back vibe. Nobody ever seems to be stressed and I feel that Australians really just take life as it comes. The only challenge I have faced since arriving to the land Down Under is wanting to stay here forever!
Tell us what's happening in your down time, any trips or experiences outside of your internship?
The group of interns I'm here with in Australia are FANTASTIC and always want to experience something new! On the weekends we all dedicate at least one day to the beach, if not two, just to relax and take in the views of some of the most gorgeous beaches in the world. We live in a prime location in Sydney, where a train or bus station is only 5 minutes away. This makes it so easy to explore our surroundings.
My time here is spent evenly between big city life and beach life, which I think has enhanced my trip. Traveling wise, six of us interns, including one not in the Global Experiences program, booked a 4 Night/5 Day excursion to Cairns with a student travel agent over the Easter weekend. We get to snorkel/scuba dive the Great Barrier Reef, experience white water rafting and go on a tour through a rainforest. Other future trips we are looking into include Byron Bay, Bali and New Zealand.
Give us a snapshot of your work day.
I get the best of both worlds by living in the hustle and bustle of the city in Sydney but also traveling to work by ferry over to the seaside village of Manly. I work Monday-Friday starting around 9AM/10AM and finish at 4PM/5PM, depending on the day and what is going on. Overall, my commute takes about an hour, but how can I complain when I get to cruise past the Sydney Opera House and Sydney Harbour Bridge?
Every day is completely different for me. Half of the time, I work in the Hello Manly Booking and Information Centre assisting with showing people where to go in Manly and helping book activities around the area. The other half of the time, I work in the Chamber of Commerce office assisting with social media, our Hello Manly website, drafting operation manuals, event reviews and anything else the Centre Manager needs me to do. At the Information Centre, there are 8 employees and 10 volunteers, with me being the only American.
The best part of my day is simply just being in Manly. I have fallen in love with the carefree beach town scene!
What is different about Australian culture in the workplace versus your experiences in the U.S.? Name the top five things you've learned about working in the workplace of a different culture.
I feel the workplace culture in Manly is different from the city in the U.S. due to how "chill" everyone seems to be all the time. Scheduled 30 min lunch breaks are unheard of. From what I have seen and experienced, lunch breaks are meant for relaxation and, most likely, catching up with some friends.
The top five things I have learned from working here in Australia are:
Be flexible not frustrated. (My boss's slogan!)
Every day is Friday. (Another slogan from my boss.)
Work hard, play hard.
Before working here, overall, I always had in mind that to be professional, you had to be formal. One of the biggest things I've learned while being here is that it's okay to not be in a suit and tie.
Say yes! Whether it is work related or not, I have really learned the best way to learn and experience the most out of any situation is to say yes and try.