As the great Audrey Hepburn once said, "Paris is always a good idea". Audrey was absolutely right. If you are lucky enough to take a trip to Paris, you will instantly understand. There is no comparison to the Parisian charm-- the grandiose attractions and monuments, quaint cafes and bistros, glorious markets, beautiful Haussuman boulevards, and timeless elegance.
Being in the City of Lights is unlike anything you will ever experience but visiting as a tourist versus living like a local are two completely different feats! Below I have outlined a few tricks and tips to experience Paris like a local.
Culture
It should come as no surprise that the French Capital is one of the more cultured cities on Earth. Paris is one of Europe's most iconic capital cities and prides itself on being a leader in architecture, cuisine, fashion and entertainment. You can spend days walking around Paris and never become bored. There is so much to do and see and the city is filled with hidden gems!
Major Attractions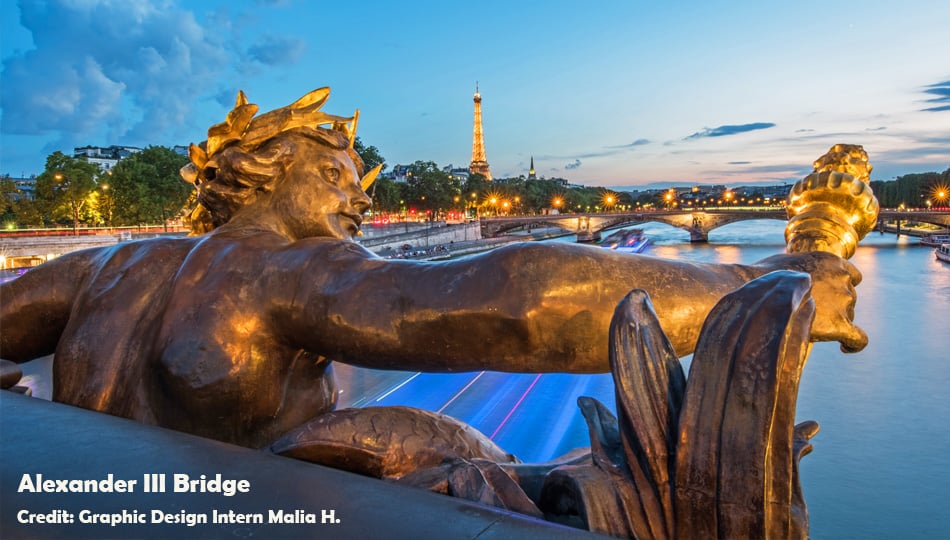 Some of the more famous attractions such as the Eiffel Tower, Notre Dame, Arc de Triomphe, Sacre Coeur and Champs Elysees are necessities and should be on everyone's check-list but to really live like a local is to know that:
Arc de Triomphe has the best views of the city. Don't waste your time (or money) going to the top of the Eiffel Tower!
Head up to Montmartre towards dusk. Shop around at some of the cutest boutiques or have dinner in "Place du Tertre" before parking yourself on the steps of Sacre Coeur for a perfect sunset. Bring a bottle of wine and enjoy the entertainment while you wait!
Spend less time on the actual Champs Elysees and more time admiring the Grand and Petit Palais. Cross over the stunning Alexander III bridge towards Invalides-- another astonishing building!
The best view of the Eiffel Tower is from The Trocadéro.
Museums
Paris is filled with must-see museums with the more major ones being Le Louvre,Musée d'Orsay, Centre Pompidou. My personal favorite is L'Orangerie which is an entire museum dedicated to Monet.
Tips to visiting museums like a local:
Like in many other European cities, many museums and monuments are free on the first Sunday of the month, especially if you're a student!
Don't enter The Louvre through the main entrance (the glass pyramid)! There are 5 official Louvre Museum Entrances and the easier entrances are going through the "Porte des Lions", through the "Louvre Carrousel" or the "Passage Richelieu".
Buy a museum pass. If you plan on going to at least 2 museums/monuments a day, then a pass is a no-brainer and you cut through the lines. Passes are good at over 60 museums & monuments in Paris & surrounding areas.
Hidden gems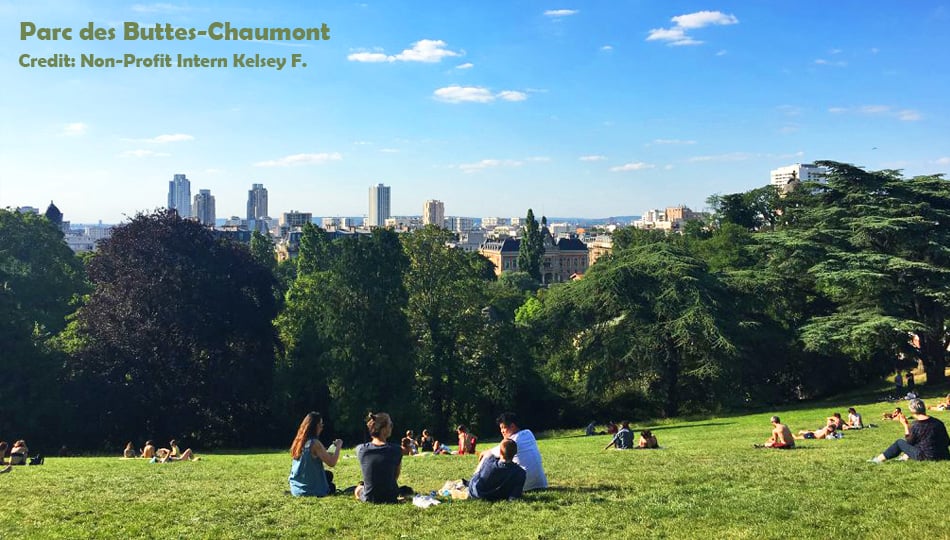 You could spend days and days in Paris and still not have enough time for all the major attractions and must-sees. There is so much to do in Paris that sometimes the best-hidden gems are easily overlooked. In order to really experience all that Paris has to offer, it's imperative you find some time to explore these "hidden gems". Some of my more notable tips:
The most charming "rues" can be found all around. Rue Cremieux is an adorable, colorful street and perfect for that new IG photo! Rue Montorguiel is a feast for the eyes with gorgeous flower shops, cute cafes and hidden local bars and speak-easys. Head over to Rue Cler for the best food of your life!
Huge parks like Parc des Buttes-Chaumont are a great alternative to the overcrowded Tuileries or Luxembourg Gardens.
Spend your time wandering through Le Marias. You can do this on your way to the Centre Pompidou! Le Marais is super trendy with an atmosphere unlike any other neighborhood in Paris. You get an eclectic mix of old and new, from hipster thrift shops and street art to the historic Hotel de Ville.
While you're there, visit Place de Vosges. This is the oldest square in Paris and my particular favorite.
If you want to do something really non-traditional, visit Pere Lachaise, a massive cemetary home to the late Jim Morrison and Oscar Wilde. It's incredibly peaceful and impressive.
To really live like a local, spend an afternoon hanging out by the Canal de Saint-Martin. This is a super local spot where many people gather to socialize and enjoy the typical Parisian lifestyle. The canal is lined with really cute shops, cafes and bars. This area is particularly fun in the warmer months.
Getting around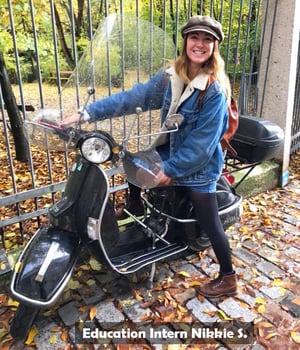 Seeing as there is so much to do in Paris, it's always good to know the best methods for transportation. Luckily, you have a lot of options. Aside from public transport and walking, it's good to note that Ubers/Taxi's are easily available and there are also public bikes for rent. If you want to venture outside of the city, you'll find Paris is super accessible to other cities and countries with three major airports and seven major train stations.

Metro tips
Paris metro is one of the densest in the world but, in my opinion, one of the easiest! The metros are reliable, cheap, and convenient. It has 302 stations, of which 62 have transfers between lines. There are 16 lines and are identified on maps by number and color.
The metro is cheap, especially compared to other cities. A single ticket is about $2 and you can also get a booklet (10 tickets) for about $15. If you plan to stay in Paris for longer than a few days, a Navigo may be a smart investment.
The Navigo card is a multi-use week pass smart card for Paris Metro trains, RER trains, buses, and Transilien trains. A Navigo weekly pass is about $25 for central Paris and all Zones 1-5.
Local tip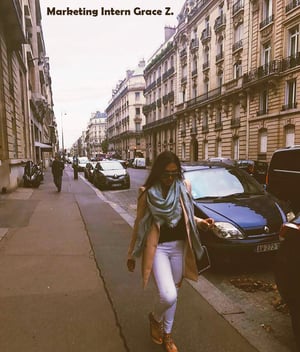 Walk! Walking in Paris is super easy! Paris is actually quite small-- approximately 9 miles east to west and 6 miles north to south, giving the City an area of 33.5 square miles. You can walk from the furthest eastern point to furthest western point in about 2.5 hours.
Most locals walk, especially if your destination is less than a few metro stops away. Plus, it's the best way to take in all the beauty Paris has to offer!
Food
Ok, so you're exhausted from all the site-seeing and walking around and now it's time to refuel. Luckily, you're in one of the most food-rich cities in the world. An easy and reliable place to search for good, local food is Lefooding.com. They keep locals updated on new and popular spots and always have awesome suggestions.
For a typical French experience, I highly recommend A la Biche au Bois. This quirky little bistro-style restaurant has a bustling atmosphere and the best food ever. It's a great place to start for an authentic French meal with good (English-friendly) service and a very Parisian vibe.
Unsure what you want to eat? Check out the Marché des Enfants-Rouges on Rue de Bretagne for a huge local market with a wide variety of delicious, local foods. Or check out Rue Montorguiel or Rue Cler for an eclectic mix of cafes, bars, and restaurants with all the Parisian charm.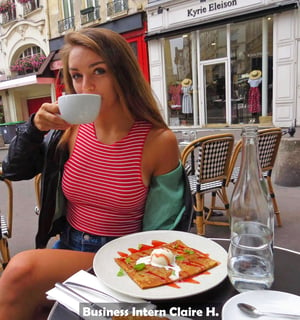 In the mood for something sweet? You can find endless pastries and sweets in just about any Boulangerie but make sure you find time to go to the famous Du Pain et des Idees (maybe on your way to the Canal Saint-Martin!) to be absolutely blown away by the best pastries of your life. A must have is the pistache chocolat escargot!
Though you may be surprised to find hamburgers, steaks and fries on most cafe menus you should branch out and experience all the deliciousness that French food has to offer. A classic crepe is a must or a savory raclette or croque madame. If you're feeling a bit more adventurous go for a tartare, escargot, or yummy fois gras!
Paris tips
Paris can be an intimidating city to visit and it's always a bit nerve-wracking stepping out of your comfort zone to go visit a foriegn place. When visiting any new place, most people worry about sticking out as a tourist but don't worry, most people in Paris are tourists!
Service in Paris
There is a stereotype that the French are rude- maybe, but maybe not. You may not get the same service or luxuries in Paris as you do in your home country but that doesn't mean they are being rude, it's just their way of life.
Many people complain about poor service or being ignored at cafes. Parisians like to take their time, enjoy themselves, and relax while dining out, or even enjoying a simple coffee.
Servers won't come over to you unless you ask for their attention. This has nothing to do with you being a tourist, this is just the norm! If you feel like you're being "ignored", don't be afraid to give a server a quick wave!
Learn a little French
Keep in mind, too, the language is French and if someone seems rude or standoffish it may simply be because they don't speak your language!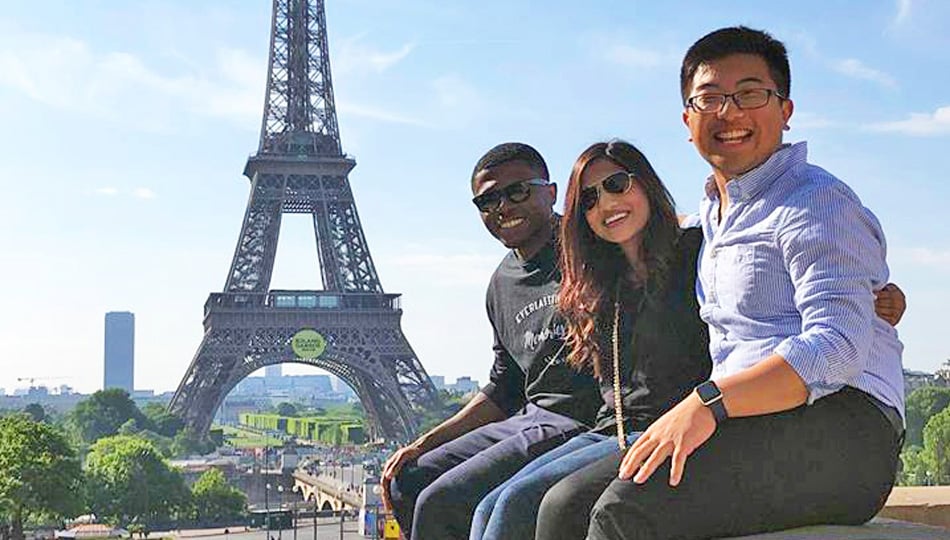 Speak on that, it's always important to learn a few French phrases and make an effort to speak a little French. Parisians have a specific sense of politeness so always remember to say "bonjour" (hello) and "au revoir" (goodbye), especially when you enter or exit a shop or restaurant.
Following up with madame, mademoiselle, or monsieur is extra polite. Always say "merci" (thank you) and "s'il vous plait" (please). Good manners are awesome wherever you are. When in doubt, a simple, "Parlez vous Anglais (or whatever your native language is)?" goes a long way!
Don't talk about money, politics, or work. These are uncomfortable topics and seen as rude, especially if you are flaunting your unsolicited opinions.
Parisians greet each other with a "bise" or a kiss from cheek to cheek. Don't be surprised if a stranger greets you this way!
You're Officially a Parisian!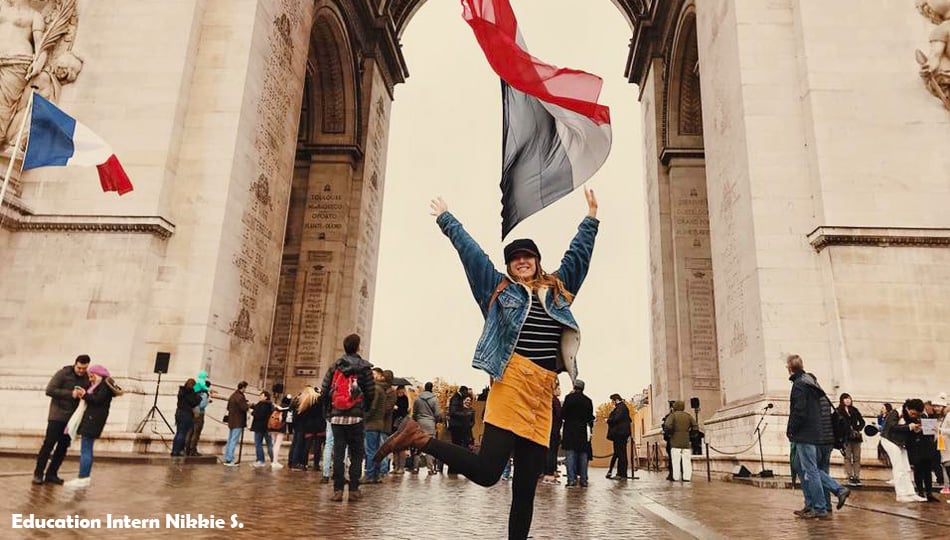 While I could go on for hours about Paris, I think the above gives you a good start on how to truly live like a local.
Interning abroad with Global Experiences is an easy choice if you're thinking about going abroad. It's the quintessential formula for spending meaningful time abroad while also gaining valuable, real world experience. If you're thinking about interning abroad and have your hopes set on Paris, we're here to help. The first step is submitting an application so an Admissions Counselor can contact you!
"We'll always have Paris." – Howard Koch