We, as human beings, are really not meant to be sitting around and staring at the wall doing nothing. We are meant to wander, explore new places and meet different cultures while we enjoy their gastronomy.
In my early 20's I was a very picky eater and it was during my study and work abroad experience in Edinburgh, Scotland, when the quote "The best way to know a city is to eat it" by Scott Westerfeld, really made sense to me and it changed my life.
While you may be stuck at home more often these days, why not bring some international culture to your kitchen and expand your palate. Here are 8 tasty dishes from around the world to get you started.
1. Som Tam (Thailand)
Som tam is a spicy green papaya salad - a simple but tasty dish. It consists of an unripe small green papaya, tomatoes, carrots, peanuts, long beans, and sometimes dried shrimp. The sauce is made up of palm sugar, fish sauce, lime juice, garlic, and chillies (as many as you like). All mixed together gives you a delicious fresh salad with sweet and sour flavors, and a kick!
Favorite recipe by GE Marketing Manager, Molly Haskell.
2. Jaegerschnitzel mit Pilzrahmsauce und Spaetzle (Germany)
Jaegerschnitzel is a fried porkchop and is often smothered with a creamy, wild mushroom sauce. It is a staple of southern Germany, and everyone will have a different opinion on which tavern/pub/biergarten serves the best. Spaetzle is a traditional German dumpling that is often paired with Jaegerschnitzel. There is never enough of this buttery noodle-like dumpling on a plate. Of course, add on a good German beer for good measure.
Favorite recipe by GE Admissions Counselor, Andrew Parr.
3. Casado (Costa Rica)
"Casado" is a Costa Rican dish that means "married." It got that name because it's a really common dish for one spouse to prepare for the other! Casados typically consist of gallo pinto (another Costa Rican speciality - rice and beans in a tangy sauce), a green salad or sautéed vegetables, plantains, and meat or fish. When you order a Casado at restaurants, they typically come with fresh-squeezed fruit juice too. Casados are filling, healthy, and super affordable!
Favorite recipe by GE Admissions Counselor, Brooke Mada.
4. Bibimbap (Korean)
Bibimbap is the quintessential Korean meal-in-a-bowl. It has rice at the bottom, topped with sliced beef, a mix of sautéed vegetables such as carrots, mushrooms and cucumbers, and several sauces (particularly gochujang, which is made from spicy chili pepper paste and found in most grocery stores). The term "bibim" means mixing various ingredients, while "bap" refers to rice. The final step is to crack an egg on top of the hot dish of ingredients just prior to serving and then stir in the gooey goodness throughout so it is ready for safe consumption. It's the ultimate comfort food!
Favorite recipe by GE Director of Partnership Development, Melissa Buerkett.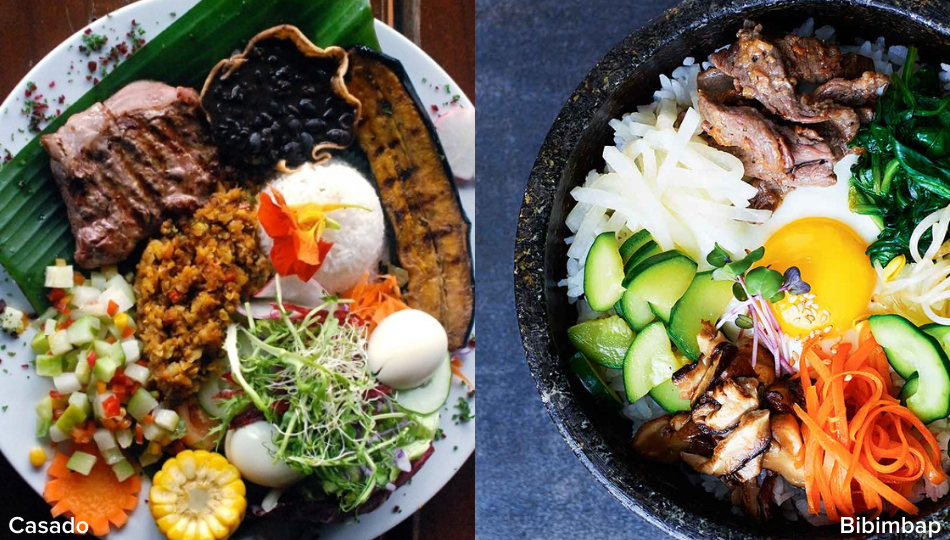 5. Croquetas (Spain)
Croquetas is a really simple bite and there are not many ingredients on it, but it's delicious! Croquettes originated in France, where they feature a mashed potato center, but when croquettes traveled down to Spain, they became croquetas, and took on something a bit different. Rather than being filled with potatoes, Spanish croquetas are filled with a creamy bechamel sauce. In Spain, these bites are traditionally served in bars and restaurants as a tapas dish. They can include a variety of other filings added to the bechamel, like chicken, ham, mushrooms, spinach, or salt cod.
Favorite recipe by GE Global Engagement Coordinator, Carmen Chamorro.
6. Ćevapi (Southeast Europe)
Ćevapi, or ćevapčići, is a Balkan dish of grilled minced meat and is usually a combination of beef and lamb. They are typically served in portions of 5-10 with flatbread, chopped onions, kajmak (a delicious soft cheese), and/or ajvar (a red bell pepper paste). It is very popular in the former Yugoslavia and often accompanied by ayran (a yogurt-based drink).
Favorite recipe by GE Admissions Counselor, Karl Jacobs.
7. Peanut Butter Cookies (England)
The UK talks a lot about peanut butter. These 3 ingredient peanut butter cookies are very easy to make. You just need peanut butter smooth (150g), light brown sugar (100g), 1 egg and chocolate chips or chocolate of choice (as much as you'd like). Mix everything in a bowl firstly the peanut butter and sugar followed by the egg, and then round them up and place them on a tray cook for 13 mins on 170 in the oven.
Favorite recipe by GE London Placement Coordinator, Shaania Saini.
8. Mozzarella and tomato sauce (Italy)
Put tomato sauce, salt, olive oil and oregano in a frying pan. Cook for 5 minutes and then add mozzarella pieces and cook for another 5 minutes stirring until when the mozzarella will spin. After cooking you can put it on a dish and put pieces of bread, or put on a Pizza dough or toasted bread. Delicious!
Favorite recipe by GE Italy Placement Director, Anna Fornabaio.
Watch my cooking class video below to be inspired!
Be Inspired
It was my first week in Edinburgh and I was invited by a group of Scottish friends to the 'Burns supper', a traditional celebration in memory of the poet Robert Burns. Apparently at first everything looked amazing to me, a newbie in town with my new group of local friends, in a fairy-tale magical city - home of the well-known J.K. Rowling, men wearing kilts, the sound of the bagpipes in the background...until we sat down on the table and the meal came, the famous Scottish dish, Haggis!
I was shocked when they explained the dish - it's a type of pudding composed of the liver, heart, and lungs of a sheep, minced and mixed with beef or mutton suet and oatmeal and seasoned with onion, cayenne pepper, and other spices. The mixture is packed into a sheep's stomach and boiled. It is served with tatties and neeps (tatties are Scottish for potatoes and neeps are turnips). - And me, the picky eater, had to eat that? Obviously I did, and I LOVED it! It was delicious and I was so proud of myself I tried it.
My learning lesson that day was, "The best way to know a city is to eat it". I wanted to feel included in my new group of friends, respect their culture, and experience every second of it to the fullest. And since then, I haven't stopped traveling and learning about the places I visit through gastronomy. Because if you don't dare to take the bite, you miss out the best part of the trip!
¡BUEN PROVECHO!