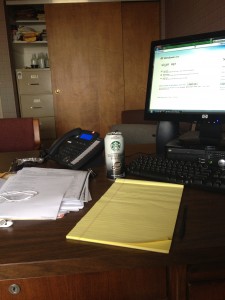 Hi! My name is Lexie Zaas and I am a rising junior at Lake Forest College from Powell, Ohio. I am doing the Washington DC internship program at a law firm!
My first day at the office I had no idea what to expect. l knew that the previous interns had been law students so I had no clue what they would let me do. After the completion of my first week I was pleasantly surprised, this experience has surpassed any expectation that I had. Also, everyone at the firm has been great and welcoming, I even have my own office! Okay... I will admit, the first time I told a client that when they got here they could just "come on in to my office which is the first one on the right," I felt a rush of satisfaction inside.
After my first week, I had conducted the interview for and done the paperwork for two accident cases, heavily researched information for a fraud case, gone to multiple court hearings and completed paperwork for a will. My second week was heavily focused on developing a new calendar system for the firm to use among other projects that I thoroughly enjoyed, with a 6-hour court hearing thrown in as well. The beginning of this week has been so busy that I have been at work or in court from around 8:00am until at least 7:30pm each day, and I am not going to lie, I am loving every moment of it! I honestly would move into my office... but I am pretty sure it is against building policy to have people living here. Monday morning I was very excited to get out of bed and start a new week. Yes... I am about to admit it... I spent the whole weekend anxiously awaiting for Monday to roll around. I was so excited to get back in the office and get moving on new projects. The first few days this week I completed Green Card renewal forms for a family and went to court where we had a DWI case as well as a marijuana possession case. Wednesday I did a variety of tasks to prepare for a trial we have tomorrow and completed a form for a will.
I really appreciate how much they trust me to do such important work. I believe by doing internships as hands on as mine you learn a lot more valuable information then you will ever learn in a classroom and I am very grateful for this wonderful experience!
What I was worried about before leaving for DC:
1. How I was going to figure out how to get to the office. I spent about two hours online before I came to try and figure it out and still couldn't. Then, Jessica at Global Experiences emailed us all directions for how to get from Foggy Bottom (where we are staying) to our respective sites.
2. That it was going to be hard to find vegetables and other organic things. However, there is a Whole Foods right across from my dorm!
3. That my dorm would be far away from the train station, a dry cleaners, the gym, etc. But, when I got here with my mom and youngest brother we were walking around and found out that my dorm was right on I Street, which is in the "middle of the action" and everything is very accessible.