Before we jump into specifics, let's cover how our internship programs work and what our programs include.
From the first point of contact with a Global Experiences' staff member, to the day you return home from your internship, we are all dedicated to fulfilling your goals for your internship and ensuring you have a 10 out of 10 experience.


The first step is to
complete your application
and connect with your dedicated Admissions Counselor to discuss your goals in greater detail, future plans, previous experience, the best locations for your career field, and answer any questions you may have.
If accepted into the program, this means we are guaranteeing you an internship within your chosen career field and location.
Once enrolled and your initial deposit is paid, you will work one-on-one with your Program Advisor and go through our professional development and career readiness program before interviewing with employers.
Now the matchmaking process starts and our placement team works diligently to find an internship and employer that's a great fit for you. You'll have a phone or Skype interview, and if all goes well, they will offer you the position and your internship is confirmed. However, if necessary we will continue to present you to additional employers until we find you the perfect match!
Woohoo, you've arrived at your program location and will meet your Location Coordinator and fellow Global Experiences interns. Our Location Coordinators and other on-site staff help you adapt to local culture, facilitate social events and excursions out and about in the city, and regularly check in with you. We are here every step of the way to ensure you have the most amazing internship experience.

Once you've determined you're going to intern abroad, it's time to interview, land your dream internship, and book your flights.
Not so fast! We want to ensure you understand costs associated with our internship abroad programs. As with any good thing of value, there is a price tag. So, let me ask you...


How much are you willing to invest in your career?

An internship abroad is going to be worth every penny you put into it.
Many things go into the cost of our programs including our placement process, pre-departure training and professional development, a certified career coaching call, to a guaranteed internship in your career field. We make getting an internship as easy as possible.
Also included are the on-the-ground program essentials. High quality, central housing is secured for each intern, and if you have shared accommodation, we conduct a roommate survey before departure to set you up with compatible roommates.
We have 24/7 on-site staff in each program location who are residents of the city and know it well. Travel/medical insurance is included, a local travel card to get you started, welcome and exit orientations, events and excursions, and much more!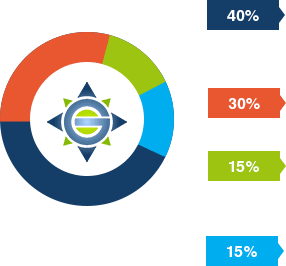 Internship placement, pre-departure training, career readiness program and one-on-one coaching, academic support, visa assistance, and language courses.

Housing

Location staff, program orientation and social activities
Management and organizational costs
While we can outline the tangible costs, there are so many intangible benefits that students receive during their internships abroad.
In fact, 90% of students felt their internship abroad experience improved their independence, self-confidence, and cultural awareness.
For specific program dates and tuition by location and by season, check out our dates and tuition page.
Financing Your Internship
As no one's financial situation is the same, we offer different financial options and payment plans so you can find what works for you, your needs, and your budget.
We also try to work with you as best we can and scholarships are available.



Going abroad -- whether that be studying abroad or interning abroad -- is one of the greatest adventures.
You will step out of your comfort zone and have new opportunities, learn about new cultures, see beautiful and iconic landscapes, build lifelong friendships and make memories with people from all over the world. The list really could go on and on!
Yet as we continue to move into an interconnected and globalized world, it raises the question; is study abroad still the best and most critical way for a college student to travel and connect to a worldly experience?
With employers craving real skills and experience, even for entry-level positions, we stand by saying there is no better way to travel internationally and leverage your experience at the same time than with interning abroad.
Interning Abroad
Did you know: Less than 1% of recent college graduates have international work experience.
Structured in many ways like a study abroad program, students who intern abroad are eligible for credit, live amongst other university students, and will be thrown into a totally new culture for an 8-12 week program.
During an internship abroad you'll be living like a local, experiencing the daily commute, working with locals, and obtaining insight to local and international work culture.
Interning abroad is designed for you to take your classroom knowledge and apply it to the real world. You'll be able to take what you've learned and work hands-on with real companies, co-workers, and projects.
Here are our top 3 reasons why you should intern abroad:
You

gain hands-on work experience

in your desired career field;

You

expand your network and make global connections

; and

You

stand out to future employers

.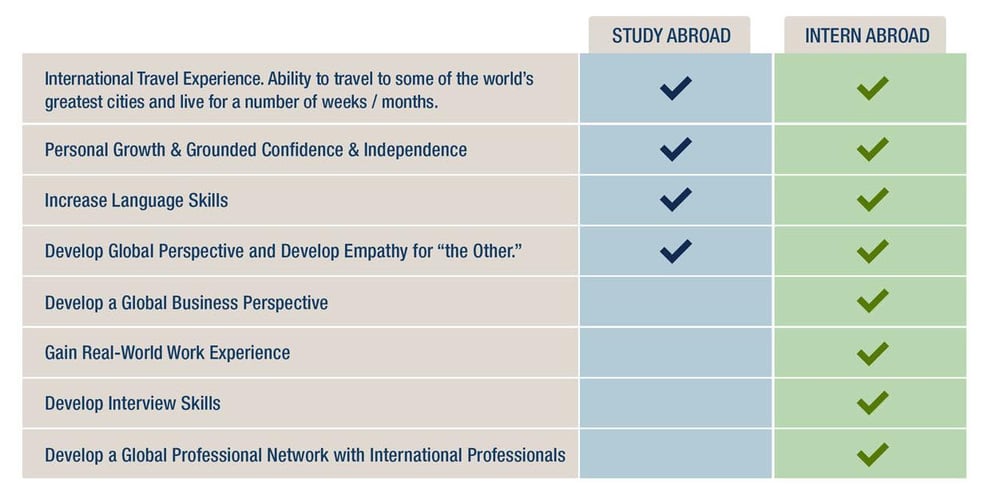 Paid vs Unpaid Internships
Just because an internship is paid, doesn't mean it's a good one.
Sure, it's nice to receive compensation for the hard work you've done, but a paid internship can be hard to come by. An international internship, paid or unpaid, gives you necessary professional experience while while allowing you to stand out from your peers.
Throughout our internship program we value your interests and career goals, and our placement team works hard to place you with an employer that's a great fit, promising real work experience. These host employers also value an international intern and keep administrative task to a minimum; at least 85% of your internship will be hands-on work that matters.
Don't limit your options just because an internship is unpaid. Not only are you bridging the gap between the classroom and the real world, but you are developing soft skills that are highly sought out by employers.


When accepted into our internship program, we are 100% confident in your application and guarantee you an internship placement in your career field and desired location.
Taking everything we know about you into consideration - your internship goals, experiences, personality, strengths, etc - our placement team presents you to our employer connections or contacts new companies to match you with the best fit from the first interview.
Interviewing
You might be thinking, "will I only have one interview and no "choice" in the company I intern with?"
9 out of 10 times students will only interview once and then their internship is confirmed!
If the first interview does not go well, we will continue to present you to employers until we have secured an internship for you. We work tirelessly behind the scenes on your behalf and we will do everything it takes to ensure you are satisfied with your internship placement.
The graphic below gives you a visual of our internship placement process: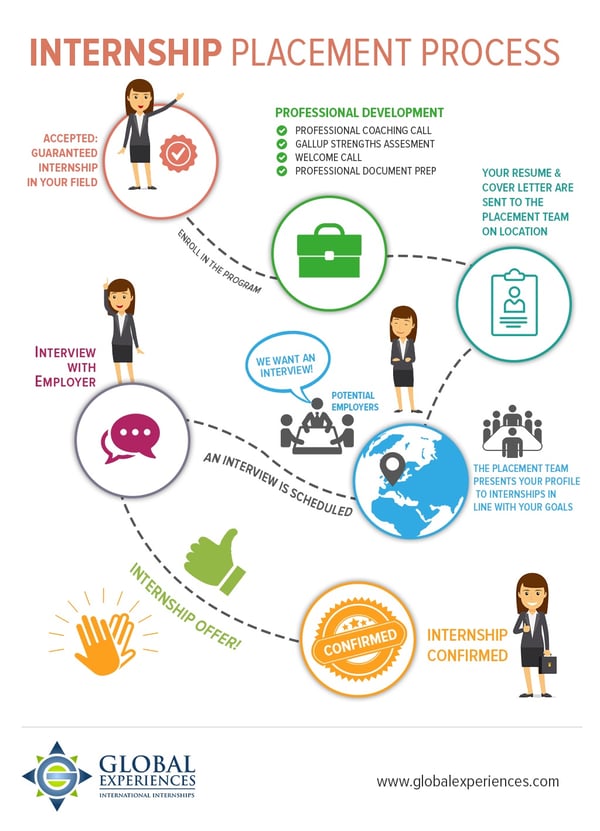 Still thinking, "but what if something happens last minute or during my internship?"
Don't you worry, we've got you covered!
If a last minute change needs to happen with your internship placement, we've got your back. Our whole team will work to find you another internship as soon as possible.