This January, Global Experiences united with GoAbroad.com to promote a focused on Women's Leadership, within international education and beyond! GE is a leading International Internship and career readiness provider, working over 6,000+ students in 11 global cities, in the last 15 years, 75% of them women. Many of our global partners are also organizations owned or managed by women across a wide range of industries from law, to business and social issues.
To celebrate the global emphasis on leadership and women's issues, Global Experiences has announced two Women's Leadership focused scholarships, to encourage the further international education of a US based college student seeking an international internship in summer 2017.
That is why we are so excited to see the record breaking turnout of 4+ million people who attended the Women's March on Washington and abroad. They, like us, believe in a message: women's rights are human rights. 673 cities, over 80 countries and all 7 continents were represented in this peaceful movement.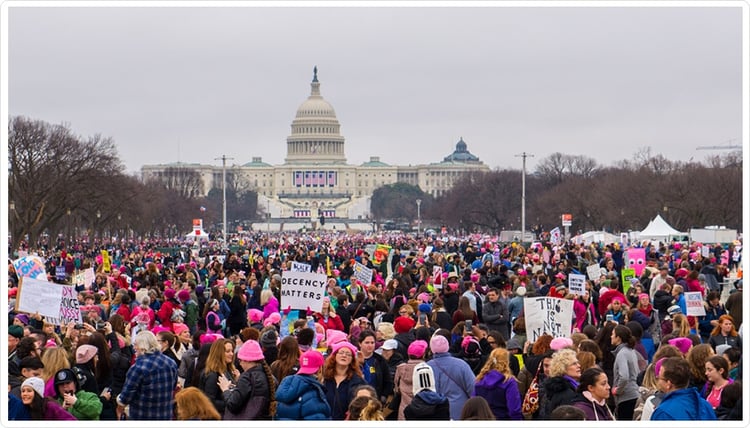 Attendance spread from the rainy streets of Washington DC to the balmy locales of Bogota, from the winters of Moscow to the summers of Sydney. Even researchers in Antarctica decided to showcase their support while out in subzero temperatures!
The final numbers are still coming in but Global Experiences is happy to note that all 11 of our locations also held marches and demonstrated faith in a global community for women's and universal rights .
Here are just a few of the estimated numbers for some of our locations:
Paris: Over 2,000 people gathered in solidarity around the Eiffel Tower.
London: Over 100,000 marched on Trafalgar Square to join the world.
New York City: Over 400,000 New Yorkers came out in solidarity with Washington DC.
Washington, D.C.: Over 500,00 individuals marched through the US' capitol.
From this point on it is important to maintain this community across the world and Global Experiences will stand fast in its overall commitment to women and enabling Generation Study Abroad.
Learn more about the $2,500 scholarships for two female students attending a GE internship program in any of our 11 global cities in Summer 2017. Ideal candidates will have demonstrated leadership, advocacy, community building in women's empowerment, political or social issues.