With only two weeks left, Allison Burkman has some great things to say about her Washington DC internship this summer.
So, I found out I would be spending my summer in Washington DC as a Global Experiences intern way back in September. Needless to say I was beyond thrilled and it was difficult waiting about ten months to finally leave! I couldn't think of a better way to spend my summer, working for a cause I am passionate about, learning new skills, and taking hold of every opportunity I'm presented with. Initially I had no idea what to expect. I'm from small town, Minnesota and attend college at the University of North Dakota…not exactly "big city" life. But here I am, with two weeks left of my program and I am incredibly bummed out that it is almost time to head back to the Midwest. But this has most definitely been a memorable experience!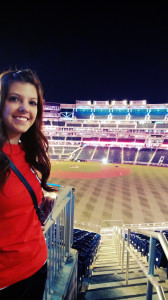 Adjusting to life in the city didn't challenge me as much as I originally anticipated. After a few days the streets become easy to navigate and riding the Metro is a breeze (just know where you are going)! I must say, I do feel like a local at this point - especially when people ask me for directions! So far one of my favorite things about DC is the city at night. I've always loved city lights at night and DC has met all expectations regarding that matter!
As for my internship, I am lucky to be working with the Coalition for Juvenile Justice and it has been one of the most rewarding jobs I have had. CJJ is a non-profit organization that advocates for youth involved in the juvenile justice system and those who are at risk of delinquency. We promote evidence-based practices that rehabilitate youth in the system and also prevent delinquent and risky behavior. I have a strong interest in psychology and criminal justice, and more recently I have been focusing on juvenile justice. I am thankful that I am able to apply my knowledge here at CJJ. I have been lucky enough to attend countless briefings and work closely with other similar organizations. I have also learned a lot more about the law and policy side of things, since I believe I am the only one in the office who is not attending or has not attended law school! I am also happy to say we are working on promoting the Youth PROMISE Act (YPA). In short, it is bipartisan legislation that will provide communities with the support and funding they need to effectively address youth violence issues. I am thrilled that this bill has been gaining more momentum in Congress, and I hope someday I can proudly say I helped (even if it was a tiny tiny bit)!
Although I am sad to be leaving soon, I am looking forward to continuing to explore the city as much as I can before I fly back home. However, one of my favorite things I have done, and am so happy I was able to, was attending a Nationals baseball game. I grew up in a baseball family so it was such an awesome experience for me! The stadium was amazing and the Nats won! Another one of my favorite things (although it wasn't in DC) was visiting Annapolis, Maryland -I am in love with that town and definitely have it on my vacation list!
Overall this has been such a rewarding experience and a great way to spend my summer. It seemed daunting at first, but I'm glad I took the chance! After all, we have to start somewhere! Why not begin in this amazing city with so much opportunity right in front of you?
Questions about a Washington DC internship? Get more information here.