Culinary student Vince is interning in Florence this fall. What's it like? What impact has it had?
My global experience here in Florence has been absolutely extraordinary. It is truly a beautiful city filled with so much culture and history. I have been here for 10 weeks now, and I have accomplished more in this city than I expected. My success has always been built on the idea that it is what you make of it. I have used this same approach in Florence, which allowed me to establish many relationships with restaurant owners and staff, bar owners and employees, as well as local Italians in the restaurant I am working at. Moreover, I have also made many friends with people walking around the city. I love meeting new people and establishing many relationships because that is what makes me happy in life.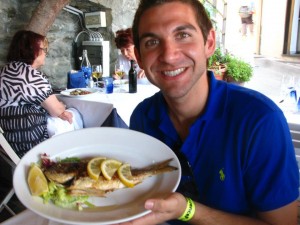 My passion is being around others and adding value to their lives in some way or another. My goal is to own and manage a franchise called Mezzo di Pasta based in France. It is an Italian-French concept that is thriving in Europe right now. The main reason I came to Florence was to obtain an internship where I could work and shadow a restaurant owner to gain the knowledge and experience I need in order to own and manage a business franchise. This restaurant experience in Florence has truly been amazing, and I am confident that it will help me when I open up my franchise. My social and work experience, here, in this magnificent city, has been unbelievable. I have conquered so many things in Florence because I seized many opportunities that came my way. If I had to do it all over again, I would not change a thing. My journey in Florence has been one amazing Global Experience!