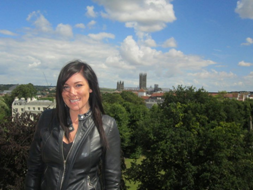 1. When/what/where was your internship? How was it?
I completed my internship this past summer 2011 from June to August in London. I was working for a fashion designer as a public relations and marketing intern. I was responsible for the company's social media pages as well as dressing celebrity clients. I went into it not really having much of a background in PR (minus a class or two), so I definitely learned quite a lot in a short time period. I think being put in the actual environment and seeing what this field is really all about, helped in deciding which direction I want to pursue in my career.
2. What did you gain while living in a new environment?
Although I did not really have culture shock, I definitely gained appreciation and love for another culture. I am definitely pursing the opportunity to work in London again.
3. How did your international internship help you once you returned?
It definitely adds a little something extra on to your resume and it has seem to open up a lot more conversations with people, whether in interviews or networking.
4. What do you do now, and how do you think your experience helped you reach this point?
I came back to my previous job I had in retail sales and currently sticking with that until I finish classes and graduate in December 2013. I have started searching for jobs a bit and am excited to see how this experience will help me reach and pursue my goals.
5. What would you say to someone thinking about working abroad? What advice would you give?
Definitely go for it! There's just so much to see and with all the global trade now it's so common for companies to work with other countries overseas, so you'll already have an advantage of knowing the culture. My advice would be just stay open to all possibilities, as well as open-minded towards other cultures. Also, make the most of your time abroad, because you never know when you'll get to go back!