Spain is known for their stunning beaches and views, their lively Flamenco dancing, and even their exquisite cuisine. But many might not know that during the Christmas season from coast-to-coast Spain is celebrating the holidays all the way into the New Year in a festivity of family and friends.
1. Fira de Nadal Santa Llùcia
A very typical tradition in Barcelona is visiting the Fira de Nadal Santa Llùcia. It is one of the city's most popular Christmas fairs in Barcelona, which has been held in front of the Cathedral since 1786. Visitors will find craft products and typical Christmas items there. Every year over a hundred stalls, full of all sorts of handmade products or other goods start filling the streets of the Planet de la Seu and Avinguda de la Catedral in early December. It's just in time to celebrate December 13th, which is the feast day of Santa Llùcia.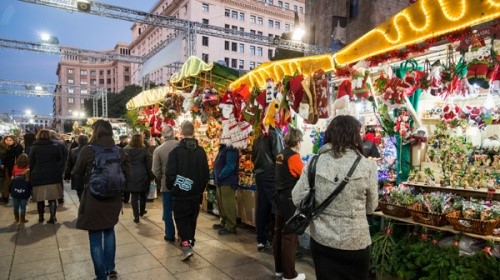 This holiday market is split into four sections, where you can find nativity scenes and figures, greenery like trees or eucalyptus branches, crafts and accessories, traditional Christmas instruments like simbombes, and tambourines. While you are visiting the market make sure you stop and watch the Carassa de Nadal parade and other traditional performances.
2. Caga Tió o Tió de Nadal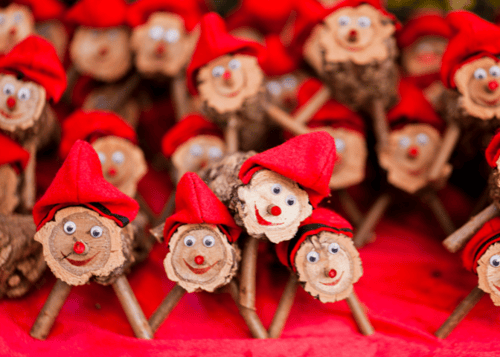 The tradition of Caga Tió o Tió de Nadal is only found in Catalunya, which is perfect for all the little ones that still believe in Santa or anyone that wants to add some extra Christmas spirit to their holiday season. The Tió de Nadal that's found in Catalan homes is a hollow log decorated with a smiling face and a red hat.
Starting on December 8th, which is the Feast of the Immaculate Conception, children will give the tió a little bit to eat each night leading up to Christmas and dress them in a blanket to keep them warm. The story behind the tradition says that by keeping the tió warm and fed, the tió will defecate presents for the children on Christmas.
3. Dia De los Santos Inocentes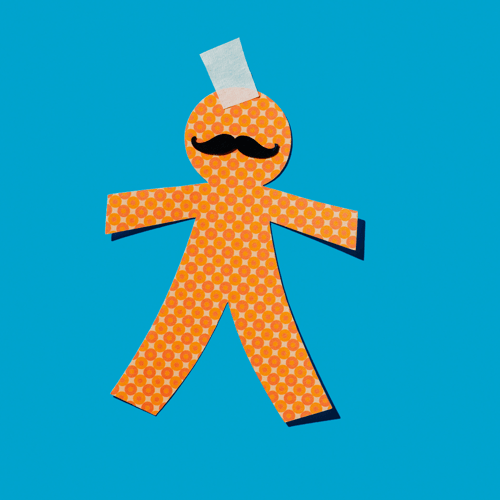 Leading up to the holidays many like to relax and spend time with family, but those are the ones you have to watch out for on December 28th. Dia de los Santos Innocents is Spain's version of April fools. On this day, friends and family are know to play tricks on others, like dressing up in silly wigs or costumes, but you really have to watch your back as many will try to tape a drawing of a stick figure on your back.
Each city or region has its own way to celebrate, here's a list of other popular Die de los Santos Inocentes traditions around Spain:
Tremp: On this day, citizens will celebrate by hanging a giant paper doll at the town bell tower. After the parade held around the town, the citizens will all come together at the bell tower and sing for him to come down and burn him.
Fraga: You'll definitely have to watch out if you don't like eggs in this town. On this day, it's popular for younger people to be seen throwing eggs at each other, kind of like a snowball fight of sorts.
4. 12 Bells and 12 Grapes
In Madrid, Spain, there are so many cool ways to celebrate New Year's Eve! Whether you are spending the night drinking Cava (Sparkling White Wine) with family or going out with friends, this long-held tradition can be heard. Right when midnight strikes, you will hear bells ring twelve times to represent each month of the new year, and many will have twelve grapes ready to eat. As each bell rings, people will eat a grape to bring good luck to the upcoming months.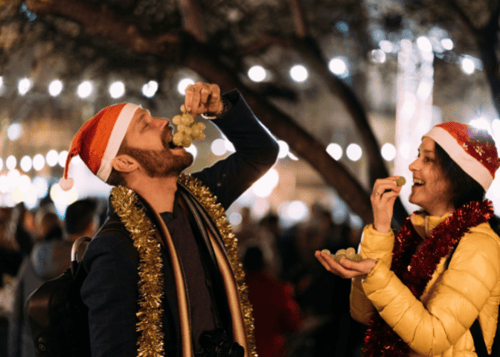 5. The Three Kings Parade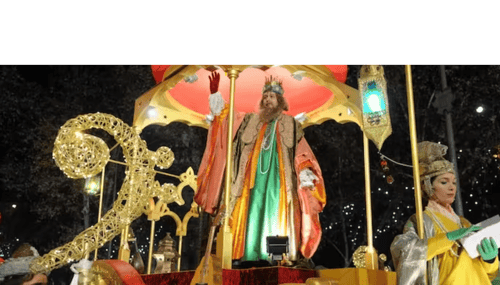 In Spain, they don't send their Christmas lists to Santa Clause or wait up to catch a glimpse of Saint Nick. The Three Kings, or also known as the Three Wise Men, are the ones that bring gifts to all the children on the nice list. Another difference between Santa and the Three Kings is that they don't come on December 24th, instead the hold Cabalgatas (Three Kings Parade). On the night of January 5th, the Kings Parade through the town, and all the children ask for gifts, and candies are thrown from the floats.
Other Holiday Traditions Around the World
There are many wonderful holiday traditions all around Spain that really brings the magic and Christmas spirit to the holiday season. If you want to learn more about other traditions from around the world, make sure you check out our other blog NYE Traditions & Celebrations Around the World.
*Inma, Spain's Resident Director & Lourdes, Madrid's Location Coordinator are two of AIFS Abroad's on-site staff who contributed to the information used to write this blog.