Are you ready to jet off on the experience of a lifetime?
I am sure you have heard time and time again that studying, interning, and traveling abroad will change your life. However, packing up your life to live out of a suitcase for 2, 4, 6 months, to a year is tough! You may be asking yourself, should I bring these pants? Well, if I bring these pants, then I must bring this shirt... But if this is one outfit, then I need to bring these shoes because they are the only thing that goes with that outfit! The cycle continues until you are completely over packed and out of space in your double suitcase and carry on. Fear not! I am here to help you with a master packing guide and anecdotes from past travelers.
The key to packing for a study or internship abroad program is practicality. Pack what you will actually need and are likely to wear. Let's close our eyes and imagine walking the streets of Paris... go ahead, close your eyes and picture it.
Can you smell the freshly baked croissants, or the intoxicating smell of the crepe stand that's 10 feet away? Do you see the dreamy cobblestone roads and beautiful architecture of the Sacre-Coeur? Now what are you wearing on your feet? If you imagined a solid pair of sneakers, which are both chic and comfortable, you'd be correct!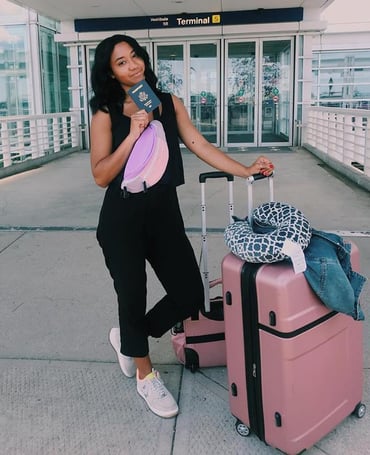 The average walking distance of someone who lives in Paris, France is over 12 miles a day (19.8 kilometers). I'd say this is standard when travelling on the weekends and getting out in your host city to explore. I know you think you will want to dress up every day while abroad, in order to get those perfect photos, however, if you pack one suitcase full of heels and dress shoes, you'll be quite sad when you show up in Paris and must try to uber or taxi everywhere. You will rack up a large bill in commuting fees and you likely won't wear them as often as you thought. Even worse, what if one bag does not arrive for some reason and you are stuck with one bag full of uncomfortable shoes! Pas bien.
Practicality is key. When choosing what to pack try your best to decipher between necessity, comfort, and style. Here are some common mistakes people make when packing for their experience abroad.
Common Mistakes:
Overpacking- packing too many items into your suitcase. Why do we overpack? Well according to adult psychologist Susan Quilliam, "overpacking is the need to boost confidence when hitting the beach or enjoying a night out." I invite you to try the minimalist lifestyle when traveling abroad and pack basics that you can mix and match. If you overpack from the get-go, imagine trying to bring all that you brought with you and the souvenirs you have purchased throughout your travels, back home at the end of your time abroad.
There are so many stories of students and interns arriving to the airport headed home from a semester abroad, having to pay 100's of dollars in shipping or overweight luggage fees. If you leave space in your suitcase upon departure for some souvenirs, this will minimize the likelihood of having to pay these high fees.




Bringing too many suitcases... I highly recommend bringing one larger suitcase or backpack and then a carry-on and day backpack. When traveling abroad, we can't quite know with 100% certainty what to expect as far as accessibility in every location. Unless otherwise specified, your apartment or homestay may have a couple flights of stairs you need to climb to get up to your place. There may be no elevator. This was the case for me, I arrived at my beautiful apartment building and realized that I needed to climb three flights of stairs with my two massive suitcases.

Had I brought a large backpack or even just one suitcase, getting to my apartment would have been so much easier. What ended up happening was that I donated one of my suitcases and some clothes while abroad, to downsize to one bag, a carry-on, and a day backpack for school. I was determined to not spend extra money on shipping items home or paying for an extra suitcase at the airport on my way home. I used my carry-on and day backpack frequently on weekend trips, so I am glad I had these. However, the large suitcase sat in the corner of my room for 4 months until it was time to go home... Less is more!


Packing unnecessary items- Many students pack too many things like electronics, food and snacks, books, culturally inappropriate clothing, big/heavy bottles of liquids (shampoo, conditioner, etc.). It is of course important to pack your phone, laptop, and a pair of earbuds, but bringing things like a gaming monitor and console is going to be heavy in your suitcase! Additionally, these items likely won't be used as frequently as you think. Imagine your expensive electronics getting lost in airline luggage or even stolen!
Trust me, it happens. You'd be disappointed and out some good money. Leave these things at home. Make sure to bring some snacks for your long-haul flight, however, I do not recommend packing months' worth of food in your suitcase. Try some new foods and snacks in the location you are traveling to! If you have dietary restrictions, make sure to consider this when choosing a location to study or intern abroad. You can also buy shampoo and conditioner abroad! Depending on where you go you may not have access to the same brands, so pack what you will need to get started, then seek out a quality shampoo or research this in advance to find something similar to yours back home. Finally, try to avoid packing culturally inappropriate clothing. Do some research into local fashion and cultural norms, so that you are aware of what may or may not be appropriate in your host community. Don't waste space on clothes you aren't likely to wear every day.


Don't forget your essentials: Passport, chargers, power adapters, COVID Vaccine Card, photocopies of passport and visa (pack these in a different spot from your original passport), prescription medication (the only the thing acceptable to pack in bulk), a bit of cash in the local currency, face mask, and finally toiletries (shampoo, conditioner, etc.) to get you started.
How to resist the urge to overpack-
Start packing early! Start laying everything out and really think about whether you'll need these items or not. I remember going to London with my mom a week before I was due in Budapest for my Spring Semester study abroad program and I actually repacked while we were there and ended up sending home a bunch of socks, a scarf, and a few tops home with her. I had brought too many items of one category, and it was just unnecessary. Luckily, I had her to take everything back!


Consider sorting items into categories, like shirts, pants, socks, undergarments, etc. A solid number for each of these categories for a full semester would be about 2 weeks' worth of socks and undergarments, 4-5 pairs of pants, no more than 4 pairs of shoes, 1-2sweaters (winter only), and then layers. Consider when you are traveling abroad and what type of weather you will encounter. Plan accordingly.


Avoid packing bulky items like larger electronics, large shampoo and conditioner bottles.


No more than 4 shoes. Period.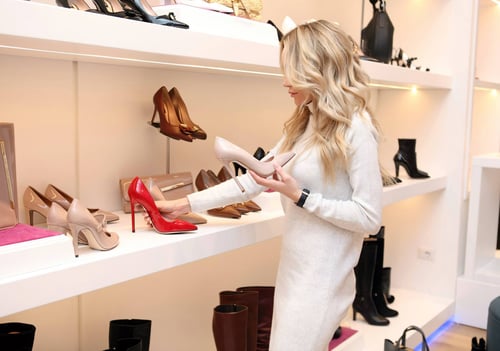 In conclusion, we now know that less is more. You are likely to return home with a few more items than you are planning for right now, and it will be imperative to leave space for those souvenirs. There are many blog posts and resources out there that will tell you to bring unnecessary items with you, such as your favorite snack or specific skin care product in bulk. I invite you to do some research on your host city and find out where you might be able to find these items if you need them desperately while abroad. If of course you can't find your specific face lotion in that city, then definitely plan accordingly. However, it is likely that you will be able to purchase similar items all around the world. So, do the research and be practical about what you are bringing. Get excited and creative when planning out your attire!