Soccer, or futbol, is a religion in Barcelona. Location Rep Nancy shares what it's like to attend a match in this Mecca of sport.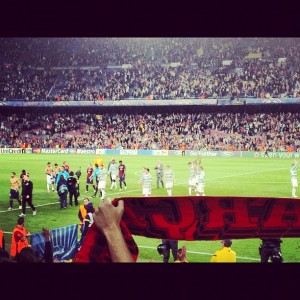 The man wore a dark blazer and a white button down shirt. His silver hair paired nicely with his dark rimmed glasses. After examining my ticket, I learned that I would be sharing an armrest with this George Clooney "look-alike." After close observation I concluded that this was not the nosebleed section and these were not bandwagon fans. My trip to Camp Nou was the non-tourist edition.
I could barely contain my excitement. I could smell the paint from the white lines on the field. My seats were spectacular. I was a hundred yards from the world's greatest soccer player, Lionel Messi. I was running late to the match so I didn't have time to grab my neon green Barça jersey and what a blessing that was. As a newcomer to this established community, wearing an oversized jersey that I bought on Las Ramblas would have been offensive to this crew. This crowd was relaxed. They were veteran fans intent on watching the world's greatest display of competition and its finest competitor.
The energy in the stadium was unrivaled by any South Eastern Conference football game. However, it was a different vibe. This was not solely a sporting event. This was a historical spectacle. Every Barça match helps define the Catalan opposition to conformity. Barça futbol represents a culture that has tirelessly had to defend its beliefs, unique customs and language to the rest of Spain. Catalonia spent years under the iron fist of Franco and his totalitarian views. Now Barcelona is home to the best futbol team in the world and Franco is rolling over in his grave.
Half time arrived and I had managed to keep my camera in my purse. I cheered in Spanish and complimented my applauding with an upward arm thrust. Venga vamos, I muttered with an eye-roll as Iniesta shot wide of the cage. I was applying Darwin's theory of adaptation and it was helping me to survive in this Catalan kingdom.
The glib looking gentleman, who I had been studying previously, pulled out a pack of Pistachios for his half-time snack. So slick, I thought. When someone brings their own half-time snacks to Camp Nou you realize this is not their first rodeo. Only the American tourists pay ten euro for a microwave hotdog. How many times had this man packed pistachios for a Tuesday evening spent among the famous Barça futbolistas? Many, I imagined.
Shortly after moving to Barcelona, I realized the impact FCB had on the community. I shared a memorable conversation with a former student. Before class began we were talking about the previous nights match and Messi's outstanding performance. My student interrupted me mid-sentence, "Nancy you don't understand. Messi isn't a good player. Messi is God." I smiled in complete understanding. The passion that surrounds Barça futbol is contagious and enviable. It's a passion that traverses age, gender and social class.
Half time ended and pistachio casings were all that remained. It was time to return to the show with a tied score between Barça and the Celts (1-1). Evening had turned into night and the air was chilly. My debonair seatmate grew anxious as the score remained even. Barca rarely faces a team that poses a challenge. This calm community began to resemble the hooligans that fill up MetLife Stadium every Sunday at the Giants game-with the important distinction between there and here being the sobriety around me. Barça kept complete possession of the ball, but had nothing to show for their elegant passing game. The final five minutes of the match crept up and so did a burly Celtic fan. Donning his team colors in the most cliché way possible, flag around the neck, this hearty fan sat down next to my Catalan pal. The running syllables and unnecessary intonations made it difficult for even a native English speaker to understand. I saw the Celt turn to my friend, generating eye- contact. "Barcelona will lose this match. The Celt's will take this one." But before Mr. Lucky Charms could finish his sentence, Jordi Alba put the ball in the back of the net in the 94th minute, giving Barça the win.
There are moments in life when you connect with a complete stranger. The past and the future disappear and you are left with now. In that 94th minute when Alba ignited excitement in Camp Nou, I shared a hug with the black suit I had spent the whole evening studying. We looked at each other and shouted like school children. The moment then passed and we continued our separate celebrations. This is why I love Barça. In what other context can a middle-aged Catalan man and a 23 year-old blonde American share in the purest of revelries?
Barcelona is facing one of its toughest economic times; however, for ninety minutes once a week the community supports its beacon of hope with great passion. Young boys wear their Messi jerseys and cab drivers honk their horns with every goal. For ninety minutes Catalonia is united in hope.
It matters not where we hail from. Whether it's the south or the north. Now we all agree, we all agree, one flag unites us in brotherhood. Blue and claret blowing in the wind, one valiant cry. We've got a name that everyone knows: Barça, Barça, Baaarça!