Over 9,000 attendees from over 100 countries gathered in the city of Philadelphia for the largest international education event in the world - the NAFSA International Educators conference - and Global Experiences was there to be a part of it!
NAFSA brings like-minded professionals from around the world to discuss all of the exciting things happening in the field of international education. This year's NAFSA theme was "Diverse Voices, Shared Commitment." Keeping in line with this, plenary speakers Laura Bush, Bill Nye, Joyce Banda, and Terry Gross gave enlightening speeches on the importance of education and being an active part of a global community.
Members of the Global Experiences team had the pleasure of exhibiting at NAFSA. Always great to network and meet with our university partners and industry colleagues, and discuss how international internships form a critical aspect of an intercultural experience.
Melissa Buerkett, GE Director of Academic Internships, presented a sought-after conference session alongside Jennifer Evanuik Baird from Georgia Institute of Technology speaking to a room of 75+ attendees. They shared best practices for managing international internship programs from a university and partner perspective.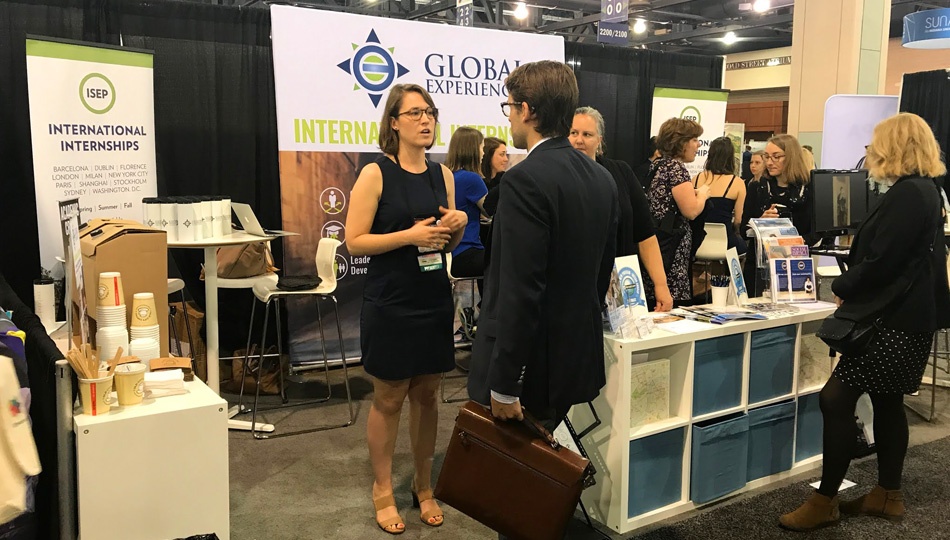 In the NAFSA Pavilion on Tuesday, Kelly Holland, GE Associate Director for Institutional Partnerships, sat on the Social Media panel presented by NAFSA. Joined by Basil Jackson from IDP International Education Specialists, and Janka Pieper from Northwestern University, the three spoke about their preferred social platforms, how they can be maximized for recruitment and storytelling, and more.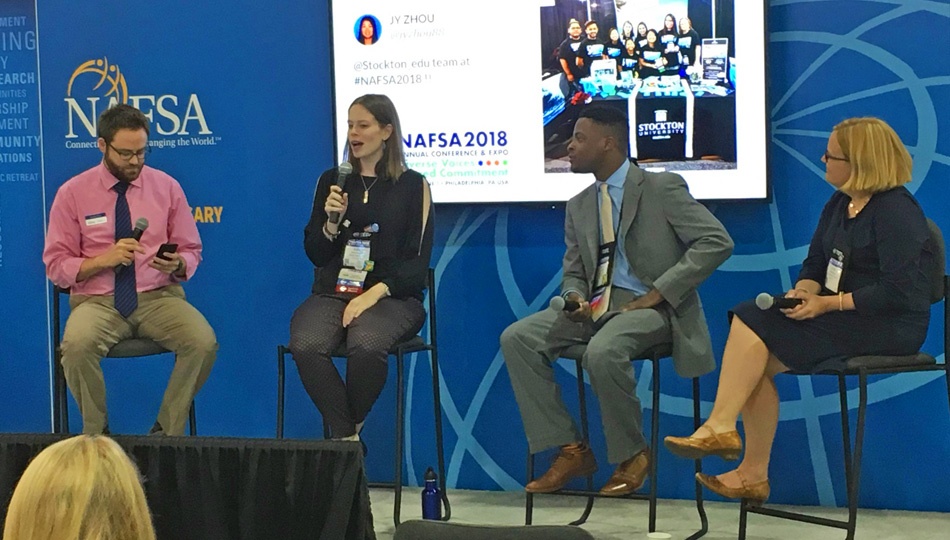 In partnership with ISEP, one of the largest study abroad member networks in the world, GE was thrilled to co-host a reception filled with partners and colleagues from around the world. These close-knit conversations celebrated GE partners and friends, and toasted the launch of the GE / ISEP partnership.
We were delighted to have some of our wonderful GE alumni join us to share their own stories on how interning abroad changed their lives, and of course take the opportunity to boost their Philadelphia networking connections.
Pictured below are alumni Drew (interned in Dublin Fall 2016 for marketing), Kelsey (Dublin Spring 2011 for marketing), staff member Melissa, and Tina (Rome Fall 2008 for architecture and interior design.)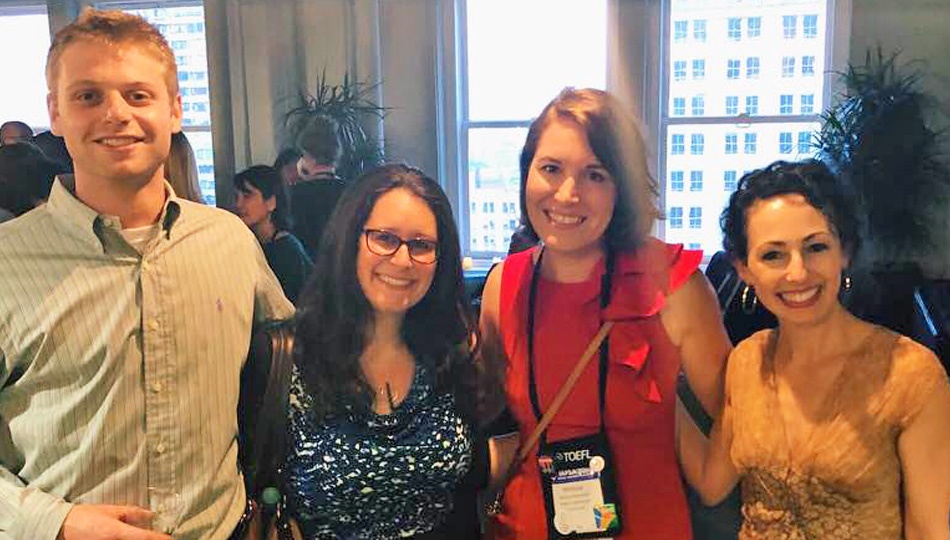 GoAbroad Awards
With the international education industry all in one place celebrating NAFSA, GoAbroad presented their annual awards recognizing those who are innovators in international education. We were honored to be nominated for two innovation awards this year: "Innovative New Program-Intern Abroad Award" and the "Innovative Technology Award."
Innovative New Program - Intern Abroad Nomination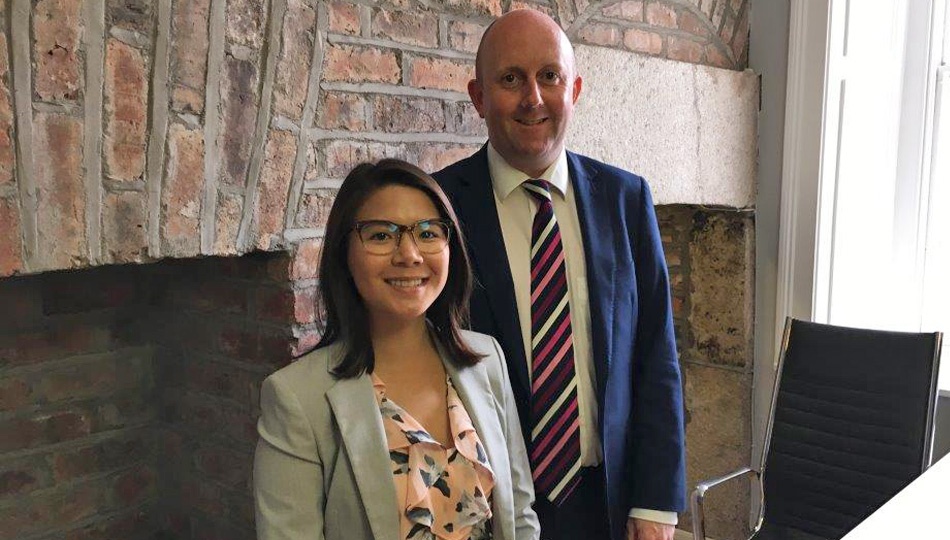 The Innovative New Program - Intern Abroad Award is awarded to an organization that gives students and young professionals a unique opportunity for cultural engagement and learning.
We were nominated for our University of Southern California's Masters in Applied Psychology Program (MAPP). Our USC MAPP program gives students, who are pursuing their degree entirely online, to meet in Dublin, Ireland, while completing a required internship course.
Prior to our program, a majority of the online students never meet in person until graduation. Thanks to this innovative program, these students now get the chance to meet and have a unique international experience all while working towards a degree.
"The experience is going to jumpstart my career back in the US. It helped give me direction. The program as a whole was amazing, as were all the people involved," former intern James H. said about his time in Dublin.
Learn more about our MAPP Program.
Innovative Technology Nomination
The Innovative Technology award recognizes the use and/or invention of an innovate technology in the field of international education. With international internships on the rise, a common problem for university career services or study abroad advisors is how best to advise students. In our research we looked to find the gap in knowledge about internships, and how could providers like GE help with the process.
In 2017, our staff learned the "design thinking" problem-solving process and thought it would be the perfect way to solve the advising problem. Based in the engineering world, the process calls for working with experts, reframing the problem, searching for solutions, testing possible solutions, and launching a prototype.
In spring, we launched live, on-demand training of Advising on International Internships. Working with input from eight university partners, we developed print and multimedia pieces (including our 5 tips blog) that could be easily accessed by students and staff alike.
To date, 19 institutions and 80 individuals have attended a live training session hosted by Global Experiences staff. We also have more videos, webinars, and reference pieces to help close the knowledge gap we first identified.
We're thrilled that GoAbroad acknowledged the innovation and dedication Global Experiences has put into the world of international education.
The NAFSA week was amazingly productive and we're already looking forward to 2019 in Washington, DC.