Written by guest Author - Xavi Krauss, Alumni of Spring 2022 Internship in Florence, Italy.
Florence, Italy, is named the magical city for far too many reasons.
In January 2022, I had the opportunity of a lifetime to intern there with the fashion company, Avavav as a marketer. It is true when they say you will feel at home, especially when you are about to meet new friends and make lasting memories. Here is a guide to some of my favorite eateries, the city's best views, and weekend trips that will make your experience feel like a temporary local and get the most out of your journey!
Suppose you take a bit longer, walk out of the city center, and honestly eat like a local on
a budget. In that case, Trattoria Sabatino offers unique and authentic Florence dishes. What
makes this restaurant so special is the menu changes about every week. They are a family-owned
restaurant and have been around since 1956; this is a hidden gem you should not miss.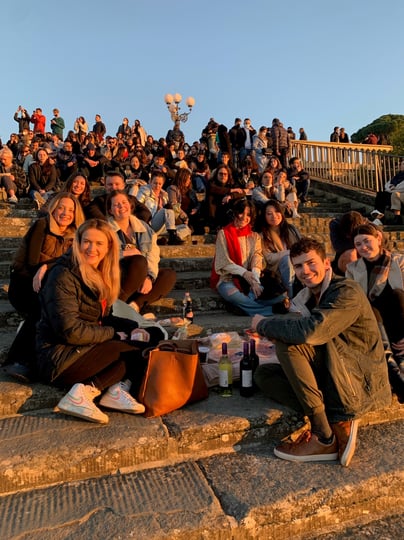 One of my most memorable activities abroad in Florence was visiting Pizzale Michaelangelo. The best time to go is during sunset to catch a beautiful horizon hovering with the best views of the entire city of Firenze. A ritual of mine and my fellow roommates were heading to Conad (local supermarket), gathering wines, cheeses, and other snacks to prepare for the most lovely, relaxing picnic. Sometimes there are live street performances that get the crowd excited. I recommend going earlier before the sun sets, as it can become crowded if you want the perfect seat on the famous staircase.
Firenze is well known for its local boutiques and thrift shops, especially if you seek handmade goodies to bring back to the states. Piazza Santo Spirito is a unique square located just a few kilometers from Pitti Palace and a short distance from the Ponte Vecchio. During warmer weather seasons, Piazza Santo Spirito hosts a thrift experience (free entry) with many vendors selling jewelry, produce, and thrift clothing. If you're lucky to catch them, designer handbags for an extreme bargain! That was my favorite vendor.
Whether your internship or study program schedule permits, I highly recommend taking a
weekend or long weekend trip easily accessible by train or bus. ItaliaRail is a bullet train located
in Santa Maria Novella, just outside the city center, where you can access many cities such as
Lucca and Pisa. These are two incredible smaller cities just perfect for a day trip. My favorite
activity in Lucca was going for a bicycle tour around one of their main parks. You are assigned
your own bike for just a few euros. Enjoying with friends and eating great pizza afterward is a
great experience.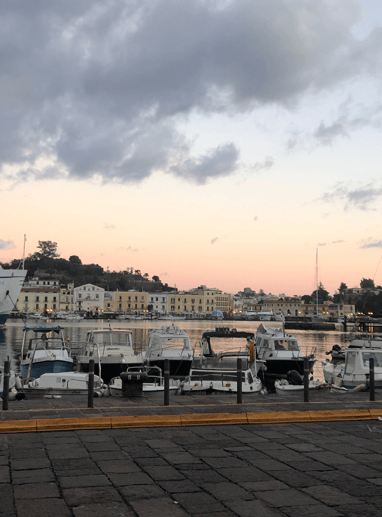 If you can take more time off, such as from Friday evening to Sunday, Napoli is a few hours on the train worth visiting. Although this will take you to the central station leaving you in the city center of Napoli. Here you can find the best pizza, where it all began! I recommend only staying in the city center if traveling with a larger group. In any city, you should take caution, though my group decided to go off to Ischia Island, which is accessible by boat from Napoli, for also just a few euros. This Island was a core favorite between myself and my roommates. We enjoyed a lovely paradise at the hot springs and beautiful views.
If the schedule permits, Nice, France, is easily accessible via bus from Florence. This
requires a cab ride to the station, though the bus tickets are budget-friendly. Nice is located on
the French Rivera, where you can usually walk around the entire city one day, visit the beaches,
excellent local shops and monuments, and breathtaking views. As a woman, I traveled alone for
a relaxing weekend and felt safe. But, of course, always look out for your surroundings!
Remember, take loads of pictures and meet new people!
Written by guest Author - Xavi Krauss, Alumni of Spring 2022 Internship in Florence, Italy. Photo Credit: Xavi Krauss from her internship experience in Florence, Italy