The sound of a busy city, the robust smell of espresso, and an accordion echoing in the distance. This is what you wake up to every morning in the beautiful city of Florence.
Florence is the pinnacle of art, food, fashion, and music, and is sure to ignite your sense of adventure. Being the free spirited lover of landscapes and all things artistic that I am, I knew this would be the perfect place for me to intern abroad.
Exceeding all expectations, Florence not only captivated my thirst for new experiences, but it left all six of my senses buzzing with euphoria. Here are some tips, tricks, and guidelines to help you live your best life in Florence, Italy.
Be inspired
Upon arriving, I didn't have the best insight about where to go or what to see other than what I had heard from acquaintances who visited Florence. I came here to work as a film intern for Lorenzo Galanti Productions, where I would write numerous film scripts, learn how to shoot and edit a documentary, and create a film that is going into production come fall.
My father, being the creative and adventurous man he is, inspired me to take a walk down unfamiliar roads and find exciting things in unexpected places, because you never know where an opportunity or something jaw-dropping awaits.
Between grasping every element of inspiration I had, to losing myself in the sites, rolling my eyes back in my head over the smells, and being captivated by the sounds, I found Florence to be one of the most magical destinations on earth.
Getting around
You'll soon realize that trying to grab an Uber in Florence is not worth your time. Mainly because, from word of mouth, Uber is illegal and near impossible to find. Getting a Taxi is also difficult when you don't know much about where you're headed.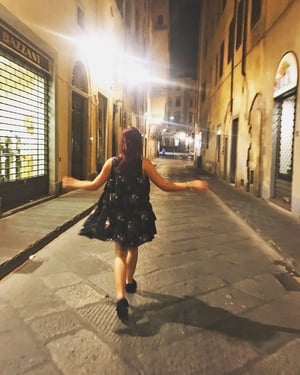 The idea of walking around for hours sounds tiring and dreadful, but making your way down the streets of Florence calls for a beautiful adventure marked with breathtaking skylines, captivating sounds, buzzing atmosphere, and lively characters. I found myself lost in the scenery quite often -- just me, my headphones, and the city.
I'd walk so far and forget about time and the fact that I, a woman who sees physical activity as a chore, had just walked about four hours like it was nothing. My commute to my internship was a 45-minute walk across one of the only highways you can really see in Florence. The key to this commute was putting in my headphones, enjoying my favorite upbeat songs from home and getting swept away by the scenery.
Occasionally I would get a Mobike - which is a rental bike service that leaves bikes around the city for you to use, and return with an app on your phone - but the cobblestone streets and hilly terrain made it difficult to bike for long periods of time.
On my days off, I would walk to the Duomo and listen to the local sounds around me, which usually consisted of enthusiastic Italian men trying to sell me leather purses and the many talented street performers serenading me with accordions. I heard the song "Por Ti Volare", which you may know from the film Step Brothers in the iconic Catalina wine mixer scene, about fourteen times a day.
Google Maps was also very helpful and useful for getting around, it even has train times and train numbers to make travel very efficient and easy. Trust me, an hour-long commute on foot may sound tiring but you'll soon find yourself enjoying it and inspiring your friends to take long walks when you return.
Must-sees
The city of Florence is home to some of the worlds most historic and important works of art by artists like Michelangelo and Leonardo da Vinci. Find their work at iconic museums such as the Uffizi (home to the historic Primavera painting), or the Accademia (home to the infamous Statue of David). These museums cost somewhere around 6 euros, or you can go for free every first Sunday of the month.
Make sure you also visit my favorite jaw-dropping view at the top of the Piazza del Michelangelo. From the top of this Piazza, you can see the entire city of Florence, a copy of David, and the Duomo. There are even a few restaurants located up there so you can have a glass of wine while watching the sun set through the Tuscan hills.
Of course, you can't miss the oldest bridge in Florence called the Ponte Vecchio. Since its construction in 1218, this arch bridge over the Arno River has hosted shops and merchants, survived world wars, and remains one of the most iconic sites in Florence.
The Boboli Gardens is another must-see. This hidden oasis is situated in a magical garden, filled with bright colors, beautiful sculptures, and an open-air museum called the Pitti Palace.
Culture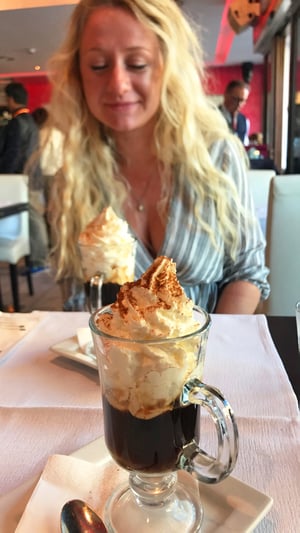 You'll soon find yourself becoming a barista once you master the skill of using a Bialetti, an authentic Italian espresso maker. Every morning upon waking up, I would start my espresso and it was ready by the time I finished washing my face and brushing my teeth.
The first taste of real Italian espresso is bitter and strong, but with a hefty pour of raw sugar mixed using a wooden stirrer, I was good to go. The traditional espresso intake consists of one shot when you wake up, one when you get to work, one at lunch, one every break, and one as you're leaving work.
This may seem like a lot, but 6 shots of espresso is simply the authentic Italian way. You can also ask for a "Cafe Americana" which is the closest thing to an American cup of coffee rather than just a shot of espresso.
One more pro tip: Cream in your espresso/cafe Americana after 4pm is untraditional. For the most part it's not even served, so try to get accustomed to that bitter strong taste. If you're like me, it will quickly become your newest obsession.
An espresso martini and Irish coffee should also be on your "must try" list, and they're especially great for those long nights of enjoying Florence's lively night-life.
Food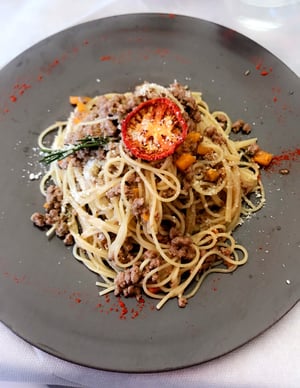 Because my roommate was a culinary intern and I love all things pasta, we made sure our very first outing in Florence was to a local ristorante. Luckily for us, I would soon discover the best one was right around the corner from our flat, a place called Braciere Malatesta.
Braciere Malatesta is situated right in San Lorenzo, and offers a wide variety of authentic pizza and pasta. The best part is that you can see them making it by hand as you enter this sweet oasis. The outside patio is a lovely garden offering a relaxing retreat right in the middle of the city.
My very first meal was homemade gnocchi topped with a cream of blu mugello gorgonzola cheese and "scorzone" truffle that melts in your mouth with every bite. This is an absolute must try. I would fly back to Florence specifically for this meal!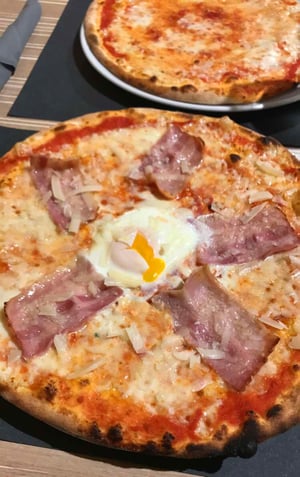 The pizza in the city is another mouthwatering delicacy. Gustapizza was always my go to especially for those late nights out on the city.
In Italy, their traditional way to serve a pizza is to present the full pie, with no slices. In fact, I was told that you are to start eating from the middle out to the crust. At first, I believed it would be impossible for me to finish an entire pizza in one serving, but I would soon learn I was very wrong; the only impossible part was to get me to stop eating.
I even had the opportunity to take a cooking class at the Desi Nare cooking school where we learned how to make all kinds of delicious Italian food like ravioli from scratch whilst sipping wine right from the Chianti vineyard.
NightLife
There are certain words I feel perfectly capture the liveliness of Florence's nightlife: long and limitless.
Whether you're going to tourist clubs like The Lion's Fountain, Red Garter, Moyo, Space (as seen on The Jersey Shore Florence edition) or Bamboo, or deciding to take a deep dive into Florence's more local nightlife at places like Mayday, La Ménagère, and Brew dogs -- you're guaranteed to have a night you'll never forget.
What makes these places unique and special is their sense of otherworldliness. Mayday has a vintage theme met with an alchemist vibe which makes you feel like you're entering a magical realm. La Ménagère looks immaculate with a modern floral theme, and if you head down to the basement, you'll find a neat jazz club with lounge chairs, dim lighting, and elegance.
And if you're feeling like a taste of home, The Lion's Fountain is an American College bar decorated with shirts, hats and apparel from all your favorite American universities.
The nightlife in Florence leaves you feeling like you haven't lived before these moments.
Adventuring around Italy
When living in Florence, it is very easy to visit other cities all around Italy; even Rome is just a little over an hour train ride away. Day trips are easy ways to explore the vast culture and beauty this beautiful country has to offer.
The San Lorenzo Station is very easy to navigate and has places to book your trip all around the station. The station includes a whole mall and yummy cuisine in the station so that you can kill time waiting for your train to arrive. Fun day trips include places like Pisa, where you can see the Leaning Tower of Pisa and hit up some great shops in the city on your scenic walk.
Bologna is a perfect day trip for some mouthwatering cuisine, with the freshest Stromboli I have had to date and an exclusive shopping scene downtown. Jump on the train for an hour and a half and you'll find yourself in Roma exploring the historic coliseum, Trevi fountain, and of course visiting Vatican city, all of which can be accomplished in one day.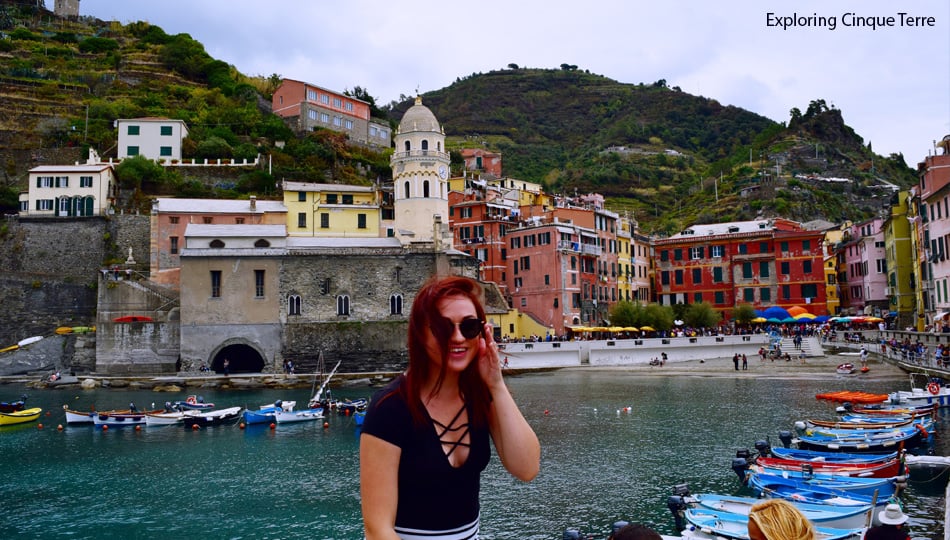 If you're looking for a weekend getaway head on over to Cinque Terre, with its clear blue water, houses built into the mountainous landscape and scenery you will never forget. Make sure you're wearing comfortable shoes because this beautiful oasis requires lots of walking, up incredibly steep hills.
Venice the city built on water is another destination that should be on your list; it is unlike any place I have ever been, filled with gondola rides, serenading sailors, and very expensive cuisine. Make sure you wear something you don't mind getting wet because simply crossing the street often requires a boat or gondola ride.
One final must-visit is the Chianti Vineyards, where you can take numerous wine tours and visit all the best vineyards around Tuscany. There's nothing better than bragging at your next dinner party about how you took a wine tour through the Chianti Vineyards and now have a vast knowledge of Tuscan wine.
Reflecting on My Experience Abroad
My time interning abroad in Florence was something extraordinary, and will always be the most special experience of my life - I will, without a doubt, be back. From the people, to the food, to the art and scenery, Florence is one of the most beautiful places on earth.
My biggest advice is to take nothing for granted, use your free time to explore and venture down unfamiliar streets, don't hesitate to ask questions and live your best life. I strongly encourage you to go and experience Florence like a local!