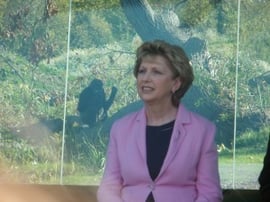 At the Dublin community radio station where I'm interning, my duties at the station include many tasks. I've interviewed many great Irish figures. I interviewed a woman who performed at Ireland's Abbey Theatre (the national theatre) and she invited me to come watch the performance. I also interviewed a controversial Irish columnist who writes for The Irish Independent. We talked about American television compared to Irish television. Look for that interview on my pod cast, it is called "Kevin Myers - Irish Independent Interview."
A few weeks ago I helped finish up an hour long documentary that a volunteer has worked on for a long time. I helped her with creating the "sound" of the program to allow it to flow more smoothly. We both worked together in organizing the content as well so it sounds more organized to the audience. I still do audio engineering for numerous shows also.
There is another volunteer I've been working with. She is still learning the radio industry so I've been helping her with interviewing techniques and how to speak in a manner that will engage the listener. She has come a long way since I first met her and you can hear her confidence on the air. Something so simple as "smiling" when you talk into a microphone helps your voice, and she now uses that technique. I'm also helping her and others with using Audition. Some want to learn the more intense side of editing and others just want to know how to cut and delete items.
There is a great guy here who is helping me with my show and the different on-air techniques I experiment with. I want to take advantage of my unique position of hosting a morning show with an accent. I try to find ways of using that to my advantage and he is helping me with that.
As for my relationship with the radio station manager, she might be one of, if not THE best supervisor ever. She is very open-minded and now that I've really got my bearings she gives me such an array of freedom and trust at the station. She and I have some great conversations about anything and everything -- from broadcasting to travel and even the politics of Europe and America. I love this internship, all things I've learned and all the lifelong friends that I've made.