Portugal- Europe's oldest country- is a beautiful, diverse, and geographically small country that has something to offer everyone. Do you want to ride the cable cars up the hills of historical Lisbon? Or catch some of the biggest waves to surf in the world? Or perhaps climb a volcano on the Azores? Portugal offers it all!
Read below for some tips for interning abroad in Portugal!
1. Try Traditional Portuguese Dishes
Portuguese cuisine is a seafood lover's dream. Sardines, octopus, calamari and more can all be found in different variations, such as served with rice, in soup, etc. A famous seafood dish that varies greatly is Bacalhau. Other meat dishes such as Piri-Piri chicken or Iberian ham are also incredibly popular. If you're looking for something sweet, try the well-known pastel de nana. This custard egg tart is delicious and pairs great with a coffee for a sweet way to start your day in Lisbon! Lisbon is also a diverse city with plenty of great options for African, Asian, and European foods.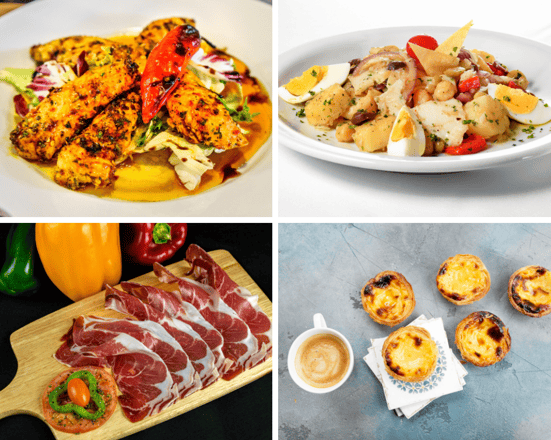 2. Learn Some Basic Portuguese Phrase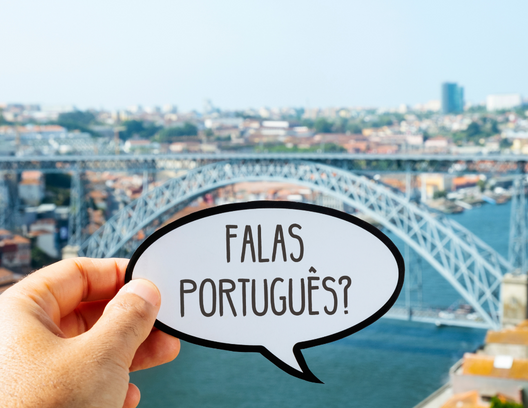 In larger cities of the country, English is frequently spoken. You will often be able to get by with English when studying in Lisbon. However, one of the best ways to experience another culture more deeply is to take sometime to learn the language. Portuguese is one of the romance languages like Italian or Spanish with its own twists. Takes some time to use a language learning app before you depart for your time abroad. For example, thank you is often obrigado or obrigada depending on your gender. Yes, is sim and no is não. Lastly, hello is simply olá. Just like how Spanish varies depending on the country, so does Portuguese. There is a strong Brazilian pretense in Portugal, so you might hear different variations of words when you go to order your pastel de nana, por favor
3. Stroll the Streets of Lisbon
There are countless things to do and see within the city of Lisboa. An essential experience is visiting Castelo de São Jorge to see bird's eye views of the city and learn about its history dating as far back as the 1st century BCE. After your tour at the castle, stroll through the historic aflama neighbordhood and wind through streets of the oldest neighborhood of Lisbon. There are also multiple miradouros that offer stunning views around this area. Take some time to visit Belém Tower along the water and see clear views of the Ponte 25 de Abril suspension bridge. Visit nearby Jerónimo's Monastery for gorgeous samples of Portuguese architecture and history. Other neighborhoods such as Bairro Alto, Chiado, and Cais do Sodre offer shopping, restaurants, night life, the world's oldest bookstore and bars for all-encompassing views of the city, such as Carmo Rooftop or Park Bark Lisbon.

4. Be Ready to Walk

Often referred to as the "San Francisco of Europe", the hills of Lisbon can seem intense. However, this means the views all around the city are incredible. Towering hills overlook the Rio Tejo (Tagus River) and the boats coming and going out to sea. The city also provides multiple transportation options that make it easy and accessible to connect to nearby areas as well. Take a ride on famous Tram 28 to get around the city highlights and give your legs a break. This tram and others are part of Lisbon's large and affordable public transportation system that also includes a metro, regional trains, and buses. You can also try the famous Santa Justa lift to get a boost from the Baixa neighborhood to Bairro Alto.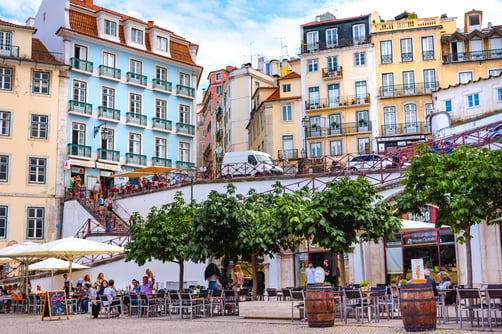 5. Beaches Galore
Portugal has a stunning coastline running from the north to the south to the east towards Spain. Some of the biggest waves in the world occur off the coast of a town called Nazeré, making Portugal a popular surfing destination.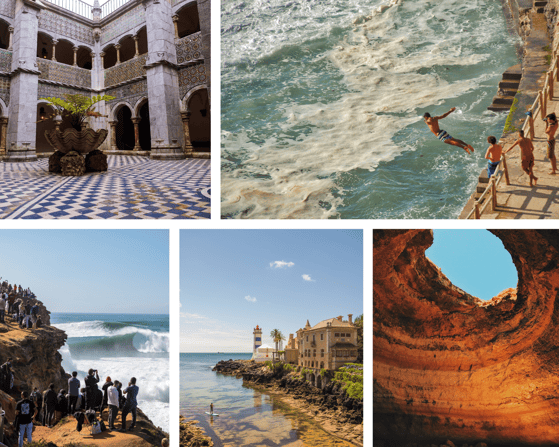 Climb down cliffs in the Algarve region to explore caves or stretch out in the sand. Take a boat tour to see the coastline from the sea or visit the popular tourist town of Cascais for a beach day near Lisbon. A beautiful beach to combine with your visit to Sintra is Azenhas do Mar. In fact, you can even take a Jeep safari tour through Sintra and along the nearby coastline!
6. Take a Day Trip From Lisbon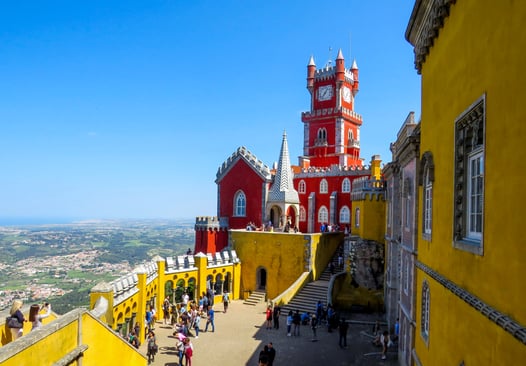 There are so many exciting areas to make a day trip to from Lisbon. Pena Palace is one of the most popular destinations featured in many programs and images of Portugal. The palace sits in the mountainous region of Sintra, which is only about an hour train ride from Lisbon. The colorful palace and the accompanying town of Sintra is a must-see on any trip to the area. Pena Palace is a UNESCO World Heritage site and tours are provided inside and outside the palace. Other popular day trip options include Fatima- a famous pilgrimage site- or the nearby Batalha Monastery. Another common destination for quickly view and picture is Cabo da Roca, the westernmost point of continental Europe. Because of Portugal's geographically small size, it is possible to reach so many interesting places by a quick train ride!
7. Travel to Other Parts of Portugal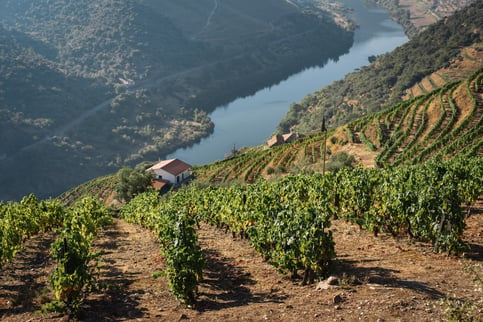 Although Lisbon is the capital and biggest city in Portugal, many other cities offer exciting experiences as well. Take a train or flight up north to the beautiful city of Porto. One thing that makes this city is its famous port wine. This type of wine is usually sweeter and served as dessert. Popular neighborhoods in this medieval city along the river include Ribeira and Bolhão. Another beautiful part of the country is the Algarve region in the south. Famous for its stunning cliffs and coastlines, this is a perfect chance to see some of Portugal's spectacular scenery. Faro is the capital city of this region and the largest airport in the area, but the Algarve region is also accessible by bus or train from Lisbon. Cities such as Lagos are bustling with visitors in the warm months. Hostels overflow with travelers and the location of the town to the coast makes it very easy to walk everywhere. Stay in the city center and visit some well-known beaches such as Praia do Pinhão, Praia de Dona Ana, Praia do Camilo, and so many more. Looking to get out on the water? Take a boat cruise to see the cliffs from the shore, view ancient Roman bridges, and maybe spot some dolphins.
8. Fly to Islands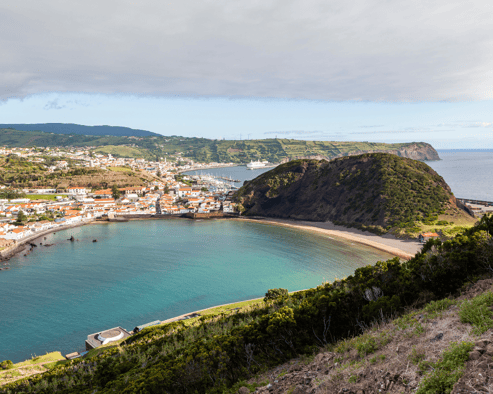 Ready for a longer trip within Portugal? Book a flight to the Azores. This chain of islands off the coast of Portugal has been referred to by some as the "Hawaii of Portugal". Hundreds of miles to the west of Portugal, the nine islands are most easily accessible from the Lisbon airport. You can go whale watching, hike up a volcano called Mount Pico, visit craters made from other erupted volcanos, and more. São Miguel Island is the largest of the islands and the capital city of Ponta Delgado also has impressive architecture for those looking to learn about the history of the area. The Azores are an increasingly popular travel destination that is easily accessible when you are interning abroad in Portugal.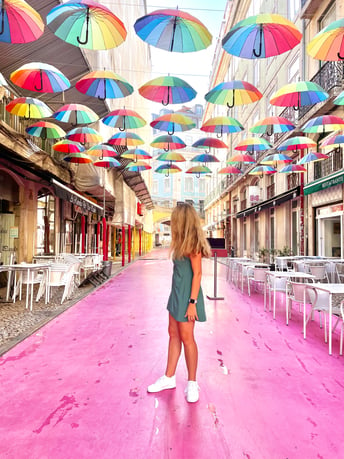 As you can see, you will never run out of things to do when interning abroad in Portugal. If you want to see other parts of the country, the geographically small size makes it more affordable and accessible compared to some other countries. If your priority is to become familiar with every part of Lisbon, you'll have countless things to do as well. Start brushing up on your Portugues and get ready for an exciting time interning abroad!